ECS Z170 Claymore Motherboard Review
By
Legit Reviews Test System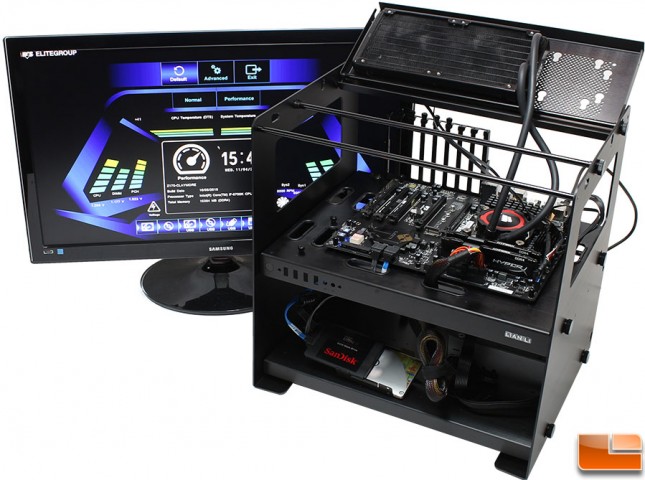 Intel Z170 Test Platform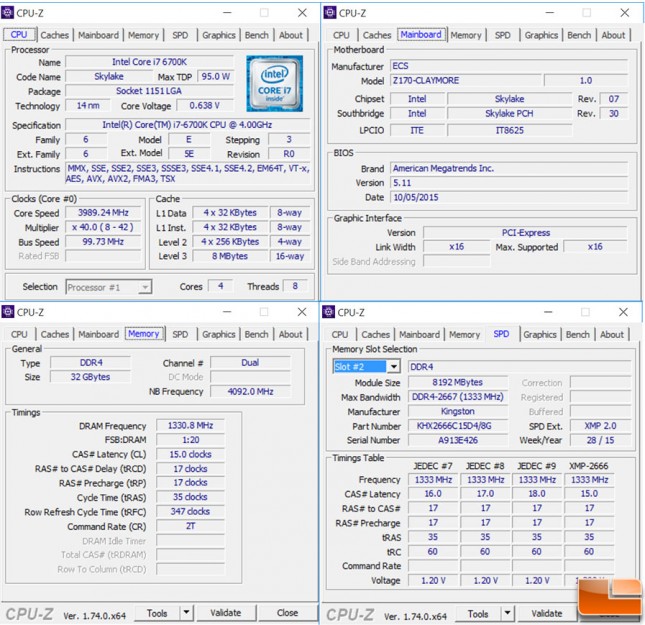 Here is a quick look at the specific components used in the test system:
Intel LGA 1151 Z170 Test Platform
Component
Brand/Model
Live Pricing
Processor
Intel i7-6700K
Click Here
Memory
Kingston 32GB DDR4 2666MHz
Click Here
CPU Cooler
Corsair H105
Click Here
Video Card
eVGA GTX 970 SC
Click Here
Hard Drive
Intel SSD Pro 2500 180GB
Click Here
Hard Drive 2
Sandisk Ultra II 480GB SSD
Click Here
Power Supply
Corsair CX750M
Click Here
USB 3.1 Type C
Kingston DataTraveler microDuo 3C
Click Here
Operating System
Windows 10 Pro 64-bit
Click Here
Testing Process
The above listed components will be installed on an open air test bed. Windows 10 will be a fresh install with all the latest patches, drivers and firmware available at the time we begin the testing.
All testing will be done in a temperature controlled room that maintains a 72F (22.2C). A 24-hour burn in is done to allow the thermal paste time to cure before doing any thermal testing.
Where possible, we will use integrated benchmarks, and run them three times averaging the results. In situations where there are no integrated benchmarks, we will use FRAPS to an analyze the performance, doing the same game run three times before averaging the FRAPS results.
Installation Process
Installing the ECS Z170 Claymore is extremely simple, assuming you've installed a motherboard before. Everything is well thought out, with plenty of space around the CPU socket to install an AIO liquid cooler with ease. If you install your memory after installing the GPU, there won't be any issues with the clips as the clips on that side of the memory slots are just guides, the actual clip is towards the outside edge of the motherboard. For both the memory and front panel connections, ECS prints the configuration right on the motherboard, making one less trip to the manual to see exactly how to set it up.
BIOS
We had a bit of an odd experience with the ECS BIOS. There appears to be two different graphical UEFI BIOS screens, they both provide the same information, just look a little different. On the default screen, ECS provides the options to run in Normal or Performance mode, and adjust the boot order. Beyond that the "Advanced" BIOS menu options will need to be used, which looks like a standard graphical BIOS screen.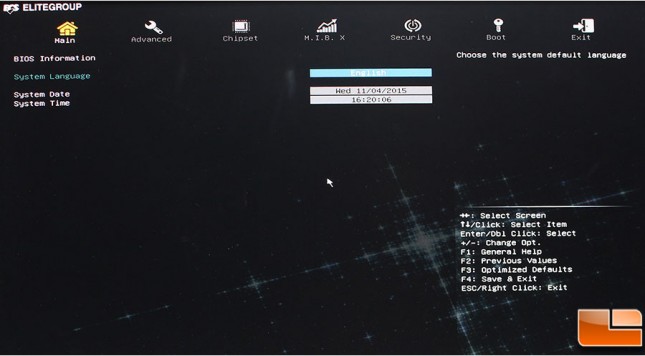 Now that we have the system up and running, let's get to some Overclocking and benchmarking.