ECS Z170 Claymore Motherboard Review
By
Value Added Software
Like most manufacturers, ECS includes an installer disk to get your motherboard up and running as quickly as possible. In addition to the required drivers, ECS also provides a few additional pieces of software to enhance your experience.
The installer is pretty basic, but it does the job easily, if you utilize the AutoRun capabilities, it should start up when you insert the disk; if not, it's easy to start up manually. Once it starts up, you are presented with a screen to install Google Chrome, in the bottom corner is a button to install the drivers. ECS doesn't provide an easy way to install specific drivers, rather they go the extremely easy method of installing all drivers automatically. This makes it easy to get up and running as quickly as possible. The Utilities tab provides links to installing the additional software on the disk; the ECS software we will take a quick look at. The Information tab provides very little information on the drivers that are installed, it would be helpful to see the specific version numbers. The final option is to install Google Chrome (again). There are obvious enhancements that would be nice, but as it stands the installer is easy to use and is laid out well.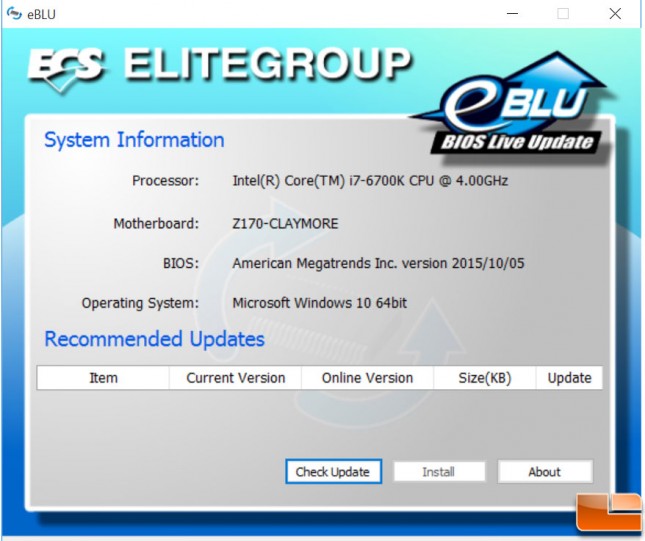 ECS eBLU is an important piece of software to keep the ECS Z170 Claymore running smoothly. It is a Windows based BIOS update tool, which will check ECS servers for any BIOS updates, and provide an easy method to install the update. This is a nice tool to have, making it easy to keep the BIOS up to date.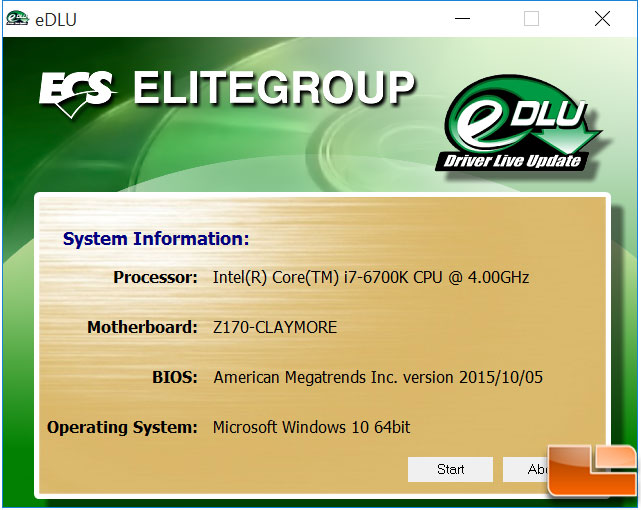 Perhaps more frequently updated than the BIOS are drivers, so ECS has their eDLU tool which performs a similar function to the BIOS tool but focuses on drivers. Once again it will check the ECS servers and grab all updated drivers. Both tools are easy to use, but it would be nice if they were integrated into one.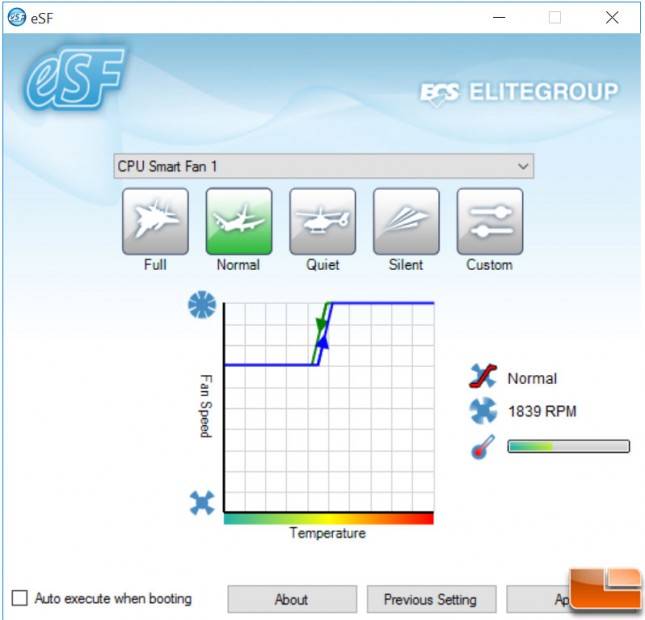 ECS also provides their eSF tool, which is an easy way to adjust fan speed depending on the temperature. It includes several pre-configured profiles, or you can create your own custom profile.
The last tool that ECS provides is their EZ Charger, which doesn't have a user interface it simply resides in the system tray once it is installed. EZ Charger provides additional power on select USB ports (grey ports on the back I/O cluster), even when the system is powered off. What resides in the system tray is an icon to show when a device is charging or when no approved device is detected on the EZ Charger grey USB ports.
Time to get to doing some performance testing.