Digital Storm Bolt II Small Form Factor PC Review
By
Digital Storm Bolt II Introduction
With the desktop PC market showing signs of faded interest over the past several years, Digital Storm is here to help spark interest to those who are gamers at heart. While at CES 2014, Digital Storm showed us their latest custom PC creation, the Bolt II. This hand crafted beauty is designed and built in the United States, which is a rare thing to find in manufacturing these days.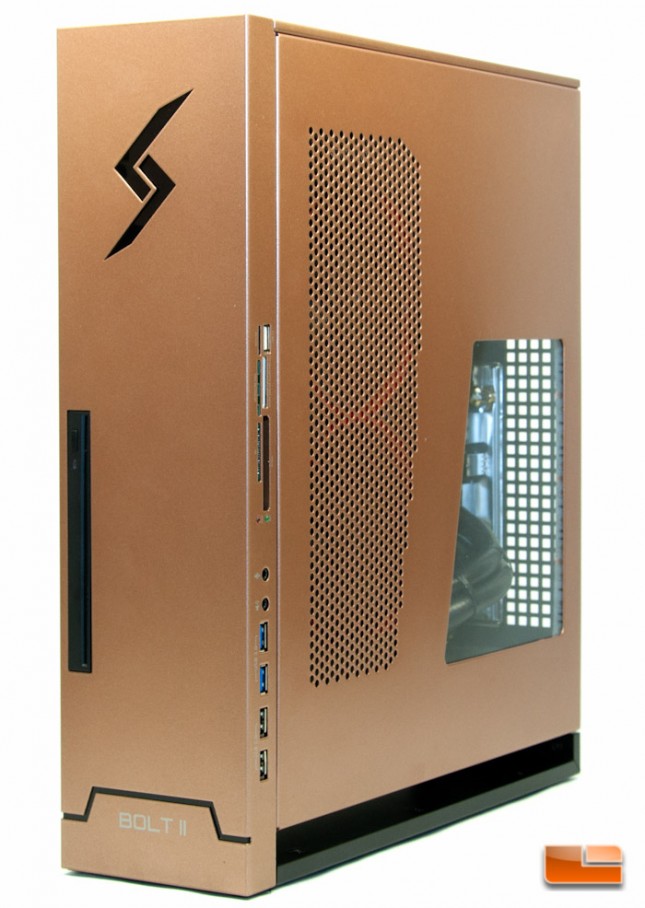 The Bolt II was designed to be a Steam Machine or HTPC, but you absolutely aren't forced to use it as such. Digital Storm meant for this small form factor PC to be extremely powerful, should you choose to pick out all of the high end goodness. The basic Level 1 system comes with an i5 4590, 8GB of RAM, and a GTX 760, whereas the Level 4 starts off with a 4790k, 16GB of RAM, and a GTX 780 Ti. With that said, you have a ton of customization below, in-between, and even above these specs.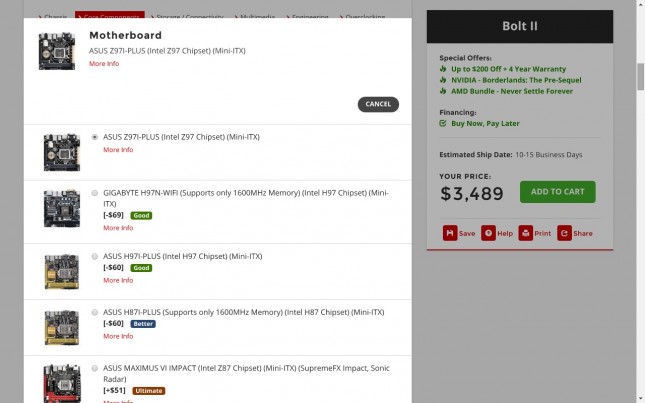 The basic price point of the Level 1 Bolt II system is $1,725, whereas the Level 4 runs $2,857. The system that we're going to look at today packs more heat than what the Level 4 baseline has to offer, so this system will run you $3,489. Keep in mind that with that price, you get a 3 year warranty with Digital Storm, should you have any troubles with your system.
Digital Storm's idea behind this system was to keep it slim and very powerful. The Bolt II's chassis was designed by their own engineers with emphasis on thermal design. No one wants a SFF machine to overheat, so they've kept this all in mind when designing it. Inside our unit, we've got a 240mm radiator to cool that beastly Intel i7 4790k. Our 4790k is overclocked to 4.6GHz from Digital Storm, so water cooling is very important here. Digital Storm kept it smart and didn't mount the radiator to the side panel, but rather it's mounted right on the chassis, helping you with your upgrade needs.
On the note of overclocking, Digital Storm does overclock for you on two levels. The first level can go from 4.0 to 4.4GHz and the second level is 4.5 to 4.8GHz. Obviously with the 4790k, our base frequency is already 4.0GHz and the turbo is 4.4GHz, which is why the 4.5 to 4.8GHz option was chosen. Every chip is different and will overclock differently, so you won't know exactly what you're getting until you get your system.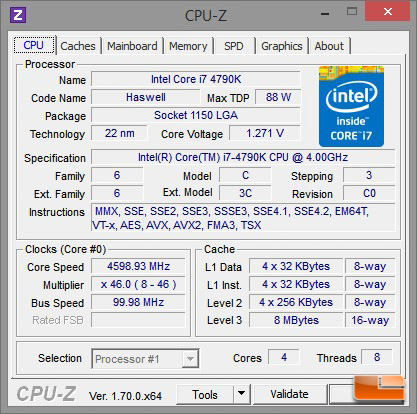 Years down the road you say to yourself, "Everything in my Bolt II can handle gaming just fine, but my video card is choking." Well, thankfully upgrading the video card in this system will be made easy thanks to Digital Storm's great engineering. Other components such as the RAM and hard drives (or SSDs), can be easily upgraded as well.
To keep this system at a proper operating temperature and to ensure that it stays as quiet as possible, the Bolt II features a HydroLux thermal control board. This board has five temperature probes placed throughout the system, which can adjust the fan speed automatically based on your system needs. There is also software for Windows to allow you to control a few features and monitor the temperatures the probes are detecting.
Bolt II Specifications:
Exterior Finish: Copperhead
Processor: Intel Core i7 4790K – Overclocked to 4.6GHz
Graphics Card: NVIDIA GeForce GTX 780 Ti 3GB
System Memory: 16GB Corsair Vengeance Pro DDR3 1866MHz
SSD: 500GB Solid State (By: Samsung) (Model: 840 EVO Series)
Storage: 2TB Western Digital Black Edition (7200 RPM)
Motherboard: ASUS Z97IPLUS (Intel Z97 Chipset) (MiniITX)
Power Supply: 500W Digital Storm Bolt II Edition (Gold Plus Rated)
Card Reader: Internal Digital Media Card Reader
Optical Drive: BluRay Player/DVD Writer (Play BluRay and Burn DVDs)
Network Access: High Speed Network & Wireless
Extreme Cooling: Digital Storm 240mm Radiator Liquid CPU Cooler
Windows OS: Microsoft Windows 8.1 (64Bit Edition)
Warranty: Lifetime Expert Customer Care with 3 Year Limited Warranty
The above specs are simply beefy and this system should be able to handle virtually anything we throw at it! It's still stunning that there is so much hardware in a tight little package. The exact configuration for this system, if you want to purchase your own like system, can be found by clicking here.
Taking a quick look at the packaging for the Bolt II, you will notice that it is quite plain. Basically what you see in the below shot is all there is on the package. You already know what you ordered, so that isn't really an issue!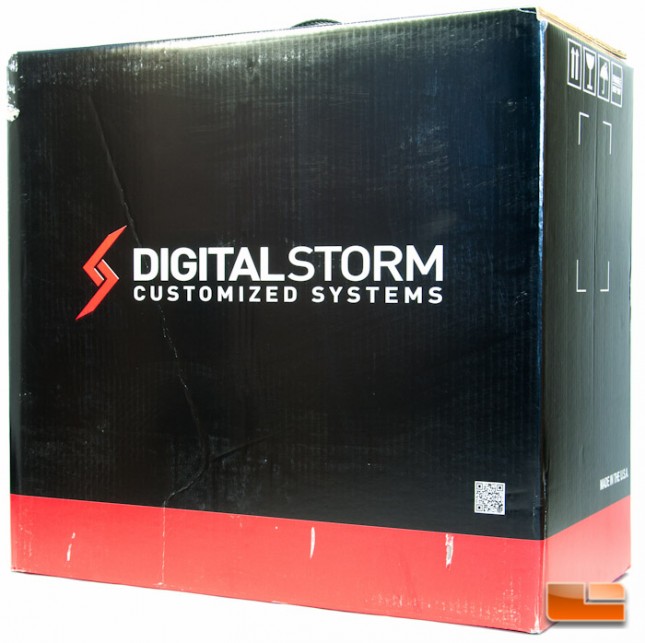 Popping open the top of the box, we can see how much care was put in with ensuring the Bolt II didn't suffer any of the shipping horrors that you've undoubtedly seen videos of in the recent years. Inside the box Digital Storm included an Xbox 360 controller, since this was designed to work as a Steam Machine / HTPC after all. The Bolt II was surrounded by two very thick foam blocks and itself was packaged in a thick plastic bag.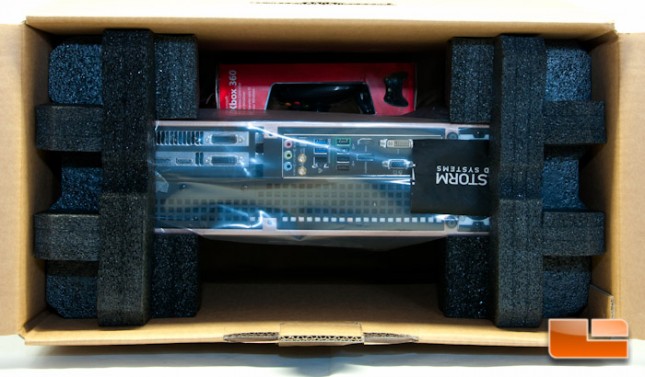 Now that we've got the specifications down and took a quick glance at the packaging, let's move on and see what this beauty looks like looks like inside and out.