CyberPowerPC Gamer Xtreme VR PC Review – GXiVR8020A
By
CyberPowerPC Gamer Xtreme VR General Performance Testing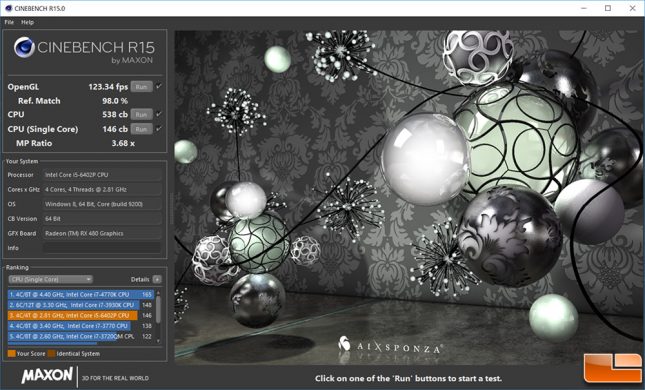 The CyberPowerPC Gamer Xtreme VR with the Intel Core i5-6402P processor and XFX Radeon RX 480 4GB graphics card scored 123.34 FPS on the OpenGL benchmark, 538 points on the multi-core CPU test and 146 points on the single-core CPU test.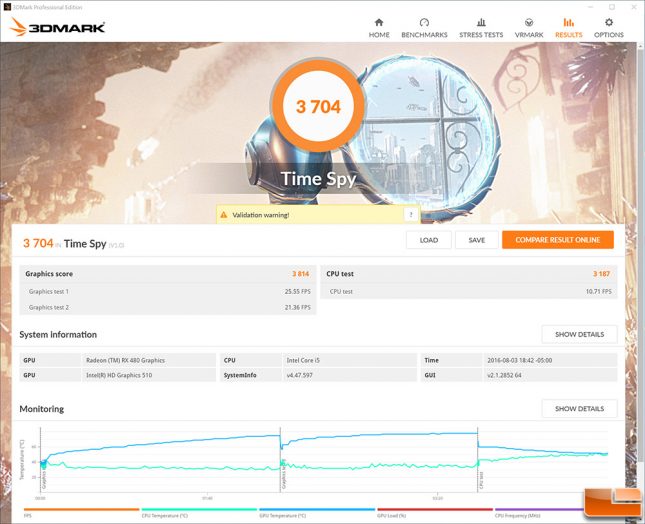 We didn't do any DirectX 12 game benchmarking, so we ran the 3DMark Time Spy DX12 benchmark test. The CyberPowerPC Gamer Xtreme VR scored 3,704 points. If you looked closely and see we got a validation warning it is because the processor is not recognized by Futuremarks SystemInfo.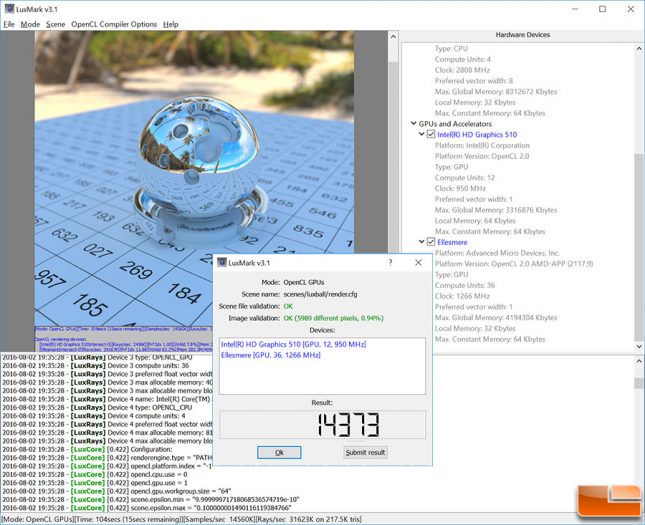 Worried about OpenCL performance or maybe you'll be using this gaming system for some coding projects at school? We ran LuxMark v3.1, a very popular OpenCL cross-platform benchmark tool and found that we got a score of 14,373 when rendering the Luxball scene. A very solid score from a PC that costs under $720!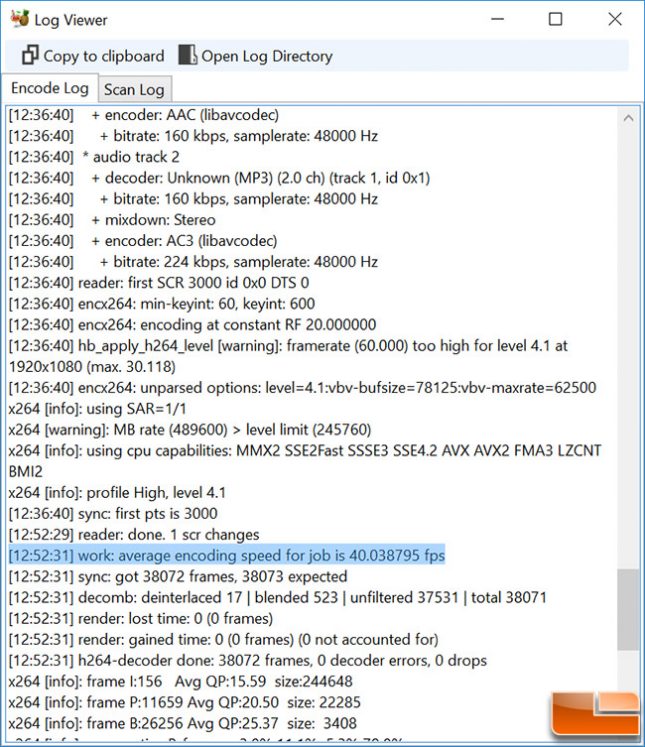 Ripping moves or creating digital content is a common occurrence these days, so we ran Handbrake 0.10.5 and used the Big Buck Bunny 1080P 60 FPS movie as our test file. We were able to complete the transcode with an average speed of 40.0 FPS! Not bad performance again from a PC in this price range as you need remember this is a quad-core processor without hyper-threading.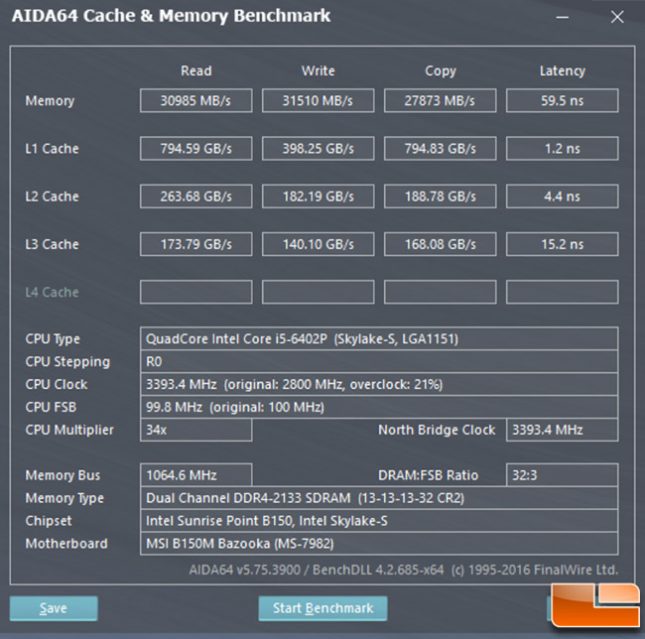 AIDA64 v5.75 beta showed that the dual channel 2133MHz DDR4 memory had 13-13-13 2T timings and was capable of 30,985 MB/s read and 31,510 MB/s write speeds with a latency of 59.5 ns. The copy test bandwidth was found to be 27,873 MB/s. These are respectable scores for an 8GB (2x4GB) 2133MHz DDR4 memory kit.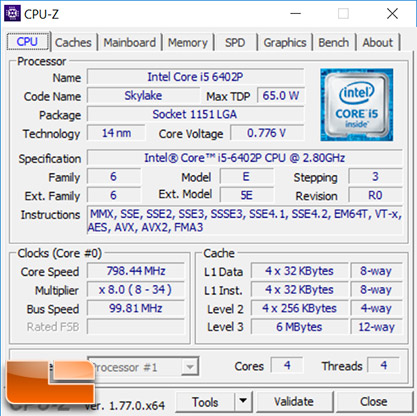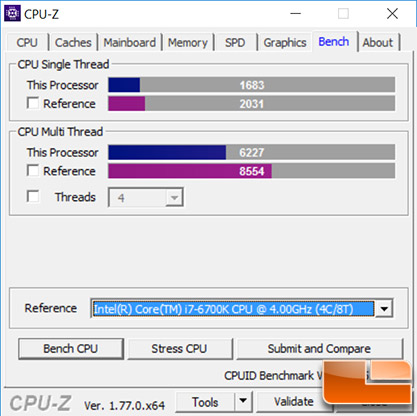 The benchmark included in CPU-Z showed we had a single thread performance score of 1683 and a multi-thread performance score of 6227.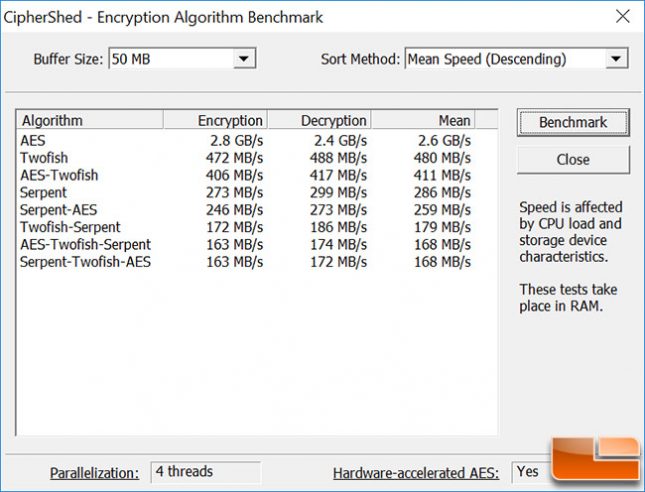 CipherShed v0.7.4.0 shows that the CyberPowerPC Gamer Xtreme VR had a mean score of 2.6GB/s on the AES Encryption test.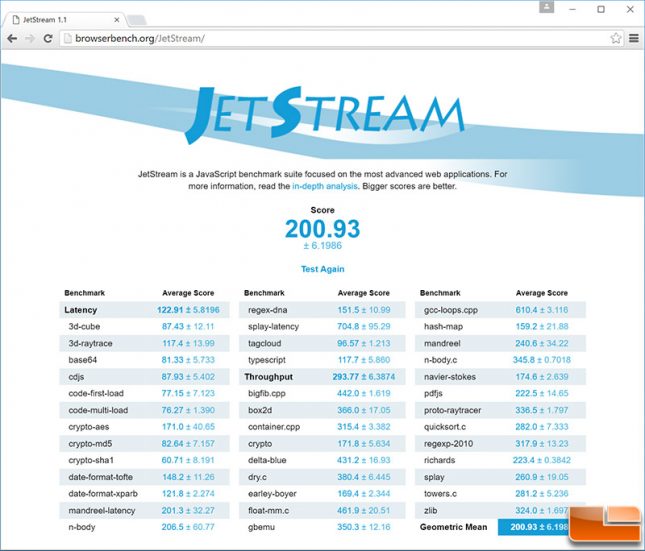 We ran the JetStream v1.1 JavaSctipt on Google Chrome 50 and found an overall score of 195.77.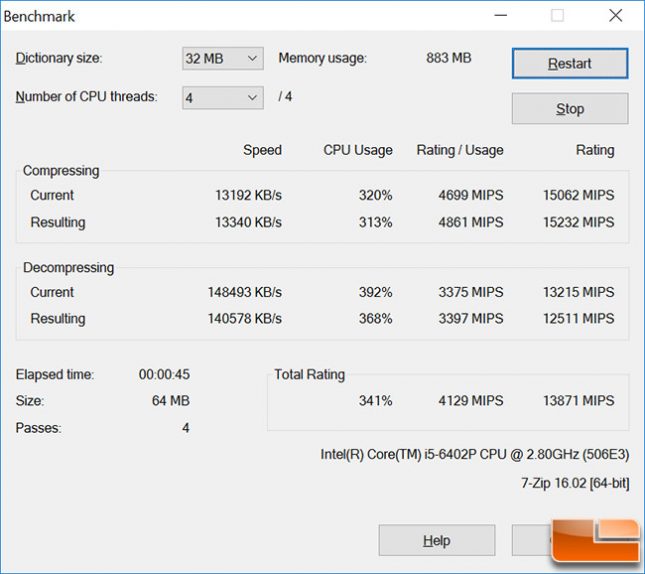 The 7-Zip v16.02 benchmark test showed that the Intel Core i5-6401P Processor in this system had a total rating of 13871 MIPS and handled compression tasks well.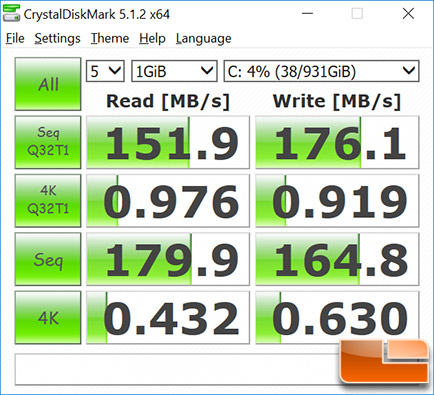 A quick run of CrystalDiskMark v5.1.2 showed the performance of the Toshiba 1TB 7,200 RPM Hard Disk Drive (HDD) was pretty solid. Sequential read speed to be 179.9 MB/s and the sequential write speed was 164.8 MB/s. The Random 4K read speed was 0.4 MB/s and the 4K random write speed was 0.6 MB/s. It would have been nice to have an SSD in this system, but that would have drastically increased the cost of the system and having 1TB of storage space is nice as you can install tons of games.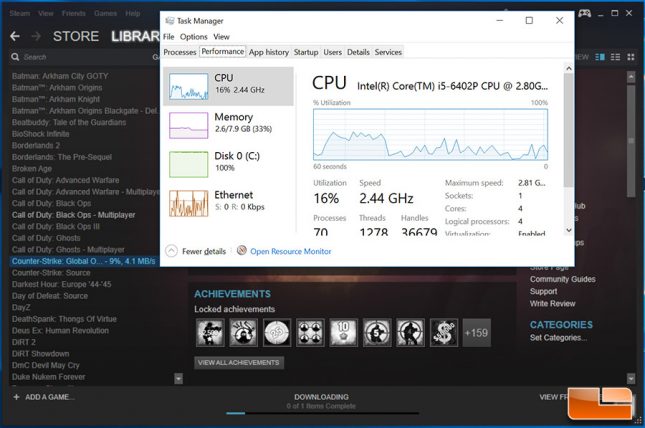 Speaking of games, when downloading and installing games through Steam we found that the disk drive was running at 100%. The system does feel a little sluggish when the disk is at 100% use, but you just need to remember this is budget friendly gaming PC that has a rotational hard drive.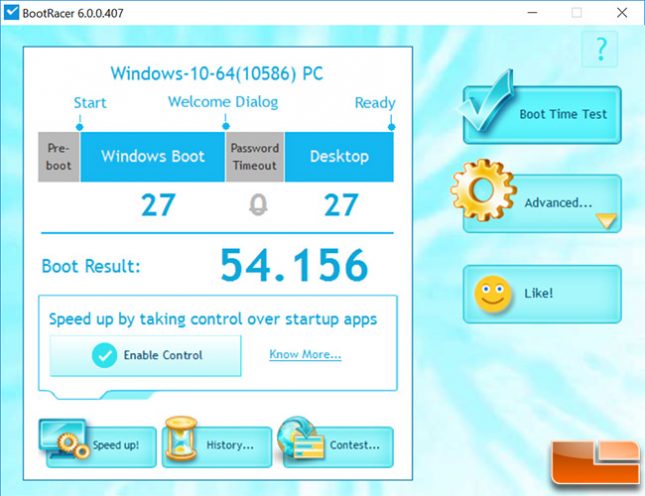 Looking at boot times you'll see this system takes roughly 54 seconds to boot to the desktop. We ran this test after we installed gaming applications like Steam, Origin and Battle.net as that is what most folks will be installing as soon as they get this PC!
Let's take a look at power consumption and CPU temperatures on the CyberPowerPC Gamer Xtreme VR.