CyberPowerPC Gamer Xtreme VR PC Review – GXiVR8020A
By
Amazon's Choice For Desktop Gaming PC – CyberPowerPC Gamer Xtreme VR
Last year Amazon began a new service called service called Amazons Choice that allows Amazon's Echo (Alexa) voice-activated speaker to order something by just saying what you want aloud. You are effectively turning over your decision-making to Amazon, but is stands to make daily life easier. If a customer asks the Echo to buy, say, a desktop gaming PC, Amazon will suggest the CyberPowerPC Gamer Xtreme VR rather than other brands. Amazon does not charge manufacturers to be part of Amazons Choice and shoppers need to have their Prime Account activated, 1-click payment method setup and have voice purchasing enabled via the Alexa mobile App.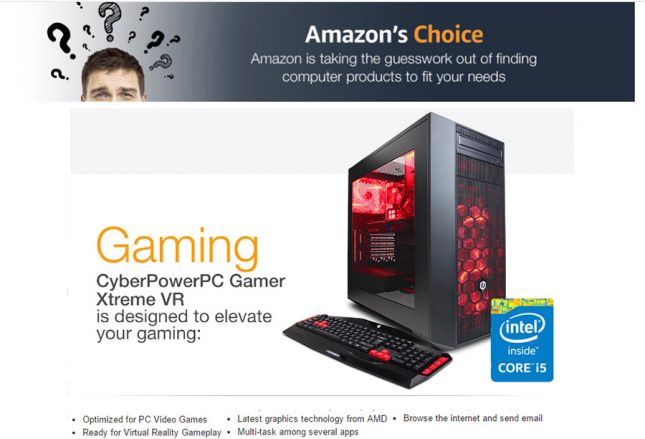 We aren't exactly sure why Amazon picked the CyberPowerPC Gamer Xtreme VR to be their desktop gaming PC of choice, so we wanted to get our hands on this system to see what makes it the 'choice' system to have right now.
The CyberPowerPC Gamer XTREME VR is priced at just $719.99 shipped and for that you get an optimized desktop PC for gaming that is marketed as VR ready for the HTC VIVE and Occulus Rift. This Amazon exclusive system uses the Intel 6th Generation Core i5-6402P 2.8GHz quad-core 14nm processor and the AMD Radeon RX 480 4GB 'Polaris' video card that just came out one month ago. The system is topped off with an Intel B150 based motherboard, 8GB of DDR4 memory, a large 1TB 7200 RPM hard drive, 24X DVD-RW Optical Drive and a 600 Watt power supply.
CyberPowerPC Gamer Xtreme VR GXiVR8020A System Specs:
System: Intel i5-6402P 2.8GHz Quad-Core | Intel B150 Chipset | 8GB DDR4 | 1TB HDD | WI-FI USB Adapter | Genuine Windows 10 Home 64-bit

Graphics: AMD Radeon RX 480 4GB Video Card | VR Ready | 1x HDMI | 1x Display Port

Connectivity: 6 x USB 3.0 | 4 x USB 2.0 | 1x RJ-45 Network Ethernet 10/100/1000 | Audio: 7.1 Channel Keyboard and Mouse
Our GXiVR8020A System Tear Down Revealed These Components Were Used:
We tried to price up the individual components used on the CyberPowerPC Gamer XTREME VR and came up with $880.24 for all the parts. Amazon is only charging $719.99 shipped for this gaming PC and that really good price seeing how they assembled it, installed Windows 10 along with all the necessary drivers and then delivered it do your door step ready to go. It should be noted that CyberPowerPC may change brands due to availability, but this model will always have an Intel B150 chipset board, 8GB of DDR4 memory and a 1TB hard drive. The configuration we tore down is from the first batch of builds.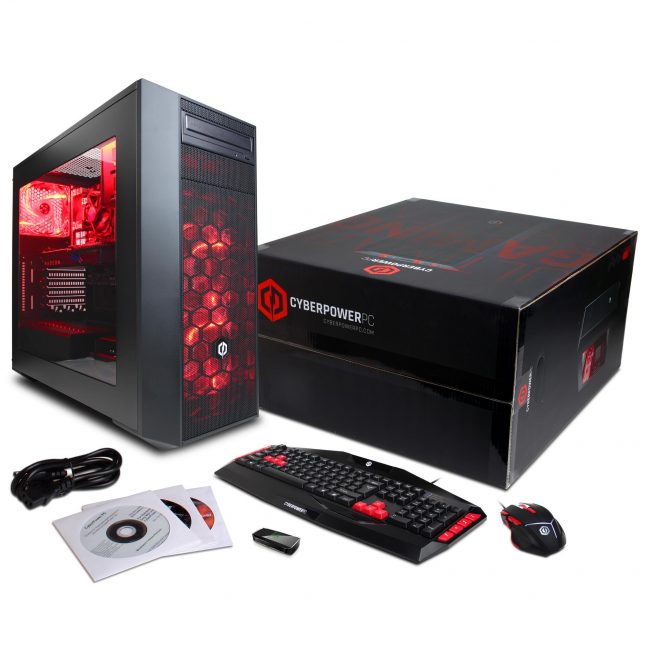 The CyberPowerPC Gamer XTREME VR comes with a non-backlit gaming keyboard, ambidextrous gaming mouse, 802.11 AC wireless USB adapter (no Bluetooth support), the power cord, Windows 10 installation disc and supporting user guides and manuals. The only thing 'missing' from this gaming PC is the display.
We won't bore you with a million shots of the PC as the PR images show all the key external features of this case. We did want to take off the front and back panels of the case though and show you the cable management that was done by the employees that assembled this system here in the United States. Yes, this system is proudly assembled right here in the USA. If you look closely at the PR photos you'll see that there isn't a 24-pin ATX power supply cable plugged in and the cable routing is different from the retail system that we got.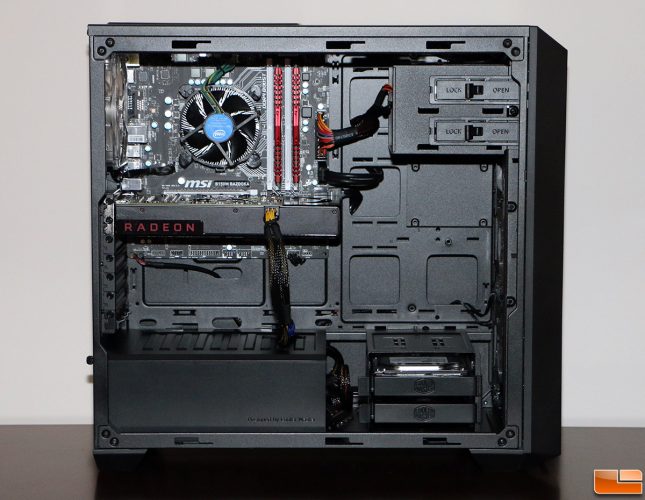 As you can see from the picture above all the cables are properly routed and secured. Beautiful! The one thing that we quickly noticed about the MSI B150M Bazooka Motherboard used on this build is that it only has one PCIe x1 slot available for add-in any expansion cards. Since it doesn't have a full sized PCIe x16 slot this means you won't be able to add another video card for a multi-GPU Crossfire solution. You can easily add more SATA or USB devices though and there are two open DDR4 DIMM slots for additional memory expansion.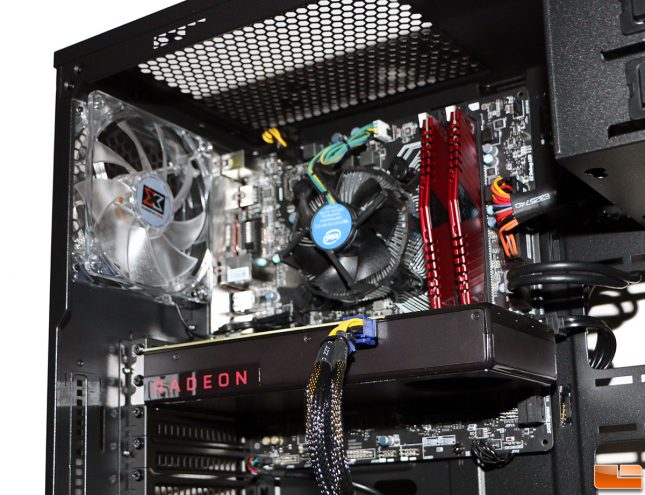 This particular motherboard supports up to 64GB of DDR4 memory (16GB x 4), so you can easily upgrade the memory down the road. If you wanted to add an SSD down the road the Cooler Master MasterBox 5 PC case has front and rear mounting points available!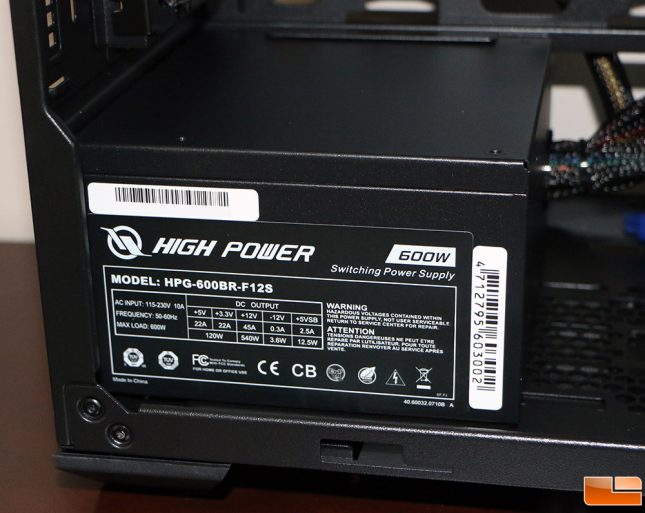 Under the power supply cover resides a High Power HPG-600BR-F12S power supply. This 600W power supply has a single +12V power rail that is rated at 45Amps / 540 Watts and a large 140mm cooling fan. If you were expecting a fully modular name brand power supply at this price point you are out of luck. The good news is that a standard ATX power supply is used, so you easily swap it out down the road if desired.

This model is an 80 PLUS Bronze rated power supply that has ErP compliance (won't exceed 0.5W power consumption in standby or off modes). We looked it up online and found that it was 83.44% efficient at 20% load and that isn't too bad for a budget brand power supply.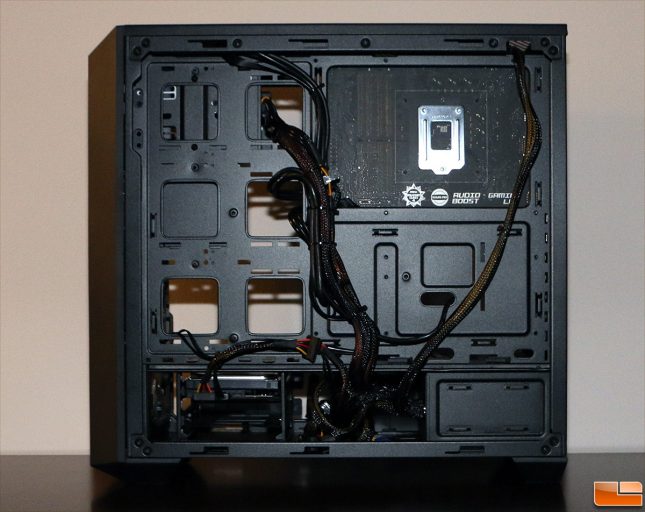 The wire management behind the rear back panel is also nicely done considering that no one usually sees this area.
Now that we know the basics let's get straight to some gaming benchmarks!