Corsair Neutron XT 240GB SSD Review
By
AS SSD Benchmark
AS-SSD (1.7.4739.38088) Benchmark:
We have been running the AS-SSD Benchmark app for over some time now and found that it gives a broad result set. The programmer has worked very hard on this software and continues to make updates often so if you use it, show him some love and send him a donation. There are now three tests that are found within the tool and we'll show the results from all three of them.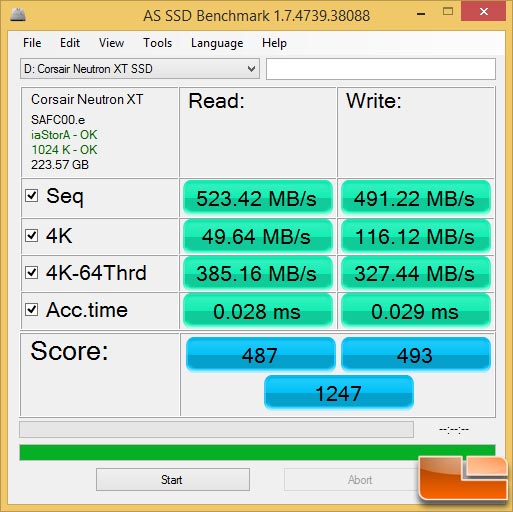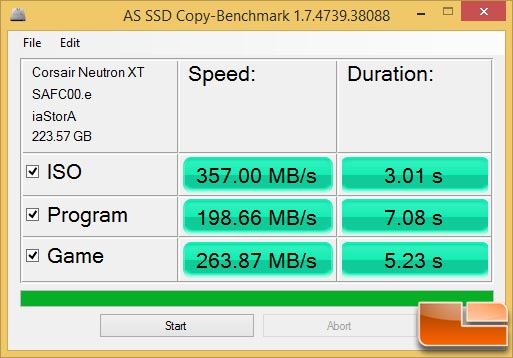 Benchmark Results: AS SSD showed the Corsair Neutron XT 240GB SSD hitting 523 MB/s read and 491 MB/s write in the sequential benchmark with the overall score being 1247 points. 4K was weak point for the Phison 3108 controller and this appears to hold true for the Phison 3110 controller as the random 4K read performance was just 50MB/s again.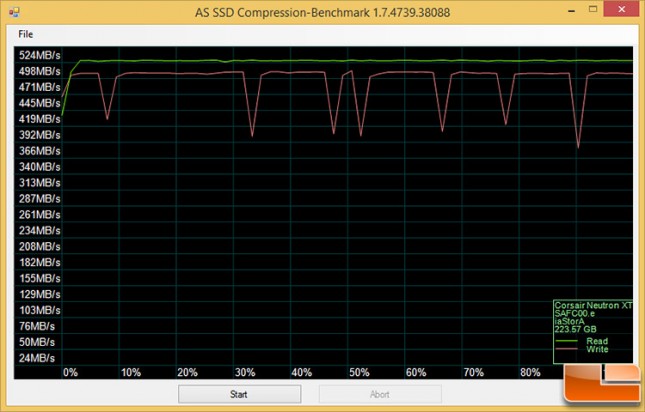 Benchmark Results: For this benchmark chart you would ideally want to see a straight line as you don't want any compression performance loss as the test goes from 0% compressible to 100% compressible data during the benchmark test period. Performance on the Corsair Neutron XT 240GB appeared to be pretty solid when it comes to reads, but write performance appeared to be erratic at times with seven ~80MB/s performance drops .