Corsair Neutron XT 240GB SSD Review
By
Corsair Neutron XT 240GB SSD – The First Phison 3110 Controller Drive
The Corsair Neutron XT series SSDs is the latest storage drive to be released by Corsair. The Corsair Neutron XT 240GB drive is powered by a Phison 3110-S10 controller (aka Phison S10), which was just introduced in August 2014. This is the first time that we have seen the Phison 3110 controller on a consumer SSD, so we can't wait to see how Phison's brand new high-performance controller performs. Corsair sent over the Neutron XT 240GB drive to try out ahead of its official release and didn't tell us much. The drive we got did not come in retail packaging, we weren't told where it fits in the Corsair SSD lineup, pricing has yet to be set and when we asked for power efficiency numbers and writes per day we were told that information wasn't yet available. What we do know is that it uses the Phison PS3110-S10 controller and utilizes Toshiba A19 MLC NAND Flash. The drive is rated at having up to 560MB/s read and 540MB/s write speeds for sequential operations and up to 100K IOPS random read QD32 and 90K IOPS random write QD32. Corsair says that the Neutron XT series will bridge the gap between high performance enthusiasts and multimedia professionals.
Corsair Neutron XT Series Drives:
Corsair Neutron XT 240GB – CSSD-N240GBXT
Corsair Neutron XT 480GB – CSSD-N480GBXT
Corsair Neutron XT 960GB – CSSD-N960GBXT
Corsair Neutron XT Specifications:
SSD Controller: Phison PS3110-S10
NAND: Toshiba A19 MLC
Unformatted Capacity: 240GB / 480GB / 960GB
Max Sequential Read (ATTO): Up to 560MB/s
Max Sequential Write (ATTO): Up to 540MB/s
Max Random Read QD32 (Iometer): Up to 100K IOPS
Max Random Write QD32 (Iometer): Up to 90K IOPS
Form Factor: 2.5-inch with a 7mm z-height
Interface Type: SATA 6.0 Gb/s (SATA 3)
Warranty: 3 years
Corsair placed a 3-year warranty on the Neutron XT, which is actually underwhelming for high-end SSDs as many companies have increased their warranty lengths to 5-years and even 10-years. Warranties most certainly do play a role when it comes to purchasing a drive, so we hope that Corsair becomes a little more aggressive on the warranty front to stay competitive with companies like Samsung, Sandisk and OCZ.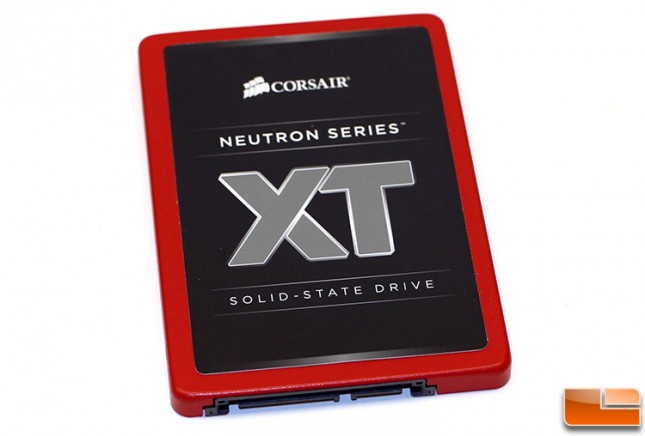 The Corsair Neutron XT drive that we will be looking at today is the 240GB model that is sold under part number CSSD-N240GBXT. This is a 7mm drive that comes with a small spacer with adhesive tape for it to fit in 9.5mm notebooks properly. The drive has mounting holes on both the side and bottom, so it should be usable for most any notebook or notebook that uses a standard SATA connector. The Neutron XT has a metal housing with a painted red finish on it. There are stickers on the front and the back of the drive for informational and marketing purposes.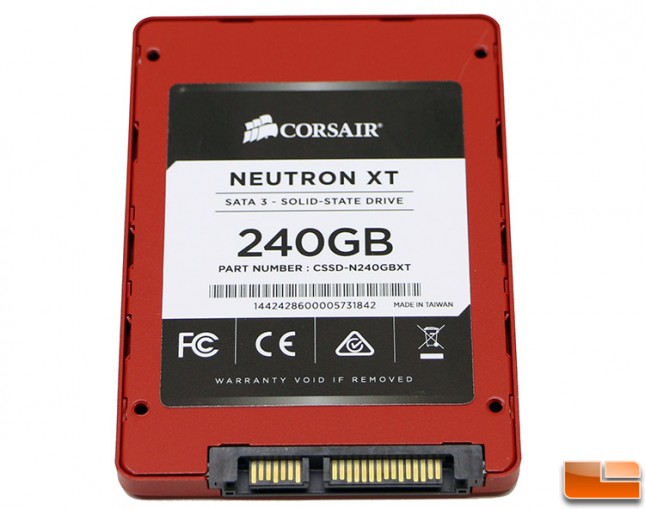 On the back of the red metal 2.5-inch enclosure you can see that the Neutron XT series has the standard drive mounting holes on the bottom and that Corsair is using standard Serial ATA power and data connectors, so you can use this SATA III (6Gbps) drive in pretty much anything and it is backwards compatible with older SATA II systems. The sticker on the back of the drive says that the warranty is void if the sticker is removed, which is odd as there is nothing below the sticker. In fact, there are no screws on this drive whatsoever. Corsair game up with a simple enclosure design that requires no screws and there are pairs of metal retainers in each corner that can be popped apart in order to disassemble the drive.
Let's crack open the drive and look inside!