Corsair Neutron XT 240GB SSD Review
By
Inside The Corsair Neutron XT 240GB SSD – Phison 3110 Controller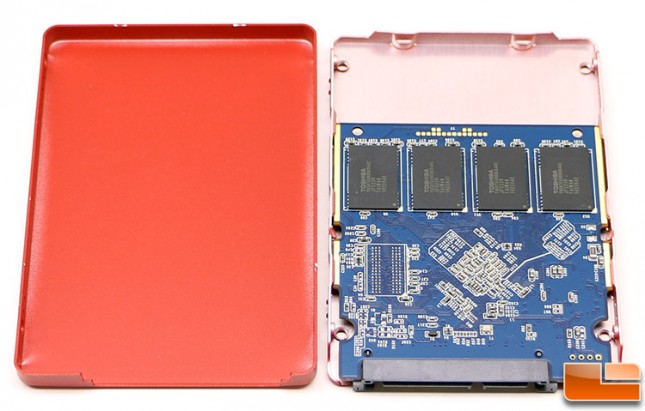 To get inside the you just need a flat head screw driver to pop pen the corners of the drive and seconds later you'll be inside the drive looking at a tiny blue PCB with some MLC NAND Flash chips on it. The PCB isn't held down with screws either, so you have a completely screwless design here. We were pretty impressed by this as everything fit snugly and didn't rattle!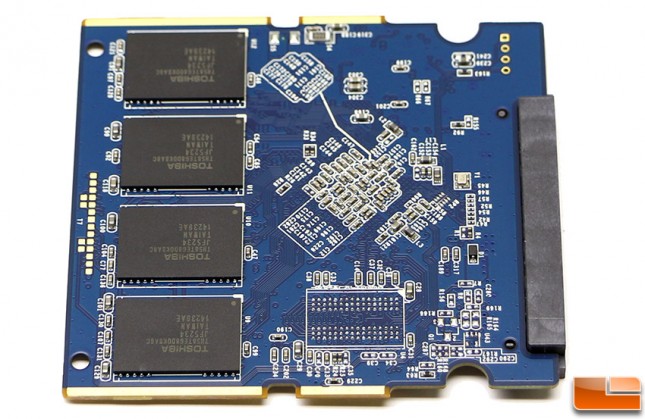 Once the SSD was removed from the metal housing we were able to get a good look at the tiny PCB used on the Corsair Neutron XT 240GB drive. Aside from the usual surface-mounted components, there is not much else to see on this side other than the four MLC NAND Flash chips.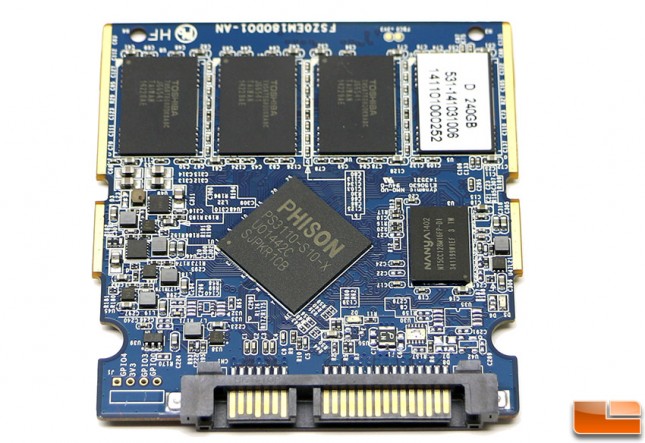 On the reverse you'll find four more MLC NAND chips, the Phison PS3110-S10 controller along with the cache memory chip. The Corsair Neutron XT 240GB SSD that we were sent uses Toshiba MLC A19 memory chips with part number TH58TEG8DD6BA8C. There are eight of these 32GB Toshiba MLC NAND chips on the board for a total of 256GB of storage space. There is over-provisioning space reserved on the drive, so Corsair calls the drive 240GB although once formatted there is even less space available to use.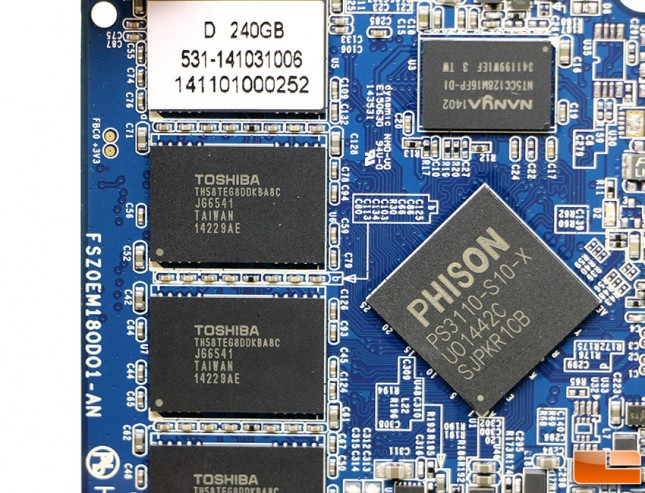 Corsair went with the Phison PS3110 SATA III 6Gbps SSD controller for the Neutron XT series. This is the first time that we have had the pleasure of taking a look at this particular controller. Phison Electronics Corporation announced this quad-core controller in August 2014 and says that it supports the latest generation 1Ynm/1Znm MLC and TLC NAND. With currenty 1Ynm NAND Phison claims that the PS3110 supports of to 2TB of NAND and delivers up to 550 MB/s sequential read and 530 MB/s sequential write performance, with random 4K IOPS up 100,000 read and 90,000 write. This is the highest performing SATA controller by Phison, but there is a Phison PS5006 PCIe SSD controller that has been in the works for a number of years that is expected to be released next year. Besides have top notch SATA III performance the PS3110 also supports features like AES 256-bit encryption, TCG OPAL 2.0 and S.M.A.R.T. support with the Phison SSD Toolbox.
Phison PS3110-S10 Controller Features:
Quad-core controller Quad-core CPU dedicates three cores just to managing flash and maintaining performance
Maximum throughput and I/O Offers speeds of up to 560 MB/s read and 540 MB/s write and 100K IOPs on read and 90 IOPs on write, saturating the SATA 6Gbps bus
End-to-end Data Path Protection Enterprise level CRC/ECC corrects internal soft errors as well as detecting and correcting any errors that may arise between the DRAM, controller, and flash
SmartECC Reconstructs defective/faulty pages when regular ECC fails
SmartRefresh Monitors block ECC health status and refreshes blocks periodically to improve data retention
SmartFlush Minimizes time data spends in cache to ensure data retention in the event of power loss
Advanced wear-leveling and garbage collection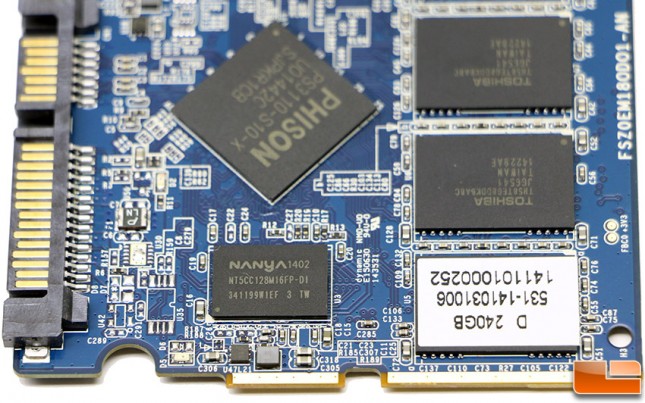 Next to the Phison PS3110 controller you'll find the NANYA 128MB DDR3L 1600MHz DRAM cache chip. The part number on this low voltage (1.35v) 2Gb memory chip is NT5CC128M16FP-DI and according to the spec sheet it has 11-11-11 timings.
Let's take a look at the test system and then go to the actual performance numbers!