Corsair Force MP500 480GB M.2 NVMe SSD Review
By
Corsair Force MP500 – 3 Gb/s of NVMe Fun with Phison PS5007-E7 Controller
Corsair hasn't been that aggressive in the SSD market recently, but all that changed earlier this month when their announced the Force MP500. This drive marks a number of firsts for Corsair as it is their first drive to ever use the M.2 2280 form factor, PCIe interface, and the NVMe protocol. Since this is Corsair's first PCIe Gen 3 x4 SSD it has blisteringly fast sequential speeds of up to 3,000 MB/s read and 2,400 MB/s write, which makes it roughly 5 times faster than the Corsair Nuetron Series XTi drives that used to be their flagship storage drive series. Things are also impressive on the 4K Random Read/Write performance as the Phison 5007-E7 controller and 15nm Toshiba MLC NAND Flash are capable of reaching up to 250,000 IOPS for 4K Random Reads and 210,000 IOPS of 4K Random Write performance.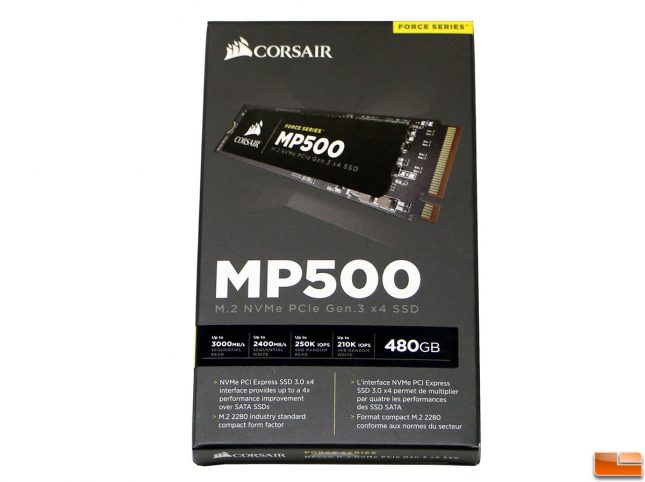 Performance does depend on what capacity you are getting and right now Corsair has three capacities available; 120GB ($89.99 shipped) 240GB ($169.99 shipped) and 480GB ($259.99 shipped). Those Newegg prices put the 480GB drive around $0.54 per GB, which is higher than expected. The Patriot Hellfire M.2 series uses the same controller and flash and can be found for $129.99 shipped for the 240GB model and $229.99 shipped ($0.48 per GB) for their 480GB model. Street pricing has the Force MP500 480GB drive nearly $30 over very similar products, so we are off to a rocky start before we get to the benchmarks. We are fairly certain that pricing will drop in the weeks ahead as it has to drop. The Samsung SSD 960 EVO 500GB drive can be found for around $249 and the Patriot Hellfire M.2 480GB is $229, so Corsair will have to get competitive if they want to sell these drives!
Corsair Force MP500 M.2 Features:
Phison 5007 Series M.2 PCIe Gen 3 x 4
DRAM Cache:

120GB = DDR3 128MB
240GB = DDR3 256MB
480GB = DDR3 512MB

TRIM support (O/S dependent)
Static and Dynami Wear-Leveling
Bad Block Management
Advanced Garbage Collection
Operating Temperature – 0 ~ 70C
MTBF: 1,500,000 hours
4K Aligned Random Read:

120GB = 150K IOPs
240GB/480GB = 250K IOPs

4K Aligned Random Write:

120GB = 90K IOPs
240GB/480GB = 210K IOPs

ATTO: Sequential Read & Write Transfer:

Up to 3000MB/s Read | Up to 2400MB/s Write

CDM: Sequential Read & Write Transfer:

120GB: Up to 2300MB/s Read | Up to 1400MB/s Write
480GB: Up to 2800MB/s Read | Up to 1500MB/s Write

Max Power:

DevSleep Power (L1.2 mode): 5mW
Idle: 400mW
Active Read:

120GB: 4.44W
240GB: 4.89W
480GB: 5.11W

Active Write:

120GB: 3.37W
240GB: 4.81W
480GB: 6.92W

Endurance:

120GB: 175 TBW
240GB: 349 TBW
480GB: 640 TBW

Warranty: 3-Years
Where do we start? Corsair has slapped the bare minimum 3-year warranty on their flagship series, but gave the drive some pretty high endurance ratings! The Terabytes Written (TBW) endurance rating on the 120GB drive is 175 TBW and that nearly doubles up to 349 TBW on the 240GB drive. For some reason Corsair didn't double up the endurance rating again to 698 TBW on the 480GB drive, but gave it 640 TBW for some reason. No big complaint there though as 640 TBW is a nice endurance rating to have as the Samsung SSD 960 EVO 500GB drive only has a 200 TBW rating.
The Corsair Force MP500 M.2 drive is a double-sided M.2 PCIe drive that uses the 2280 form factor. This means that it can't be used in low profile solutions that require single-sided modules. That isn't necessarily a bad thing as the Corsair Force M.2 480GB drive uses up to 6.92 Watts of power and does get really warm as you'll see in our testing.

Under the large label on the front of the Force MP500 480GB drive you'll find the Nanya 512MB low-power DDR3 DRAM cache chip, Phison 5007 eight-channel quad-core controller and two Toshiba 128GB 15nm MLC NAND Flash chips.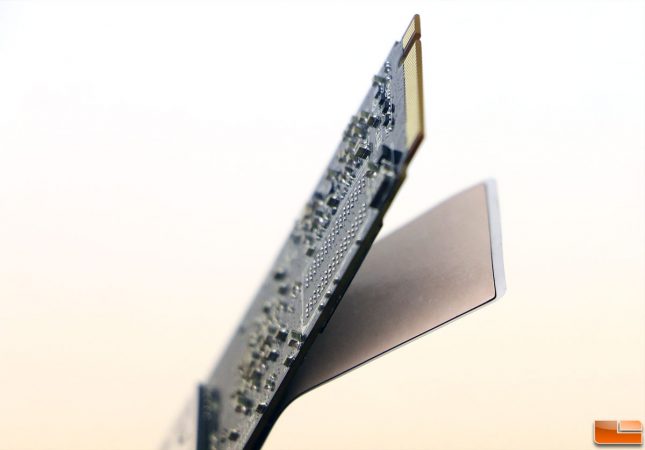 We peeled our sticker back as we noticed that it had two main layers. One is a thermal layer that appears to have a piece of copper in it and the other is your typical paper material that makes up the product label. Corsair went with a thermal pad to help the drives Phison controller thermal properties in check.

Flipping the drive over you'll find two more Toshiba 128-gigabit 15nm planar MLC NAND Flash chips and a spot for more memory, but it is not being used. Let's peel that warranty label back and take a look at the NAND Flash memory.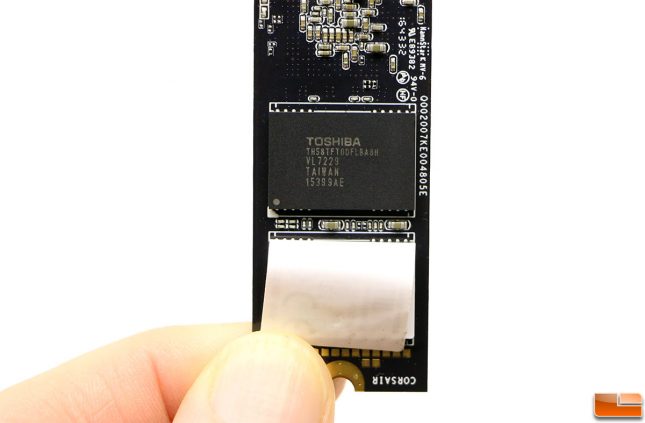 Here is a closer look at the Toshiba planar 15nm MLC NAND Flash chip for those that wanted to see the part number. The Toshiba MLC NAND chips have Toshiba part number TH58TFT0DFLBA8H marked on them. It should be noted that the 120GB, 240GB and 480GB drives all have 4 of these 15nm MLC NAND Flash packages, but obviously they are different densities.
CSSD-F120GBMP500 – 120GB – four 32GB 15nm MLC NAND Toggle 2.0 packages
CSSD-F240GBMP500 – 240GB – four 64GB 15nm MLC NAND Toggle 2.0 packages
CSSD-F480GBMP500 – 480GB – four 128GB 15nm MLC NAND Toggle 2.0 packages
The Corsair Force MP500 M.2 drive series can be used with the Corsair SSD Toolbox, which is a free utility that allows end users to access more of the drives features. This utility will let you check how much of the drives endurance is left, show how much space is being use, the S.M.A.R.T. details, perform a secure erase and even update the firmware. Corsair hasn't updated the basic functionality of this utility for some time and it's starting to need an update as it can't read the NVMe drives S.M.A.R.T. details, show total host writes/readts, run a secure wipe, change the overprovisioning or mess with the TRIM command settings. Basically over half of the tabs don't work with this NVMe drive!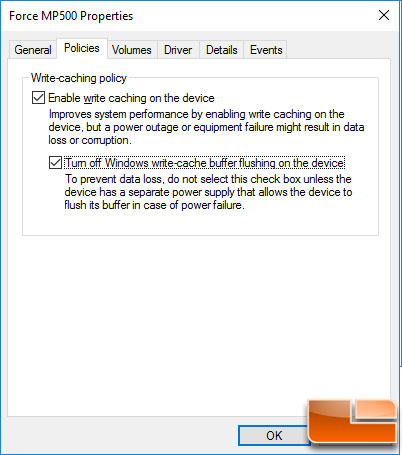 The Corsair Force MP500 M.2 PCIe SSD series does not require NVMe drivers to work properly on a PC. That said, you need to understand that standard Windows NVMe driver in Windows 10 and Windows 8.1 doesn't pass the Force Unit Access (FUA) command. FUA commands bypass the DRAM cache on the SSD and write directly to the drives cache resulting in really bad performance. Storage review sites that use AS SSD, Anvil and PCMark (Storage 1.0) may show low write performance due to this. You can do registry hacks to disable FUA or simply turn off Windows write-cache buffer flushing in Windows Device Manager for the storage drive you want to benchmark. Companies like Intel, Samsung and OCZ have released special NVMe drivers for some of their NVMe drivers to remedy this situation. We'll show you AS SSD and Anvil scores with Windows Write-Cache Buffer Flushing off.
Let's take a look at the test system and then jump into the benchmarks.