ASUS ROG Maximus X Hero Z370 Motherboard Review
By
PUBG
Back in September, PLAYERUNKNOWNNS BATTLEGROUNDS (PUBG) released a patch with optimizations that improved performance for those running a CPU with six or more CPU cores in their gaming rigs. PUBG uses Unreal Engine 4, which is capable of producing solid image quality, but can be rather taxing on your PC hardware. This Early Access game developed by Bluehole, Inc. and as of November 7th, has sold over 20 million copies and recently recorded over 2 million concurrent players.
So what sort of performance can be gained in PUBG from moving the i7-7700K to the i7-8700K?
We tested the game with both the lowest in-game settings and the highest in-game settings to get an idea of the difference in performance.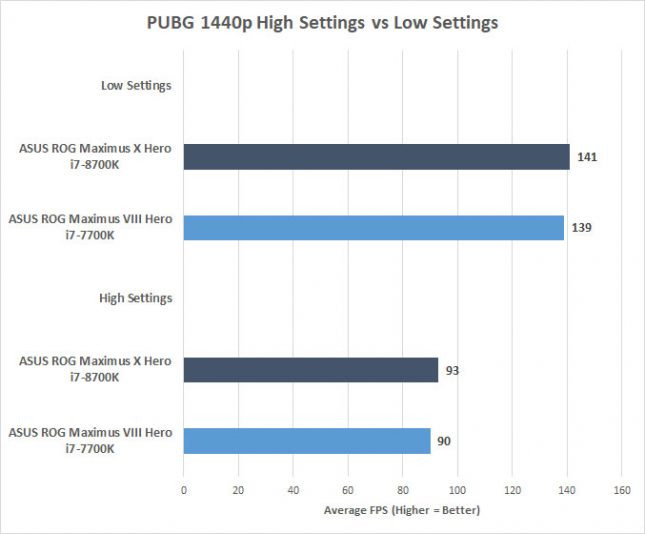 There is quite a difference in performance between the lowest and highest settings in PUBG. At low settings, the game is at times GPU limited by the EVGA GeForce GTX 1080 SC. The PUBG game engine is capped at 144FPS and is usually the other limiting factor. At the highest settings, CPU performance is bottle-necked entirely by the EVGA GeForce GTX 1080 SC. The i7-8700K was again able to squeeze out a 3 frames per second advantage. See the break down below on CPU vs GPU utilization on Low settings.