ASUS ROG Maximus X Hero Z370 Motherboard Review
By
ASUS ROG Maximus X Hero Key Features
The ASUS Maximus Hero line has been highly regarded and recommended in its previous incarnations, so lets take a look at what this iteration has to offer.
The box art is very clean with some nice holographic lettering along with some of the features that the board supports.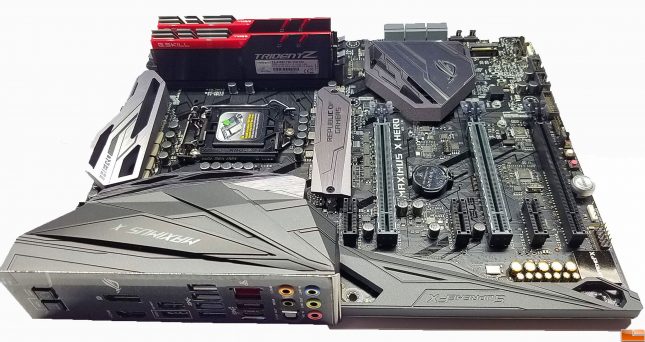 The board is a great looking grey and silver color, carried on from the Maximus motherboards in the last few generations. For those curious, we stuck a GSkill memory kit in with black heatspreaders to give an idea of what the combination looks like together. Just under the CPU socket, there is a metal heatsink for an M.2 drive to be used underneath. The x16 lane PCIe slots have a thin metal wrap on them to improve strength and prevent failure from heavy graphics cards. The metal VRM heatsinks look great and should cool well enough with just a case fan blowing near by. The PCH heatsink is quite big, and if there is one place that I would love to have additional cooling on my ASUS Maximus VIII Hero motherboard, it is the PCH.
Pre-Mounted I/O Shield

ASUS has long been a leader in motherboard design and features. One of our favorite ASUS motherboard innovations is the padded I/O shield. This offered a premium look and feel to something mundane that few people ever see once the computer is built. With the ASUS Maximus X Hero, the I/O shield is now pre-mounted. This is a very handy feature in my opinion. I cannot tell you the number of times over the years that I have forgotten to install the I/O shield or forgot to ship it with a motherboard I sold. I have misplaced them and installed them with the metal fingers stuck inside of the network port, only to have to pull everything apart and get it right. So, for me, a pre-mounted I/O shield is something I am fully on board with as it will save time getting the system up and working.
I/O
The ASUS Maximus X Hero comes equipped with a single DisplayPort a max capable resolution of 4096×[email protected]. There is also an HDMI port supporting a maximum resolution of 4096×[email protected]
The single network interface is supplied by the Intel Z370 chipset, the Intel I219V. There are two USB 2.0 ports, two USB 3.1 Gen 2 Type-A + USB Type-CTM. There a total of four USB 3.1 Gen 1 ports.
For audio there are a couple of options. There is the usual optical S/PDIF out, as well as 5 gold plated audio jacks. We will talk more about the impressive audio codec that ASUS has implemented on the Maximus X Hero later.
Some handy features to have are the Clear CMOS button, for those overclocks that are a little too ambitious. The other button is the BIOS Flashback button. If you have never used the BIOS Flashback feature it is great. You can fully flash your BIOS without having to have a CPU or memory in the motherboard.
Fan Control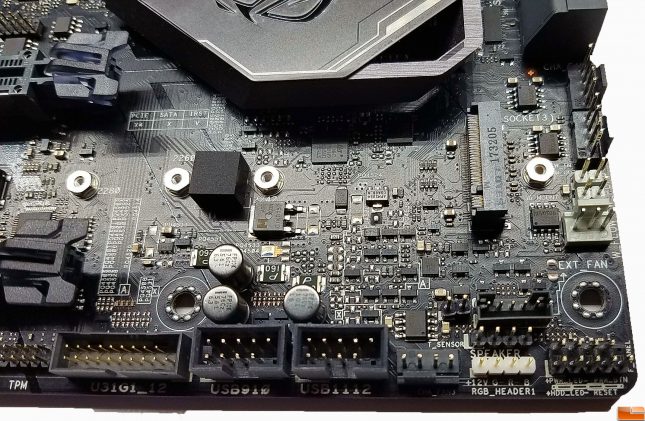 We saw the addition of a dedicated PWM/DC header for controlling a water pump with the ASUS ROG Maximus VIII line for Intel Z170. ASUS expanded on this with the ROG Maximus IX, and carries it over to the ROG Maximus X Hero, by adding two thermal probe headers onto the motherboard, as well as a water flow sensor header. These can be monitored in either the UEFI or in the Fan Xpert 4 software utility. There are a total of 6 PWM/DC fan headers on board, each of which can be configured to react to any of the three onboard and the two aforementioned temperature sensors. If more sensors or fans are needed youll need to look into the ASUS Fan Header extension card that adds three PWM/DC fan headers and three thermal-probe headers that can be configured to set off your fans however you would like.
RGB
RBG lighting has completely taken over the DIY computing space. These are not the LEDs and cold cathode tubes from the mid-2000s. These are very customizable and advanced lighting solutions. Not feeling the blue lighting that your PC is putting out? Switch it all to red with a click of your mouse. Want to be able to tell if your PC is running warm? You can configure the lighting to change color based on one of the thermal probes on the motherboard. The ASUS ROG Maximus X Hero gets into the action with three RGB lights on board that can be configured to change appearance in 9 different fashions. ASUS also includes three headers on board to control RGB light strips, fans, coolers, and even case lighting. These headers can be controlled through ASUS Aura to synchronize with the motherboard lighting and provide a uniform appearance.
Bundle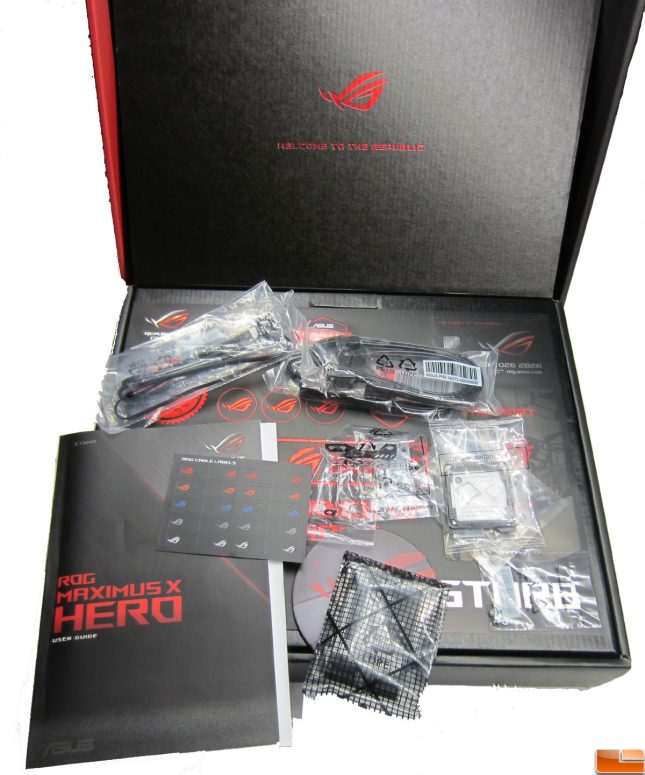 Some of the highlights of the bundle included with the ASUS ROG Maximus X Hero are; four SATA cables, one extension cable for RGB strips (80cm), one extension cable for addressable LED, a CPU installation tool, an ROG coaster, and several ROG stickers.