AMD Ryzen Performance Update Released For Ashes of the Singularity
By
When the AMD Ryzen 7 platform was released many of the reviews were critical of the 1080P gaming performance on the Ryzen 7 processor series. AMD promised that we would see a series of game and engine updates for the new Ryzen architecture fairly quickly and the first game title to become optimized for Ryzen is Ashes of the Singularity: Escalation! We tested the 'old' build (version 2.10.25624) versus the build that came out tonight (version 2.10.26118) and the differences are huge. AMD told us that the estimated development time to achieve this up to 31 percent uplift in game performance was less than 400 total engineering hours.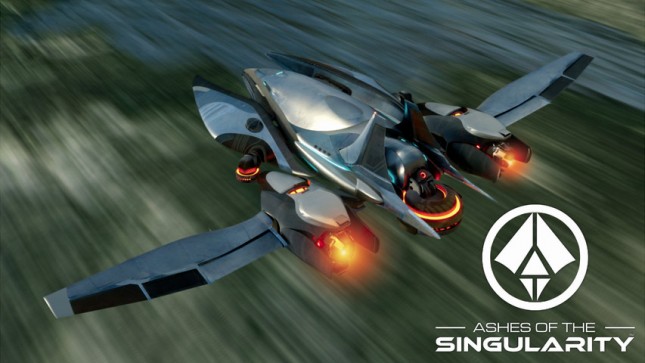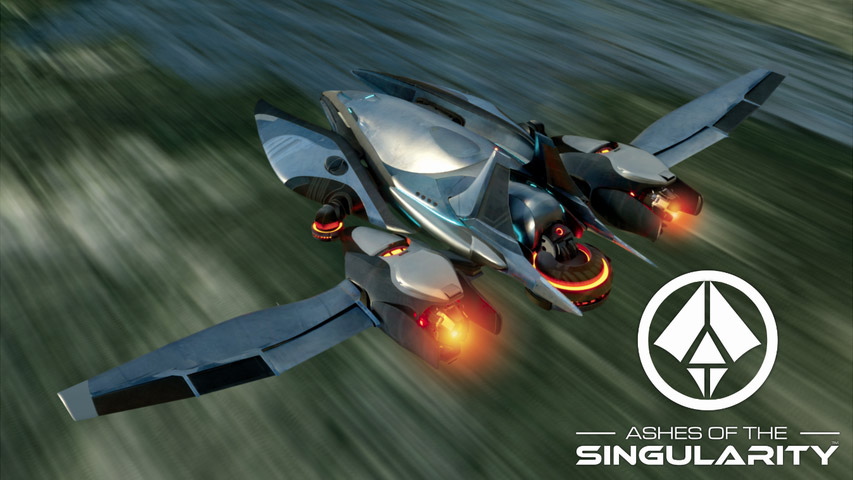 AMD Ryzen 7 1700 Test System
The AMD AM4 platform that we used to test the new versus old builds of Ashes of the Singularity was doing on an AM4 platform that consisted of an AMD Ryzen 7 1700 processor and the MSI X370 Xpower Gaming Titanium motherboard with UEFI 1.26. The Corsair Vengeance 16GB 4000MHz DDR4 dual channel memory kit was manually set to 2933MHz with 14-14-14-28 1T memory timings as we wanted to test with one of the most popular clock frequencies sold today. We used an NVIDIA GeForce GTX 1080 Ti 8GB Founders Edition with GeForce 378.92 WHQL drivers. We also used the Corsair AX860i digital power supply, Corsair Hydro Series H110i water cooler and Corsair Force MP500 480GB PCIe SSD on the system.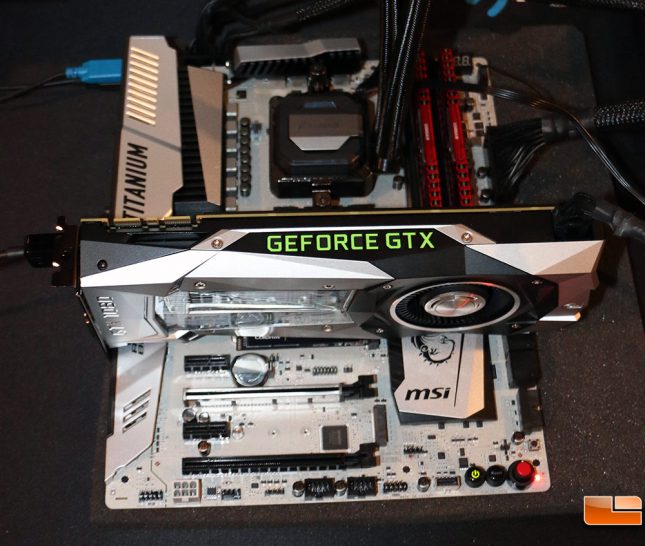 Let's take a look at those results…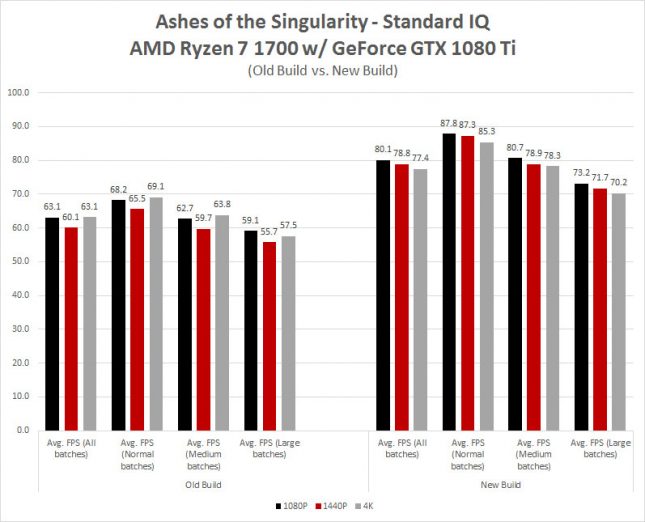 This chart has a ton of data on it, so be sure to click it and view it in full size. Basically, the old build of Ashes of the Singularity had pretty flat results with 1080P and 4K results performing basically the same. The numbers look pretty bad to be honest and lord only knows why 1440P performance was lower than 4K performance. The new build of the game title got a huge performance uplift at all three resolutions and the game performance finally scales properly when you increase the resolution!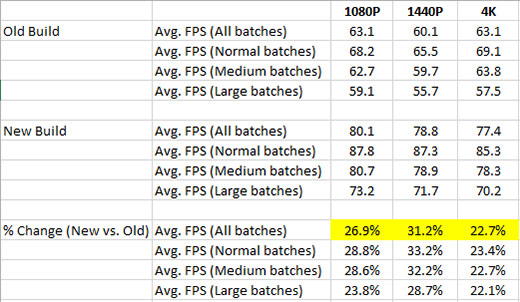 Those results are pretty impressive as it represents a 22.7% gain at 4K resolutions, a massive 31.2% gain at 1440P and then a very nice 26.9% gain at 1080P. Keep in mind that we are testing with a stock clocked AMD Ryzen 7 1700 processor with DDR4 2933MHz memory with CL14 timings!
Here is what Stardock and Oxide CEO Brad Wardell had to say about the game update in AMD's press release:
Ive always been vocal about taking advantage of every ounce of performance the PC has to offer. Thats why Im a strong proponent of DirectX 12 and Vulkan because of the way these APIs allow us to access multiple CPU cores, and thats why the AMD Ryzen processor has so much potential, said Stardock and Oxide CEO Brad Wardell. As good as AMD Ryzen is right now and its remarkably fast weve already seen that we can tweak games like Ashes of the Singularity to take even more advantage of its impressive core count and processing power. AMD Ryzen brings resources to the table that will change what people will come to expect from a PC gaming experience.
The good news is that AMD and Oxide aren't done making Ryzen optimizations as they think there are still more things than can be done to squeeze even more performance out of the architecture with more real world tuning. Now that AMD has released Ryzen and game developers have plenty of chips to use they can look at the data from their instruction sequences and make some simple code changes that offer substantial performance gains. Game developers are able to use performance profilers like Intel VTune Amplifier 2017 to get the most performance possible from their multi-threaded processors and AMD hasn't developed a tool like for Ryzen just yet. Hopefully, the performance numbers that you see here are just the start and that more game titles will be optimized. This going to be a huge task for the AMD developer relations, but we know the North American Developer Relations team is being pretty aggressive and we have faith in them!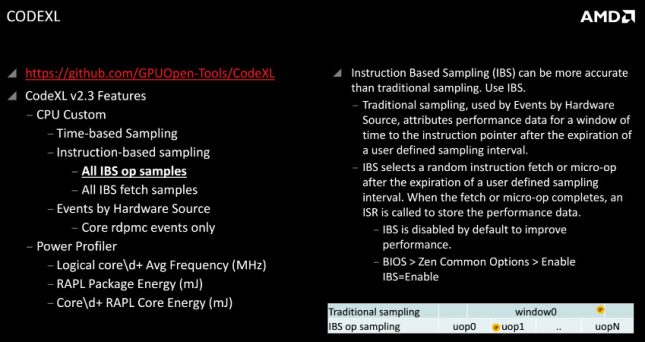 Update: 03/30/2017 at 9am CT: AMD has released the CodeXL Power Profiler as an Open Source tool for GPU debugging and GPU/CPU profiling, so AMD does have a tool for optimizations.
More AMD Ryzen Coverage on Legit Reviews:
AMD Ryzen 7 1800X, 1700X and 1700 Processor Reviews
AMD Ryzen versus Intel Kaby Lake – Gaming Performance
AMD Ryzen 7 1700 Processor Overclocking
AMD Ryzen 7 DDR4 Memory Scaling Performance
AMD Ryzen 7 DDR4 Single-Rank Versus Dual-Rank Memory Performance
Picking The Right AMD AM4 Motherboard For Ryzen
Where are all the AMD AM4 Motherboads?