DDR4 Memory Scaling on AMD AM4 Platform – The Best Memory Kit For AMD Ryzen CPUs
By
Answering What DDR4 Clock Speed is Best For AMD AM4 Platforms
AMD Ryzen processors are here and the number of people buying AMD platforms has spiked as a result. Those that are running out to buy Ryzen 7 series processor will need to also purchase the new AMD AM4 platforms using the B350 or X370 chipset with possibly a dual-channel DDR4 memory kit. Picking out the right memory kit is pretty important, so we are going to look at memory performance on the MSI X370 XPower Gaming Titanium motherboard with an AMD Ryzen 7 1700 8-core processor to see what happens.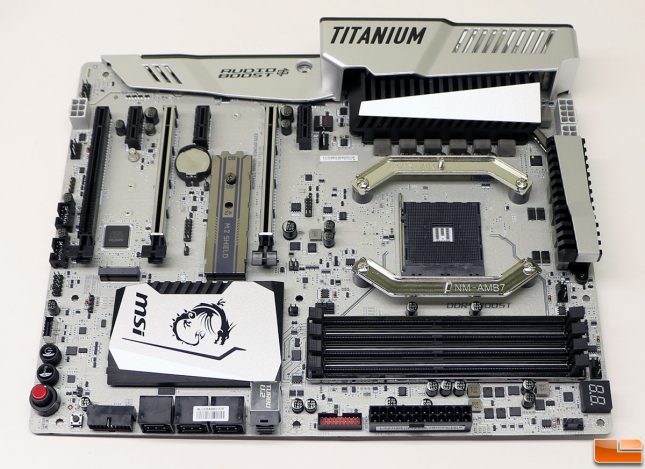 When it comes to memory kits you are looking at around $110 to $130 for most 16GB DDR4 memory kits that range in clock frequency of 2133 MHz to 3200 MHz. We highly suggest a 16GB memory kit as the bare minimum for a system here in 2017 that will be used for PC gaming or content creation.
Corsair Vengenance LPX 16GB DDR4 Memory Kits 2133MHz to 3200MHz:
G.SKILL Ripjaws V 16GB DDR4 Memory Kits 2133MHz to 3200MHz
We've listed a number of kits above to give you an idea of what is available on the market right now.
In order to set your DDR4 memory kit clock frequency and memory timings you will need to enter the UEFI and manually adjust timings. In the gallery above we have some screen shots of the UEFI on the MSI X370 Xpower Gaming Titanium motherboard that we used for testing. We used version 1.22 that came out on March 5th, 2017 for testing and this was the very first version that allows you to disable AMD Simultaneous Multi-Threading (SMT) Technology as the three UEFI versions that we've used before this didn't allow you to do that. When it comes to DRAM configuration settings there isn't much you can do on this platform so far.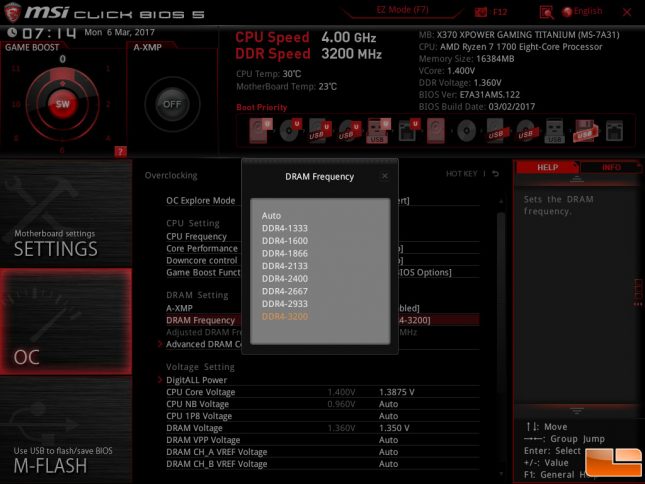 When it comes to DRAM Frequency you eight memory straps (aka: memory dividers) that you can adjust ranging from DDR4-1333 to DDR4-3200. Since memory kits start out at 2133 MHz most people will only find the last five dividers useful as this board doesn't yet allow for the base clock frequency of the processor to be adjusted for bus speed overclocking. You need to adjust the processors bus speed clock to utilize those lower memory straps.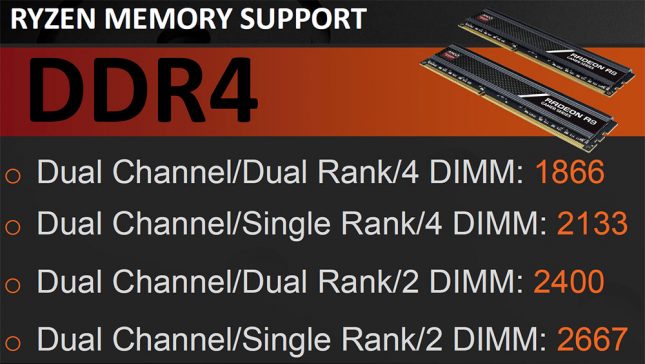 We noticed that no motherboards offer a memory strap beyond 3200MHz and asked AMD if this was a limitation of the processor architecture and we were told that it is just a limit in the base UEFI code and that it is not a limitation of the memory controller design or the overall Zen architecture. So, right now the memory strap limitation is on AMD's side and that the DDR4-3200 is the highest memory strap you can get today. AMD is discussing changing that, but right now it is just a talking point. Official Ryzen DDR4 memory support is listed above. The dual channel/dual tank/4 DIMM support of just 1866 MHz just goes to show how far AMD needs to come. Singe Rank Memory is memory with chips on only one side of the stick of memory, although we have seen some exceptions of the years.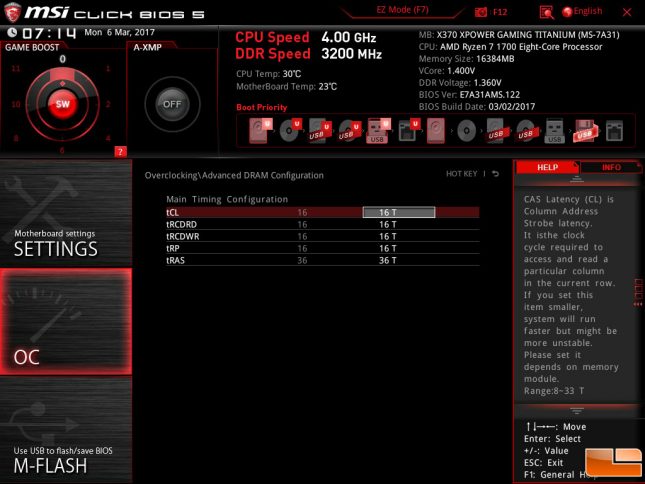 There are just five main timing settings that you can adjust and the command rate is locked to 1T with no option for changing that. Very simple stuff and setting up a memory kit on an AMD AM4 platform is pretty simple. Most AMD X370 boards will have an option for A-XMP or AMP (AMD Memory Profile) Technology that allows you to load a modules pre-configured settings if the memory kit you are using has been pre-programmed.
DDR4 Memory Frequency Impact on AMD X370 and Ryzen 7
To see how DDR4 memory scales on the new AMD AM4 platform we'll be using an AMD X370 chipset based board and an AMD Ryzen 7 1700 processors that we overclocked up to 4.0 GHz. We selected six benchmarks to run AIDA64, Sandra, 3DMark Fire Strike, X264, 7-Zip and Deus Ex: Mankind Divided (DX12). We feel these benchmarks should give a fairly good look at how the memory subsystem on the AMD AM4 platform to help aide people in selecting the right memory kit for their new AM4 platform performs.
We tried our best to use the most popular clock speeds and timings for each clock rate. Heres the full list of our memory configuration we used for benchmarking:
DDR4-2133 – 12-12-12-28 1T
DDR4-2400 – 14-14-14-30 1T
DDR4-2666 – 14-14-14-30 1T
DDR4-2933 – 14-14-14-30 1T
DDR4-3200 – 16-16-16-36 1T
We overclocked our AMD Ryzen 7 1700 8-core processor to 4.0GHz (40 x 100MHz) on our test bed to see how the overall memory clock frequency impacts the performance of Ryzen 7 processors.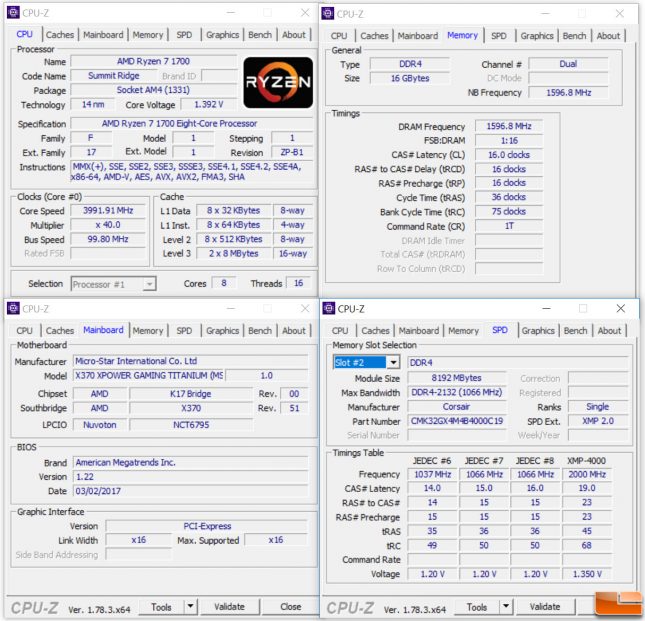 Rather than just running each benchmark or application once, we took the average from running each test scenario three times. This means that we ran 18 benchmarks for each memory clock speed we tested at and there were nine clock speeds tested. All testing was done on a fresh install of Windows 10 Pro 64-bit and benchmarks were completed on the desktop with no other software programs running. We will use an NVIDIA GeForce GTX 1080 Founders Edition graphics card for discrete gaming performance tests.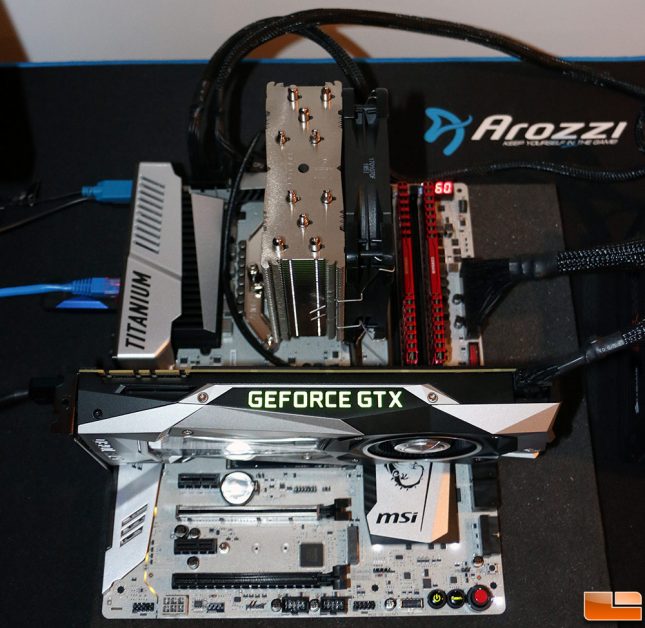 The AMD X370 platform that we used to test the the Corsair Vengeance LPX memory kit was running the MSI X370 Xpower Gaming Titanium motherboard with BIOS 1.22 that came out on 03/5/2017.
Let's take a look at the benchmarks!