One Motherboard Maker Explains Why AMD AM4 Boards Are Missing
By
If you've looked at building an AMD Ryzen 7 system you'll find that the processors are pretty easy to find, but good luck finding a motherboard. Most of the AMD motherboards based on the X370 and B350 chipsets are out of stock and back-ordered. It doesn't matter what brand you are looking for as ASUS, ASRock, Biostar, Gigabyte, and MSI are all selling out quickly due to the limited quantities available.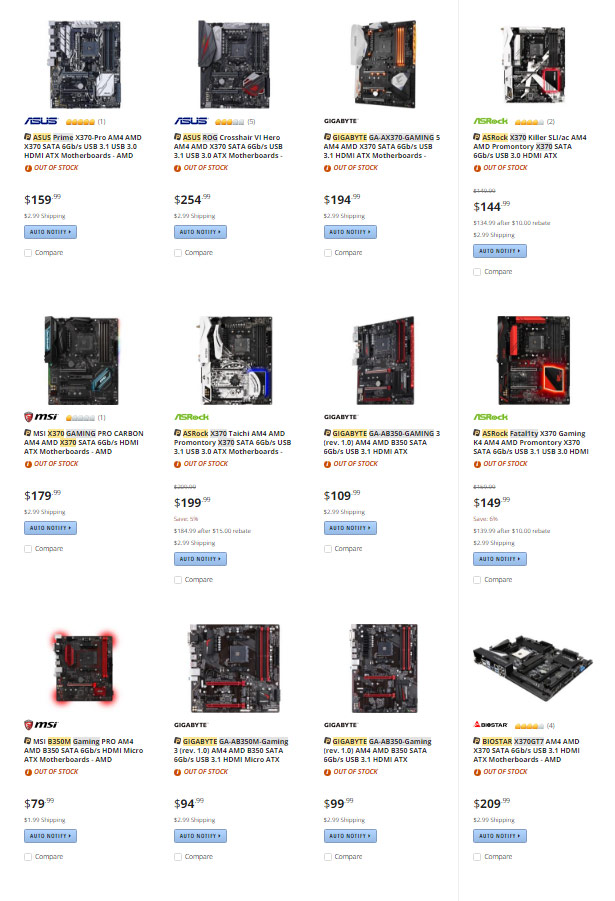 Over the past 72 hours we've reached out to all of the board makers and AMD to see if we can figure out what is going on. AMD got back to us quickly and we received a statement saying that strong demand is the culprit.
AMD is pleased with the enthusiasm for Ryzen and the strong demand worldwide for Ryzen 7. Demand for Ryzen 7 does exceed our motherboard partners initial expectations. Our partners are rapidly ramping up shipments, and we expect sufficient motherboard supply in a few weeks. – John Taylor, Corporate Vice President, Worldwide Marketing at AMD
Then we started hearing back from the board manufactures and most stated that the first batch of boards was very small and shipped by air. They also noticed that the normal bulk shipments are done in shipping containers that come into North America by sea from Asia and that takes weeks and they should start arriving at any time. ECS (Elitegroup Computer Systems) has been notably absent from the AMD AM4 motherboard market, but they do have AM4 boards coming. While we heard back from most all of the manufactures one statement stood out from the rest and they wanted it shared as long as they could remain anonymous.
"Its all about the bad coordination, bad communication, bad support and bad timing to launch this platform in my opinion. With all these issues, none of us could start manufacture the boards sooner. Also, in January and February, all board vendors production lines were occupied with Intel 200 series boards before Chinese New Year and tried to ship as much boards as we can to ensure we wont have stock issues while Asia was on New Year vacation.

In late December, AMD decided to pull in the launch date (it was scheduled to launch in late Q2) and launched it right after Chinese New Year but AMD keep the CPU supply quantity secret from us the whole time. They only shared the data 2 weeks before the launch, we didnt understand why they were doing it. Also, their BIOS team and engineers were doing terrible jobs on supporting us on the BIOS microcode updates, driver updates, CPU samples for testing. They have done nothing they should have been doing to support the launch platform partners and always delay or give no response on support requests. We were all having huge issues to debug with limited AMD resource support including validating the parts, and fixing the memory clock speed that is all limited by AMD.

In general, its been too long for AMD to launch a new CPU, so they forgot how to do it, so they launched the CPU just like they were launching the graphics card. They didnt care about the platform eco-system, so the eco-system is suffering and stock is delayed.

We are flying in new batches every 3 days to try to fulfill the back orders ASAP, so they should be all back in stock soon. With all the board reviews released, per Newegg and Amazon, the AMD memory limitation issue is slowing down the sales though.

We need your help to feedback that to AMD as well on their supports issues." – Anonymous Motherboard Manufacture
That response to our e-mail inquiry to where are all the Ryzen motherboards at was not expected, but confirms what we have all thought. AMD hasn't launched a new platform is many years and it had a tough time supporting board partners. Legit Reviews was also contacted by memory makers for help getting engineering contacts at AMD ahead of the Ryzen launch to ensure their memory kits were compatible as they couldn't get support knocking on the front door. Now here we are just a week after the launch and there are motherboard supply issues, UEFI issues and memory performance issues (Check out our memory performance scaling article to see what those are).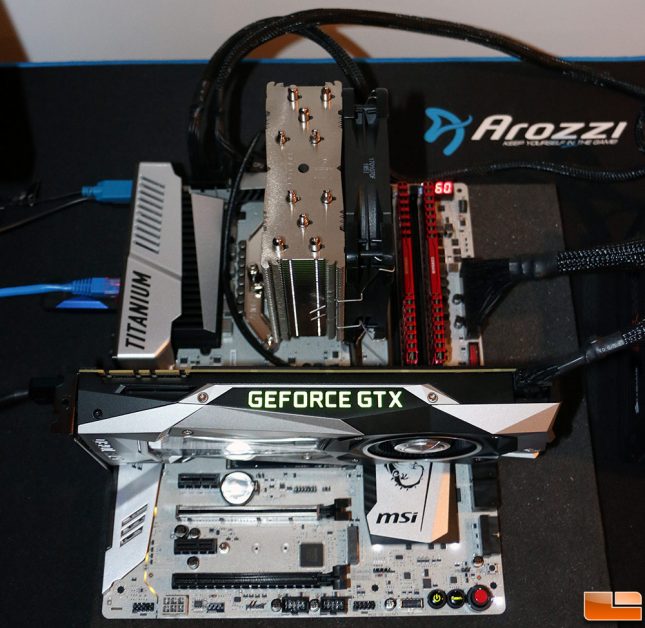 All of our AMD Ryzen 7 testing has been done on the MSI X370 XPower Gaming Titanium motherboard and it has performed pretty well, but it is the most expensive AMD X370 board on the market today at $299.99. We found 2 DIMM single-rank module performance to be fine up to 3200 MHz, but could only get 4 DIMM single-rank module performance up to 2133 MHz in our memory scaling article that we recently published. Memory performance has gotten better on Ryzen since we first told you about the memory performance issues over two months ago, but there is still room for improvement from all board makers.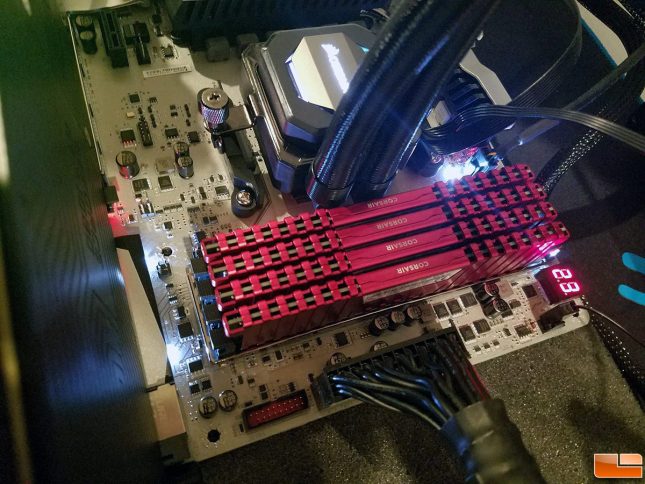 The board makers are rolling out new UEFI (BIOS) updates that are improving the platform. For example, MSI just released UEFI 1.22 for their X370 XPower Gaming Titanium motherboard on March 5th that allows you to disable SMT, but we just found out that the board lacks a CLKGEN (clock generator) on it to adjust the bus frequency for fine tuned overclocking. We were hopeful that was something MSI would enable with a UEFI update, but the board is lacking the physical components to enable it.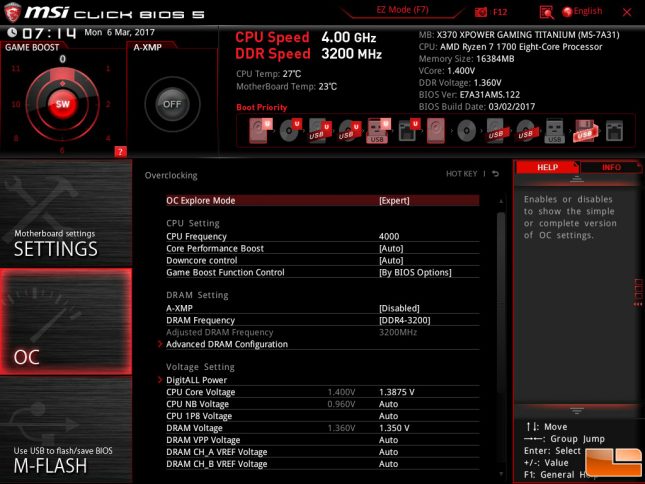 "Our CPU frequency is 25MHz a level, i.e.: when you key in 4000 the frequency is 4000; 4010 or 4020 and enter, frequency will auto adjust to 4025. Key in 4026 will be 4050 and so on. The question on memory to 3600MHz, is because ASUS ROG Crosshair VI Hero ($255.00) and Gigabyte K7 featured CLKGEN on board, MSI also have upcoming model featured this as well, Ill keep you posted." – MSI TW
Oh, the dreaded 0.25x multipliers that are thought to be causing timing issues with Windows 10. The good news is that MSI has a new model coming out with this feature to compete with ASUS and Gigabyte, but it is lacking on their current flagship model. We talked with AMD about some of the missing overclocking features (reference clock adjustment, advanced memory settings, the ability to disable SMT, and advanced voltage options) on the X370 boards and they let us know that the motherboard makers need to step up.
"Obviously, there are different options to enable overclocking; multi and voltage adjustment, also reference clock. One of the ways the MB guys can differentiate their product lines is the inclusion of ref clock adjustment. With X370, B350, and X300 all offering overclocking the ODMs want to differentiate their product lines. Now that the MB guys see how beneficial and desirable ref clock adjustment is, I expect all the motherboard makers to release models to stay competitive. As AMD establishes presence in the high performance and enthusiast market, more and more partners will take advantage of the market opportunities and deliver even better options for builders and overclockers." – Source Inside AMD
Hopefully the AMD motherboards for Ryzen get better and it sounds like new boards are already coming that will have more overclocking features and enhancements. Right now we can't say that we are in love with any one particular AMD X370 board, but we are looking at a number of models right now.
Look at all 21 of the AMD AM4 (X370/B350) boards on Newegg here.
More AMD Ryzen Coverage on Legit Reviews:
AMD Ryzen 7 1800X, 1700X and 1700 Processor Reviews
AMD Ryzen 7 1700 Processor Overclocking
AMD Ryzen versus Intel Kaby Lake – Gaming Performance
AMD Ryzen 7 DDR4 Memory Scaling Performance
Picking The Right AMD AM4 Motherboard For Ryzen
Let us know if you liked this type of coverage by leaving us some feedback below!