AMD Ryzen – Single-Rank Versus Dual-Rank DDR4 Memory Performance
By
AMD Ryzen – Single-Rank Versus Dual-Rank DDR4 Memory Performance
After finishing up our DDR4 memory scaling article on an AMD Ryzen processor with an AMD X370 chipset powered board we were left wondering if memory performance and scaling was similar on different AMX X370 motherboards from different manufacturers. We gathered up the MSI X370 XPOWER GAMING TITANIUM ($299.99), GIGABYTE GA-AX370-Gaming 5 ($194.99) and ASUS ROG Crosshair VI Hero ($254.99) motherboards as the three boards that we were going to try out. Looking at the 'big 3' motherboard markers should give us a pretty good idea if there are any big differences to be had on memory.
When it comes to the memory kits we wanted to test with just two and then all four DIMM slots populated and we also needed to test with single-rank and dual-rank memory modules. Knowing that Samsung Rev B memory IC's are said to do well on this platform we turned to Corsair Vengeance LPX memory kits and ended up getting the Corsair Vengeance LPX 64GB (4x16GB) DDR4 3600MHz C18 ($669.99) for dual-rank testing and the Corsair Vengeance LPX 32GB (4x8GB) DDR4 4000MHz C19 memory kit ($504.99) for single-rank testing. Both of these kits are overkill for the AMD X370 platform, but we'll also use them down the road for testing on Intel platforms and hopefully Ryzen again if any performance improvements are ever unlocked.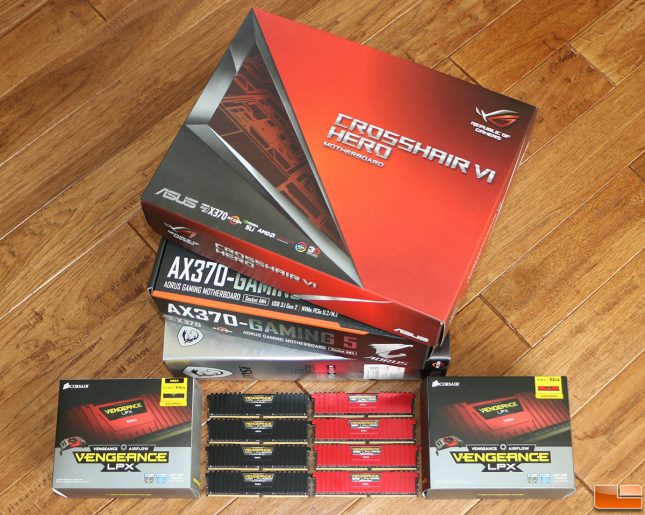 So, we'll test each of the three boards at 2133MHz, 2400MHz, 2666MHz, 2933MHz and 3200MHz DDR4 memory settings with the single-rank kit in 2-DIMM and 4-DIMM configurations and then again with the dual-rank configuration in 2-DIMM and 4-DIMM configurations. Easy right? Actually, that adds up to being 60 different testing configurations if we can hit those speeds for on each board. Times that by 3 and you'll end up with a couple hundred data points per benchmark. Since, we've already tested a handful of benchmarks in our Ryzen DDR4 memory scaling article we'll just be using AIDA64 this time around to catch any big differences between the boards.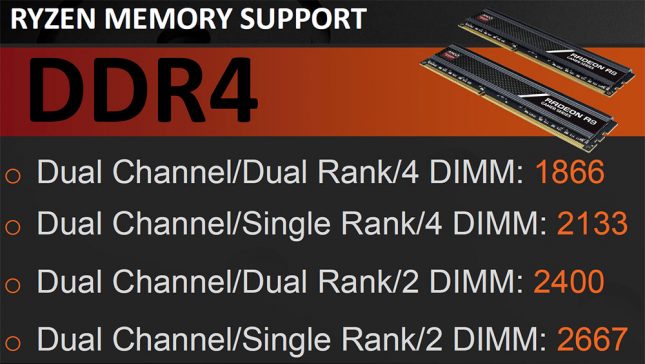 Officially, AMD Ryzen platforms support the following memory configurations:
Dual-Rank w/ 4 DIMM: Up to 1866 MHz
Dual-Rank w/ 2 DIMM: Up to 2400 MHz
Single-Rank w/ 4 DIMM: Up to 2133 MHz
Single-Rank w/ 2 DIMM: Up to 2667 MHz
The good news is that we were able to exceed all of AMD's specifications for Ryzen memory! Let's take a look and see what we were able to come up with.