AMD Radeon R7 260 1GB Video Card Review
By
Test System
Before we look at the numbers, let's take a brief look at the test system that was used. All testing was done using a fresh install of Windows 7 Ultimate 64-bit and benchmarks were completed on the desktop with no other software programs running.
Video Cards & Drivers used for testing:
NVIDIA GeForce 341.40
AMD Catalyst 13.11
Intel X79/LGA2011 Platform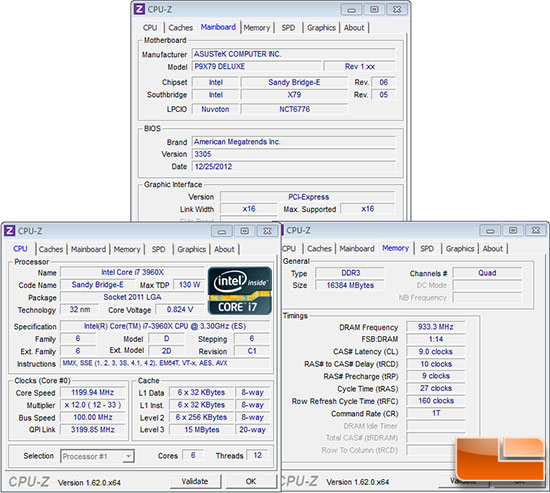 The Intel X79 platform that we used to test the all of the video cards was running the ASUS P9X79 Deluxe motherboard with BIOS 0305 that came out on 12/25/2012. The Corsair Vengeance 16GB 1866MHz quad channel memory kit was set to 1866MHz with 1.5v and 9-10-9-27 1T memory timings. The OCZ Vertex 3 240GB SSD was run with firmware version 2.25.
The Intel X79 Test Platform

Component

Brand/Model

Live Pricing

Processor

Intel Core i7-3960X

Motherboard

ASUS P9X79 Deluxe

Memory

16GB Corsair 1866MHz

Video Card

Various

Solid-State Drive

OCZ Vertex 3 240GB

Cooling

Intel RTS2011LC

Power Supply

Corsair AX1200

Operating System

Windows 7 Ultimate 64-bit
AMD Radeon R7 260 Video Card GPU-Z Information: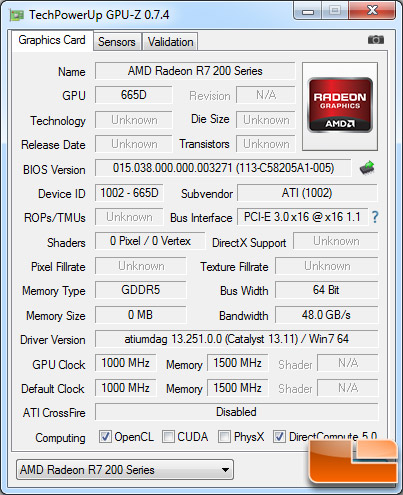 As you can see GPU-Z 0.7.4 doesn't properly read the AMD Radeon R7 260, so we won't be using this utility for monitoring the card.