AMD FX-4100 Quad Core 3.6GHz Bulldozer Processor Review
By
AMD FX-4100 Turbo Core Details and CPU-Z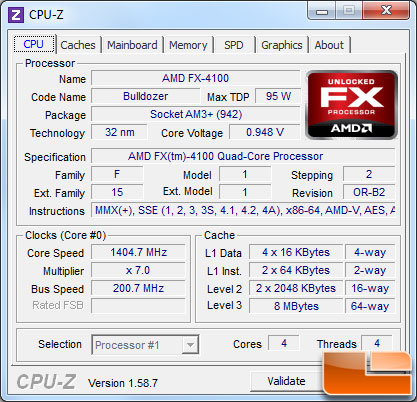 Here is a look at the AMD FX-4100 Bulldozer processor sitting at an idle state on the desktop of our Windows 7 Ultimate SP1 64-bit test system. Notice that the processor is only running at 1.4 GHz thanks to the AMD Power Manager that noticed the CPU was and an idle and put it in a low power state for power saving reasons. This is key as it will have lower idle power consumption and generate less heat. The base clock of the processor is 200MHz and our ASUS Crosshair V motherboard is running the base clock at 200.7MHz, which isn't too far off from default.

Next we want to look at the various power states as with AMD Turbo technology that can get very confusing if you don't know what is going on. The AMD FX-4100 CPU that we have for benchmarking today has a base clock of 3.6GHz, a CPU Turbo Core clock of 3.7GHz and a CPU Max Turbo clock of 3.8GHz. Depending on the number of threads and the temperature state of the processor, the clock frequency will adjust to better handle the tasks you are asking it to do. The FX-4100 is able to run up to 3.8GHz when 1-2 threads are being used, but only up to 3.7GHz if 3-4 threads are being used.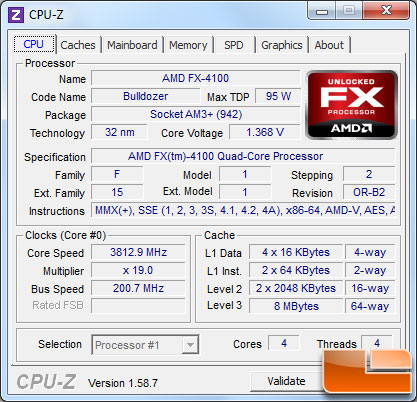 When running a single threaded application the AMD FX-4100 can jump up to the rated
clock frequency of 3.8GHz (as shown above) and it will not go any higher than this as this is the fastest the processor will do out of the box without manually overclocking it. The AMD FX-4100 is a fully unlocked processor, so you can easily overclock it.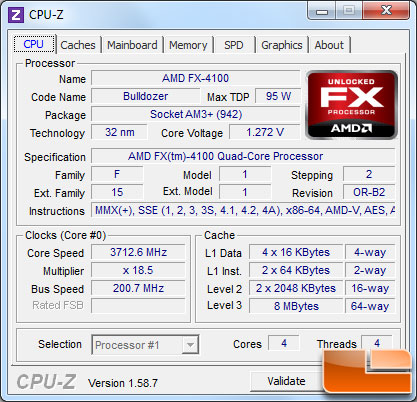 When running two threads the AMD FX-4100 was observed running at 3700MHz, which just happens to be the standard 'Turbo Core' clock speed.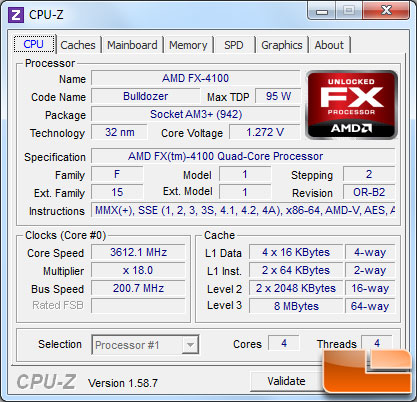 When running all the threads at 100% when using a application like handbrake the AMD FX-4100 was observed running at 3600MHz, which just happens to be the standard base clock speed for this processor.

We get people asking about the Windows Experience Index Score all the time, so we thought we'd include it. According to Windows 7 the lowest performing component on the system was the processor, which would be the AMD FX-4100 CPU, as it had a subscore of 7.6 and that is the base score for the entire system.