AMD FX-4100 Quad Core 3.6GHz Bulldozer Processor Review
By
The AMD FX-4100 CPU
When AMD launched FX-Zambezi series of Bulldozer processors last month they seeded our samples of their flagship FX-8150 processors for the launch articles. Legit Reviews got one of those processors and completed an in-depth review of that CPU on the day it launched. Our readers were clearly disappointed with the performance results and we don't blame them. AMD hyped up this processor for years and just a month before it launched they announced that it had made it into the Guinness World Record books by overclocking to a higher clock frequency than ever before. This was all fine and dandy, but for daily use it doesn't mean squat. Since we've already looked at the flagship AMD FX-8150 8-core processor and had disappointing results we thought we'd look at the entry level AMD FX processor, the FX-4100.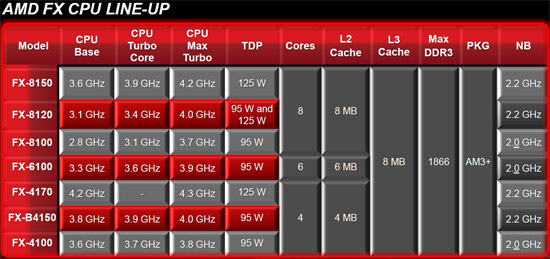 The AMD FX-4100 is a quad-core processor is basically a FX-8150 with 4-cores disabled. This obviously means that the chip has half of the L2 cache (4MB) enabled and a lower TDP (95W). The AMD FX-4100 even has the same 3.6 GHz base clock speed as the FX-8150, but differs slightly in Turbo mode as it is clocked lower. Turbo mode on the FX-4100 runs at just 3.7 (4 cores at load) or 3.8 GHz (2 cores at load), so it doesn't scale as high as the FX-8150.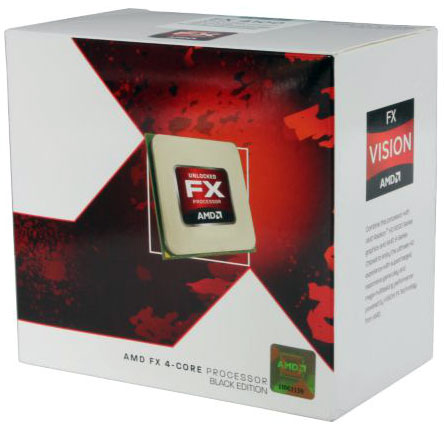 The best part about the FX-4100 is without a doubt the price. The FX-4100 has a street price of $109.99 shipped, which is far less expensive than the FX-8150 that will set you back $269.99 shipped. Could the FX-4100 processor be the value play for the AMD desktop market? That is what we set to find out and we'll be comparing it against processors like the Intel Core i3-2120 quad-core 3.3GHz CPU that runs $127.01 shipped to see how this budget processors compare.
The AMD FX-4100 will work only on AMD AM3+ ready motherboards, but the good news is that sites like Newegg have 46 AMD AM3+ boards to pick from with prices ranging from $54.99 to $239.99. This means that you can easily get a motherboard, 8GB DDR3 memory and the FX-4100 processor for far less than just the FX-8150!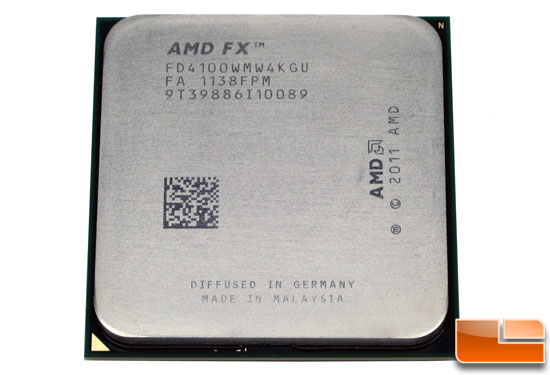 The AMD FX-4100 processor that we picked up has part number FD4100WMW4KGU laser etched on the top of the heat spreader and was made in week 38 of 2011. If the processor has part number FD4100WMW4KGU it is an OEM/tray processor and if it has FD4100WMGUSBX on it that means it is a retail boxed processor.
Since this processor release is just a speed bump let's jump straight into benchmarking!