AMD FX-4100 Quad Core 3.6GHz Bulldozer Processor Review
By
Final Thoughts and Conclusions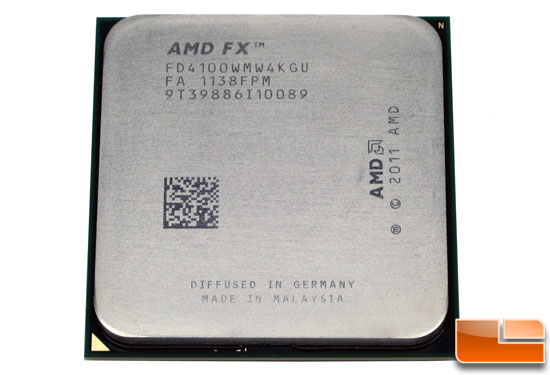 The AMD FX-4100 was found to be a very interesting processor after we sat down and spent a couple weeks with it on the test bench. At first glance it looks like a great deal as it can be purchased for just $109.99 shipped. That makes is far less expensive than the AMD FX-8150 ($279.99) and even slightly cheaper than the AMD A8-3850 ($134.99) and A6-3650 ($119.99). From a price perspective the AMD FX-4100 is indisputably the lowest cost Bulldozer on the market today. So, it's clearly a winner when it comes to pricing.
When it comes to performance we were shocked to see the AMD A8-3850 'Llano' processor and the Socket FM1 platform performing better than the AMD FX-4100 'Bulldozer' processor and the Socket AM3+ platform. We quickly found out that the FX-4100 was priced this low as it needed to be. The performance of the FX-4100 wasn't awful, but we didn't expect to see the AMD A6-3650 running at 2.6GHz to beat the AMD FX-4100 running at 3.6GHz in benchmarks like POV-Ray and Cinebench!
The AMD FX-4100 did do well when it came to overclocking and it might be the easiest processor to overclock that we have used in the past ten years. We were able to get a 1GHz overclock out of the processor by just raising the multiplier in the BIOS of the ASUS Crosshair V Formula motherboard. We didn't even have to touch any voltages to reach this overclock. That is mighty impressive and just goes to show how easy it is to overclock today. The massive 1GHz overclock helps boost the performance of this processor to more respectable levels and is the saving grace of this processor. If it wasn't this overclockable, we wouldn't suggest it at all.
In stock form the AMD FX-4100 isn't that impressive in the benchmarks, but it does offer a value play to those that aren't afraid of overclocking. If you are on a strict budget you can get an FX-4100 for $110 shipped, an AMD socket AM3+ board for $60 shipped and 8GB of Corsair DDR3 1333MHz memory for $32 shipped after rebate. This means iyou can spend right around $200 and get a new motherboard, processor and memory kit. and that is great for those with 3+ year old systems that are in need of an update. We wouldn't waste your money on a faster 1866MHz memory kit with this CPU as we were hitting 10.4 GB/s with 1333MHz memory and 11.1 GB/s with 1866MHz on Sandra 2011 SP5 for memory bandwidth. The FX-4100 doesn't scale that well with memory speed.
Legit Bottom Line: The AMD FX-4100 didn't top the charts when it comes to CPU performance, but the low price and solid overclocking results make it a decent chip for those looking for a budget system build.