AMD Athlon X4 880K Processor Review & Overclocking to 4.5 GHz
By
AMD X4 880K Test System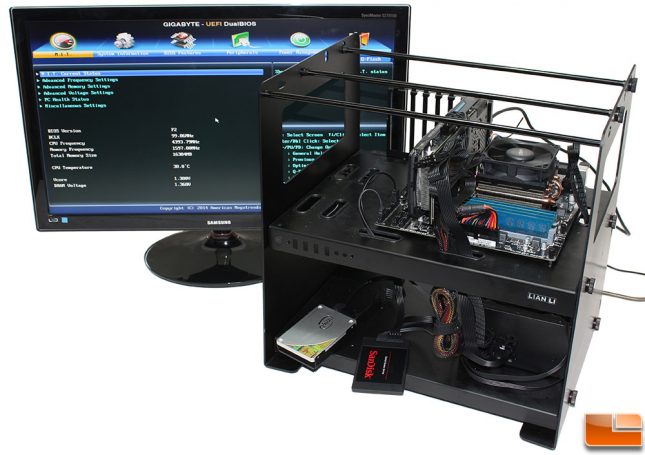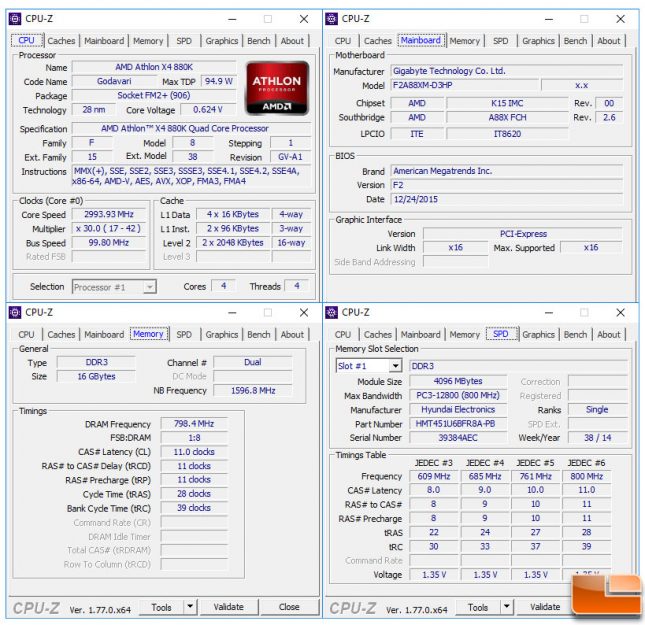 AMD Athlon X4 880K Test System
Component
Brand / Model
Live Pricing
Processor
AMD Athlon X4 880K
Click Here
Motherboard
Gigabyte F2A88XM-D3HP
Click Here
Memory
SK Hynix DR3 16GB (4x4GB)
Click Here
Video Card
EVGA GTX 970SC
Click Here
Hard Drive
Intel Pro 2500 180GB SSD
Click Here
Hard Drive 2
Sandisk Ultra II 480GB SSD
Click Here
Power Supply
Corsair CX750M
Click Here
Operating System
Windows 10 Pro 64-Bit
Click Here
The above listed components will be installed on an open air test bed, and will be tested with a fresh install of Windows 10 64-bit Anniversary edition. All patches, drivers and firmware will be updated prior to beginning the testing.
All testing is done in a temperature controlled room that is maintained at 72F (22.2C), with a 24-hour burn in being completed before testing begins. Whenever possible, we will utilize integrated benchmarks, running them three times and averaging the results.
Near Silent 125W Thermal Solution
The AMD Near Silent cooler comes ready to be attached to the motherboard. Rather than using push pins, screws or some other type of installation method, AMD's motherboards have a retaining clip already installed, all the user has to do is slide the clips over the brackets and flip the locking bracket into place. This is an extremely easy and fast installation method.
Taking a look at the cooler itself, AMD has placed a 92mm Delta fan on the top, model QFR0912H, that is rated for 3200RPM, pushing 60.47CFM at 37.0dBA. The new cooler measures 119 x 100 x 80mm (LxWxH), making it a bit larger than it's predecessor. Included on the new cooler is designed like most coolers, with aluminum fins tightly packed to provide more surface area for cooling. Starting at the base and routing through the aluminum fins, are four 6mm copper heat pipes that are designed to distribute the heat evenly through the fins.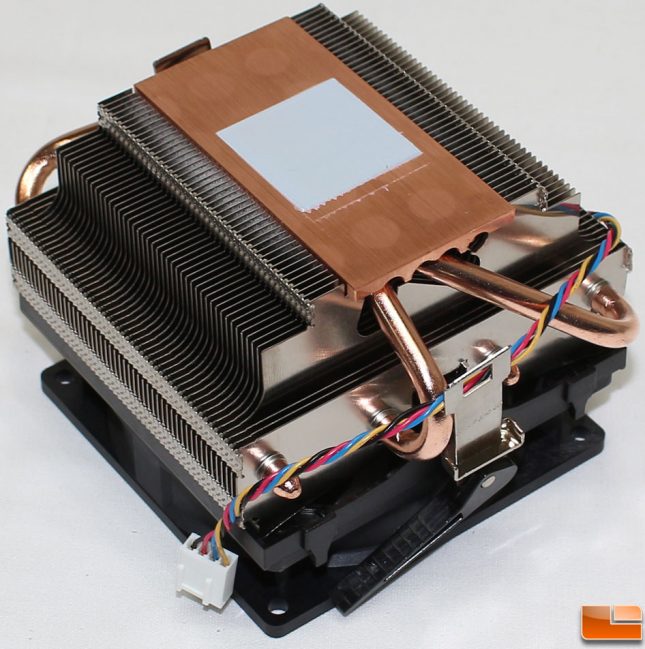 Taking a look at the bottom of AMD's Near Silent cooler, we see that the heat pipes do not come into contact with the CPU. Instead, they are connected to a copper baseplate that has a brushed finish on it. AMD pre-applies a thermal pad making installation that much quicker and easier.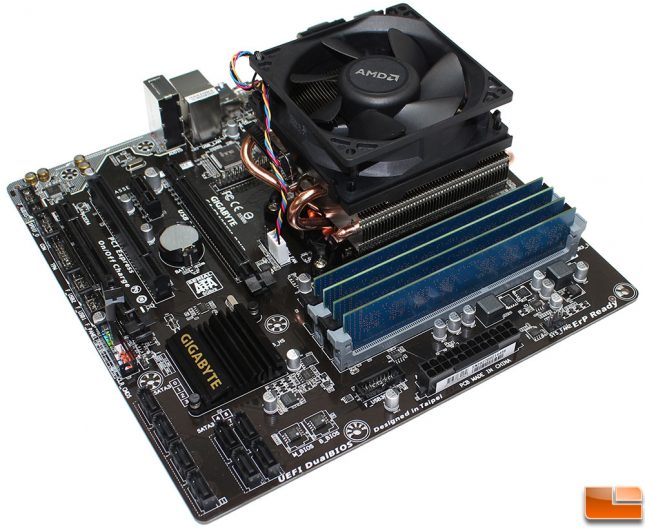 Many enthusiasts will probably never take a second look at the AMD Near Silent cooler system, however as this is a low cost processor, we will use this cooler so we can evaluate it's performance.