AMD Athlon X4 880K Processor Review & Overclocking to 4.5 GHz
By
AMD Athlon X4 880K Review – Godavari
When purchasing a low cost processor, you need to know what your main use of it will be. Depending on your needs, a low cost processor might not be the best choice; especially if you are wanting to do heavy duty tasks such as video encoding. Of course, if you're on a budget, a lower cost processor might be exactly what you are after, as long as you are aware of the limitations, you can make an informed choice. For around $96 with free shipping, you can begin to build a budget minded quad-core system with the AMD Athlon X4 880K processor.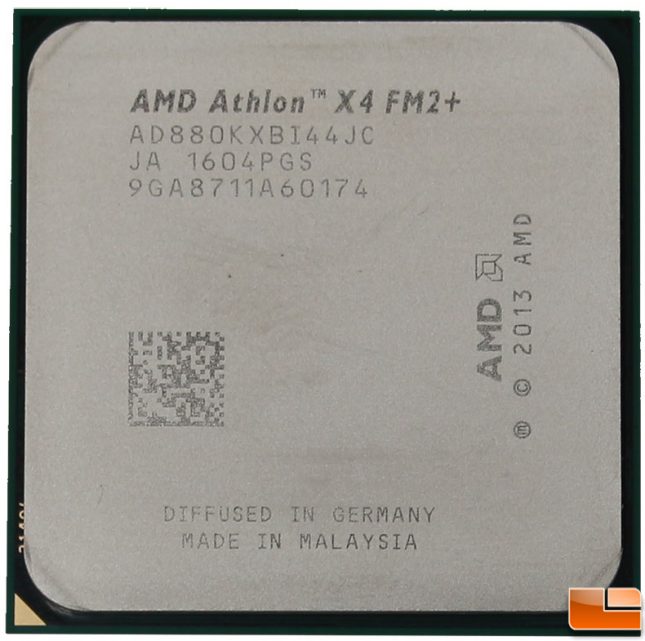 When taking a look at low cost processors, AMD has two different types. The APU, which includes a graphics processing unit, and a CPU, which does not. The AMD Athlon x4 880K is a CPU, not an APU, so you must use a discrete graphics card. The AMD 880K, is a quad-core processor built on their Steamroller architecture, it features a base clock speed of 4.0GHz, with a built-in turbo speed of 4.2GHz. As it is one of AMD's K processors, it is unlocked so it could be overclocked to run faster.
Included with the Athlon x4 880K, is AMD's latest cooler, the Near Silent 125W cooler. In early 2016, AMD introduced it's Wraith cooler, which included a fan shroud with LEDs and a newly designed cooler. The Near Silent 125W cooler is the same cooler that is included in the Wraith package, without the fancy fan shroud and LEDs. This CPU cooler is very well designed and should allow for some overclocking headroom with the AMD Athlon X4 880K 'Godavari' processor as you'll see later in our review.
AMD Athlon X4 880K Features and Specifications
AMD Athlon x4 880K CPU Specifications
Platform
Desktop
Microarchitecture
Steamroller
Processor Core
Godvari
Total L1 Cache
256KB
Total L2 Cache
4MB
Unlocked
Yes
CMOS
28nm
Package
FM2+
# of CPU Cores
4
Base Clock Speed
4GHz
Max Turbo Core Speed
4.2 GHz
Max Temps
72.40C
TDP
95W
Thermal Solution Included
Near Silent 125W
Max Memory Speed
2133MHz
Memory Interface
DDR3
Memory Channels
2
AES Support
YES
FMA
FMA4
AVX
AVX
AMD Virtualization
Yes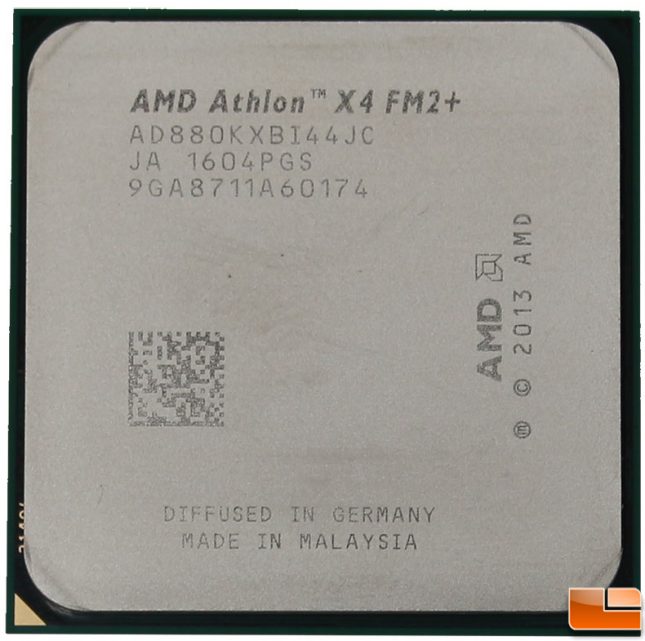 The top of the processor has the Integrated Heat Spreader, where you find the usual markings that includes the model number, manufacturer date, batch number and production location.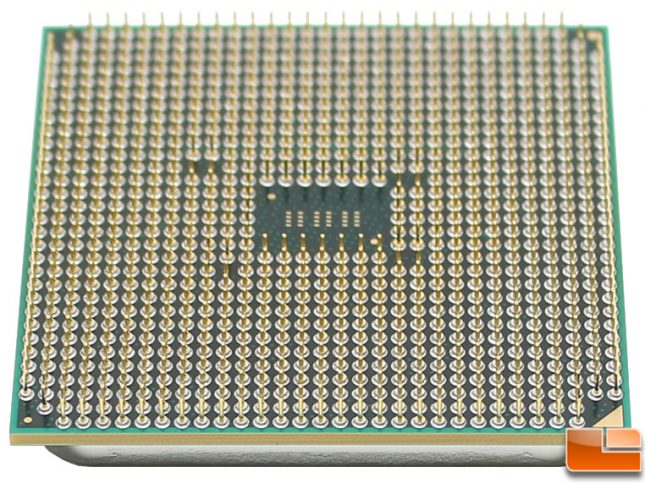 Flipping over to the base of the processor, we can see that AMD is using pins to connect the processor to the FM2+ socket.
Let's take a look at the AMD X4 880K on our test system.