AMD Athlon 5350 APU and AM1 Platform Review
By
Final Thoughts and Conclusion
The AMD AM1 platform offered very solid overall performance and was easily able to handle home and office tasks with ease. SATA III, USB 3.0, support for a discrete graphics card and spare PCIe lanes on a socketed Kabini SoCs that start at $31 is impressive. This isn't an enthusiast system by any means, but we were able to do image editing, spreadsheet work, play online games and watch 1080P Youtube video clips with no issues at all. The performance numbers we saw when benchmarking were solid. We unfortunately don't have an Intel Bay Trail platform here to compare this AM1 platform against, but we have one on the way to check out at a later date.
The best part about the AMD AM1 platform is that it is able run general workloads with minimal power usage and CPU cooler noise. All of the AMD Kabini APUs are 25 Watt TDP parts and we really like seeing our build idle at 14 Watts and peak at around 34 Watts. People want a tiny PC that runs cool and quiet and this platform certainly meets those expectations. The Gigabyte GA-AM1M-S2H motherboard we used for testing didn't have many bells and whistles, but got the job done. This platform isn't about the extras, but rather the essentials.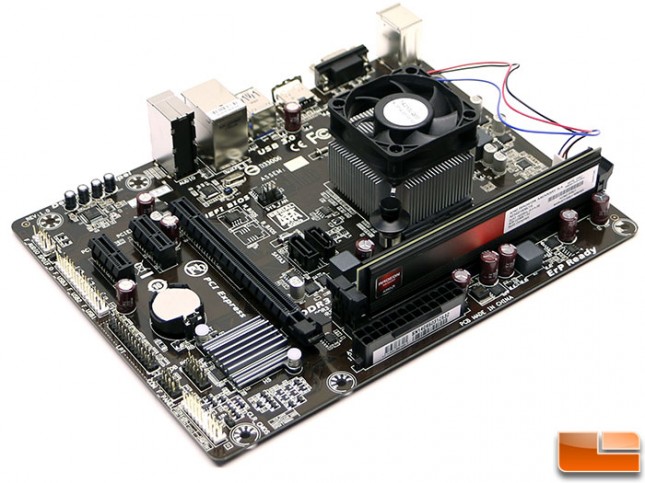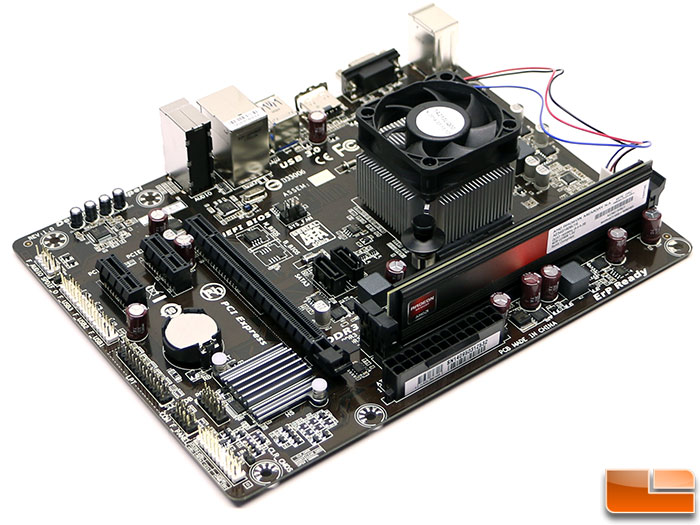 The other strong selling point for this platform is cost. Price is a key factor when buying a system and AMD Kabini APUs were designed to be affordable. Our processor, heat sink, motherboard and memory module ran $136.98, so you are talking about low cost system. The fact that this platform is also upgradeable is nice for the DIY market, although we aren't sure what upgrades are in the pipe for this platform.
AMD Kabini AM1 Test Platform Cost:
What does the future hold for AMD's AM1 platform? We haven't been told that information just yet, but we do know that AMD Beema will be released to the mobile market later this year. That doesn't mean that AMD will release Beema desktop parts, but it would make sense. Even if Beema makes it to a socketed desktop part would it be able to drop into a Socket FS1b board after a UEFI flash or would there need to be a socket change?
At the end of the day AMD's Kabini APUs appear to bring new life into the low-end desktop market. Those looking to build a low-cost system should stop and take a closer look at this platform. The SoC design has really kept prices down and as long as the performance is good enough the AMD AM1 platform could be right for you!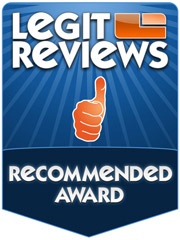 Legit Bottom Line: The AMD Kabini APUs and AM1 platform is priced right and the performance leaves us with no reason not to recommend this solution for general everyday systems.