AMD Athlon 5350 APU and AM1 Platform Review
By
AMD AM1 Platform – Kabini Comes To Socket FS1b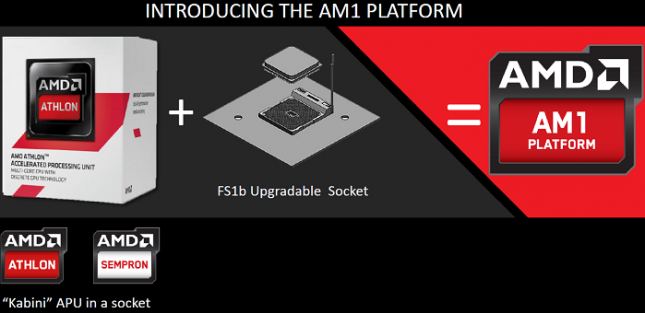 Earlier this month AMD released the low cost AM1 platform that they believe will succeed in the low cost general everyday use and office markets. The AMD AM1 platform consists of a socketed Kabini Accelerated Processing Unit (APU) and a motherboard with the required FS1b upgradeable socket. AMD's Kabini APU is a full System On a Chip (SOC) and that was done by merging the APU (CPU + GPU) and I/O controller hub functions into a single chip and that helps keep power usage and costs down.
To do well in this very competitive market AMD will need an affordable platform that has enough performance to get the daily tasks done. The AMD Kabini APU's range in price from $31 to $55 and the mini-ITX and micro-ATX AM1 motherboards with the FS1b socket range between $25 – $35. That means you could be looking at a fully integrated desktop platform for less than $60! Does AMD have your attention now? Getting a motherboard and a processor for under $60 that can perform 'good enough' for most scenarios would be impressive. It should also be of interest to those building HTPC's, home servers (WHS or Linux NAS) or a Multiple Arcade Machine Emulator (MAME) system.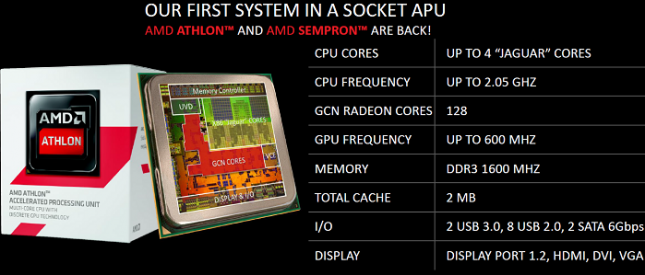 AMD's new Kabini socketed processors incorporate up to four 'Jaguar' CPU cores (clocked as high as 2.05GHz), a Radeon R3 series GPU with 128 Graphics Core Next (GCN) Radeon cores, video accelerators, and an I/O controller that supports two USB 3.0 ports, eight USB 2.0 ports and two SATA III 6Gbps ports. The new processors also support single-channel DDR3 1600MHz memory modules. That might not sound impressive to enthusiasts, but it is faster than the 1333MHz memory limitation on Intel's Bay Trail platform.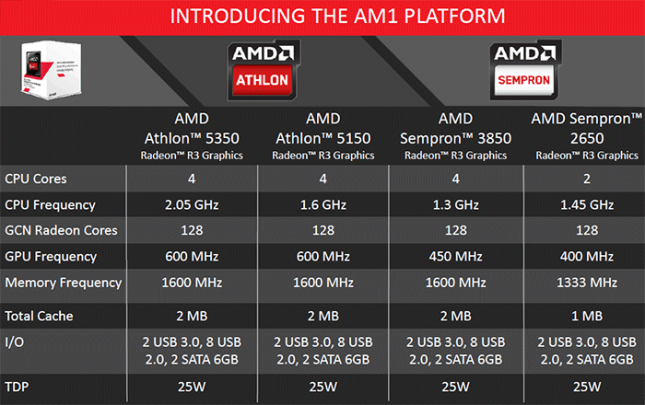 AMD is releasing four 25W TDP Kabini APUs. You start out with the AMD Sempron 2650 dual-core processor that runs at 1.45GHz with 1MB of cache for $31. From there you step up to the AMD Sempron 3850 quad-core processor at $36 that has 2MB of cache and a 450MHz core clock on the GPU. The AMD Sempron 3850 means that you can now get a quad-core processor for under $40! The AMD Athlon 5150 and 5350 quad-core processors will cost $45 and $55 and have a 600MHz core clock on the graphics and much higher CPU clock speeds. The AMD Athlon 5350 is clocked at 2.05 GHz and the AMD Athlon 5150 is clocked at 1.6GHz. AMD claims the high-end Athlon 5350 APU provides superior computing performance to Intels Pentium J2900 (~$94, quad-core, 2.66GHz). AMD claims that their gaming performance up to 2.8 times faster than the Intel Pentium J2900 or a system with an Intel Celeron G1610 along with the NVIDIA G210 discrete graphics card.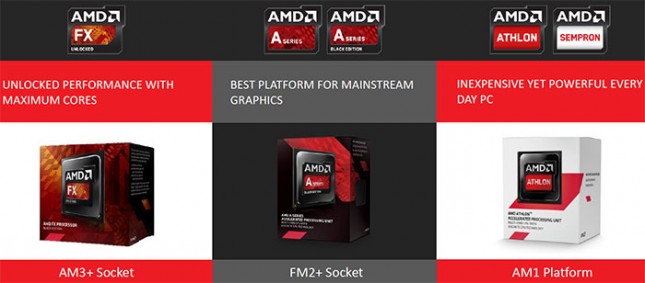 This now means that AMD has three desktop platforms available. You have the AM3+ socket on the enthusiast side, FM2+ for the mainstream market and then the AM1 platform that we are looking at today on the low cost end.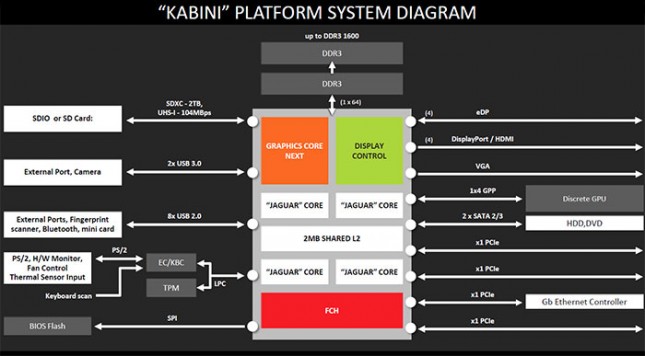 Here is a quick look at the AMD Kabini platform system diagram that better shows the logic that is handled by the APU. Note that motherboard makers have plenty of display options with VGA, DisplayPort 1.2/HDMI and DVI all available to use. There is no need for a 'chipset' on the AM1 platform as everything is under the hood of the APU. This means that most AMD AM1 motherboards will be in the $25 to $35 price range.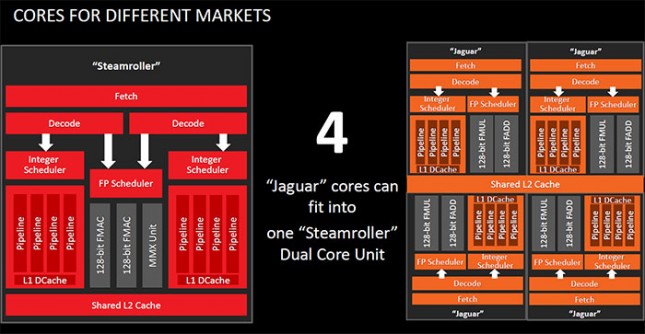 AMDs press slides show that Kabinis four Jaguar cores can fit into one Steamroller dual core unit. AMD has also improved the branch predictor and other front end tweaks to better balance the SSE/MMC/AVX pipelines.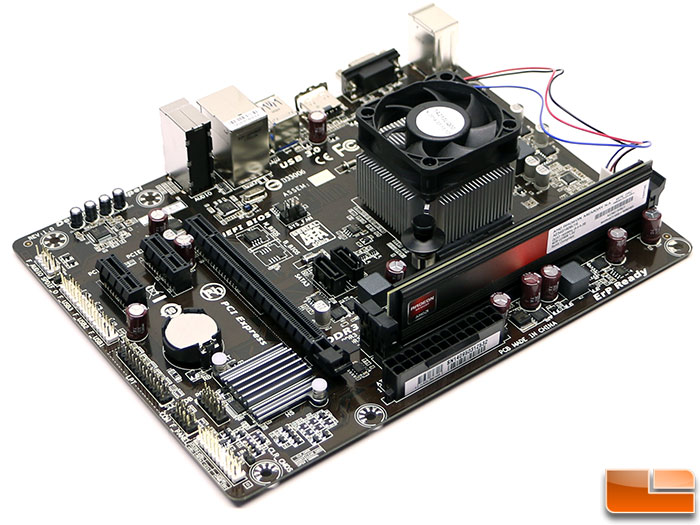 Today we'll be taking a look at the AMD Athlon 5350 APU on the Gigabyte GA-AM1M-S2H mATX motherboard with 4GB of DDR3 1600MHz AMD Radeon Series Memory. This is considered the high-end of Kabini and it should be interesting to see how the platform does!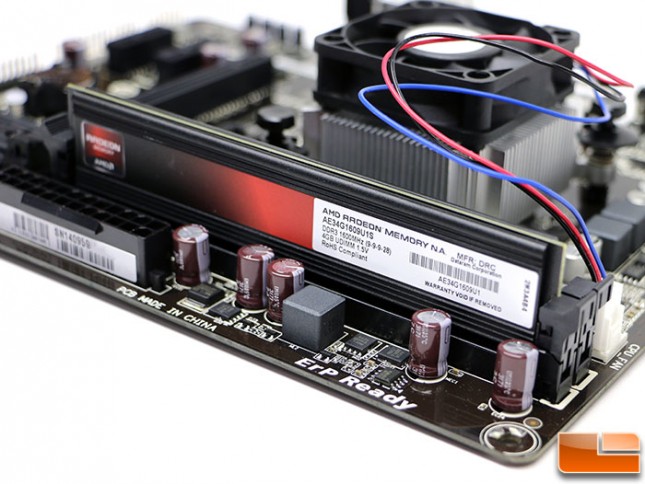 Our test platform came with a single 4GB AMD Radeon Entertainment Series DDR3 1600MHz memory module with CL9 timings (9-9-9-28) and it operates with 1.5V. This memory module is sold under part number AE34G1609U1 for $46.99 shipped with a lifetime warranty. You can get a 4GB DDR3 memory module that runs 1600MHz for $32.99 after rebate, so be sure to check around to get the best deal on the memory module.
AMD Kabini AM1 Test Platform Cost:
This core platform costs $136.98, so you are talking about a very affordable base system. Let's take a look at the Gigabyte GA-AM1M-S2H motherboard and then get to the benchmarks!