AMD Athlon 5350 APU and AM1 Platform Review
By
Gigabyte GA-AM1M-S2H Motherboard Overview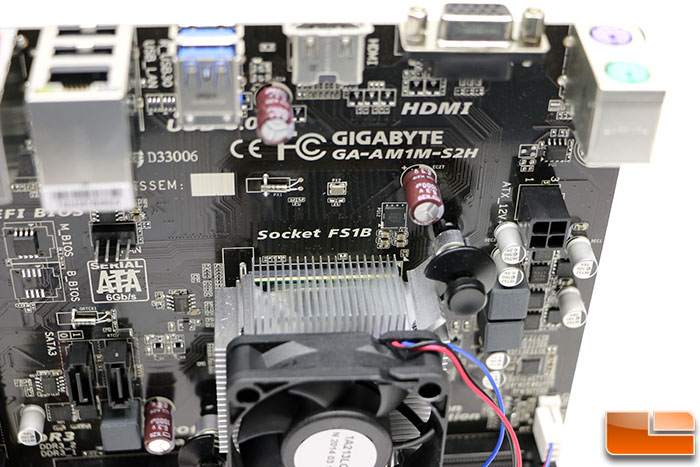 The AMD AM1 platform for Athlon/Sempron-series APUs that we'll be looking at today is centered on the Gigabyte GA-AM1M-S2H mATX motherboard. This micro-ATX motherboard runs just $34.99 shipped! We are used to reviewing motherboards that often cost hundreds of dollars, so it is odd to talk about a motherboard that can be shipped to your door for less than $35. Kabini is basically a full blown SoC with integrated support for DDR3 memory, PCIe, USB 2.0/3.0, SATA III and more.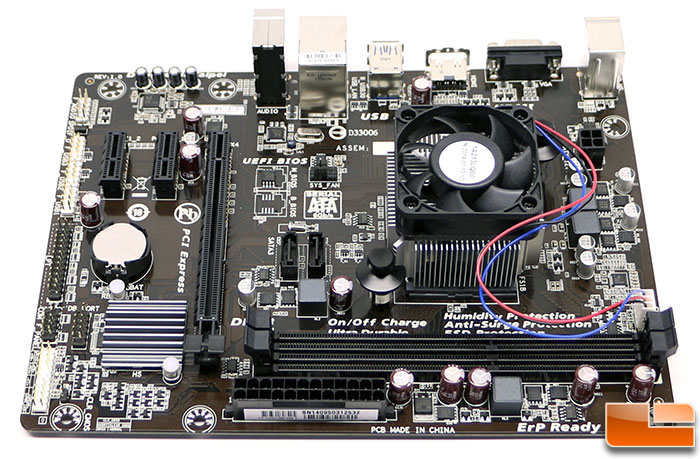 The Gigabyte GA-AM1M-S2H mATX motherboard has both a 24-pin ATX and 4-pin CPU power connectors. The AMD AM1 platform only supports single channel DDR3 memory up to 1600MHz and Gigabyte went with a pair of DDR3 memory slots on this particular board. There is also a PCI-Express 2.0 x16 slot, and a pair of PCIe 2.0 x1 slots. This board only has two fan headers on it and one is used for the CPU cooler, so there is just one board powered 4-pin fan header for a system or chassis fans. We would like to see more than one system fan header on a motherboard, but this board was designed to compete in the $25 to $35 AMD AM1 motherboard market. The Gigabyte GA-AM1M-S2H measures in at 22.6cm x 17.0cm, which is pretty small. A typical microATX board is 24.4cm x 24.4cm.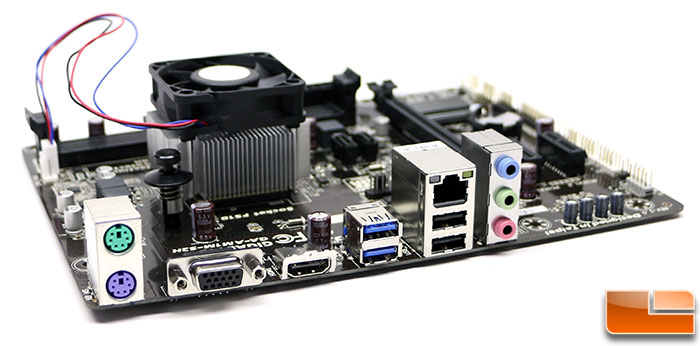 When it comes to the rear panel I/O there are a pair of PS2 ports, two USB 3.0 ports, two USB 2.0 ports, Gigabit LAN, and three audio headers (Line In, Line Out, Mic In). This board supports 7.1 channel audio, so how does that work with this configuration? You have to use the front HD audio panel to enable multi-channel audio. Video outputs on the board include HDMI (maximum resolution of 4096×2160) and VGA (maximum resolution of 1920×1200). This means that you can run an Ultra HD display at 30Hz. Audio is handled by a Realtek ALX887 Codec and the Gigabit LAN is also powered by Realtek controller.
Here is a better shot of the PCI-Express 2.0 x16 slot and the pair of PCIe 2.0 x1 slots. This board confirms to the PCI Express 2.0 standard and not PCI Express 3.0. Along the bottom edge of the board there are six additional USB 2.0 headers available, so there are a total of two USB 3.0 and eight USB 2.0 ports/headers on this board.
The Gigabyte uses a 2+1 phase VRM to condition power. None of the power phases have any cooling heatsinks on them, but we did notice that Gigabyte stepped up to solid capacitors for the power system. We can't recall the last time we saw a motherboard with just three power phases!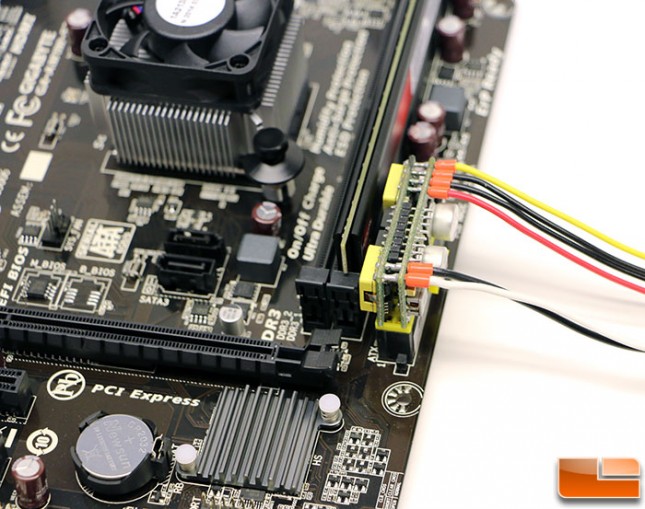 You should be able to get away with a very small power supply or even a PicoPSU as long as it is the newer style with a 24-pin ATX connector and has a 4-pin CPU power header.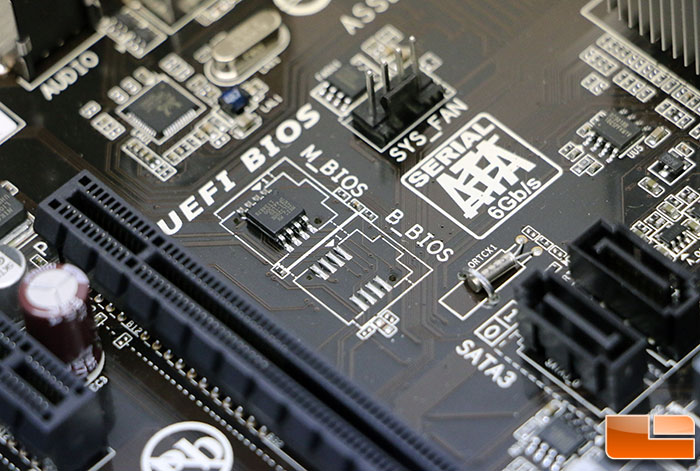 Gigabyte designed the GA-AM1M-S2H to support dual UEFI BIOS, but decided not to put a backup UEFI BIOS on this board due to cost cutting measures to help bring the boards build costs down.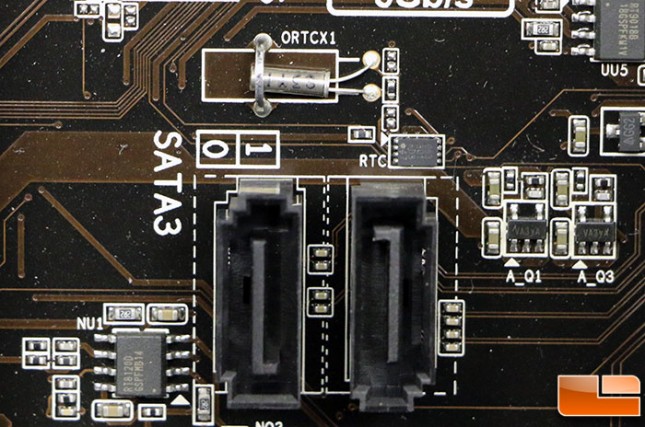 Something we've never seen before on a motherboard is the addition of an Real Time Clock (RTC) to preserve the date and time in the UEFI and Windows. With AMD's new AM1 APU design, the CMOS function now is integrated into the APU, so if APU is removed, users will lose date/time in BIOS and Windows due to the loss of power. GIGABYTE has added a RTC IC to help maintain users' system clock settings without having to reset every time APU.
This image also shows the two SATA III 6Gbps headers. Some people might be upset that there are just two SATA headers available, but for the target market this is all that is really needed. Most office and everyday systems consist of a single hard drive and an optical drive. If you wanted to run two storage drives (SSD for primary and then a hard drive for storage) you can, but you'll be out of SATA headers. The good news is that there are eight USB 2.0 ports on this board and you can use one for an optical drive if one is needed. You might need to get an adapter depending on how you want to configure it, but with eight USB 2.0 ports and two USB 3.0 ports this should be an option.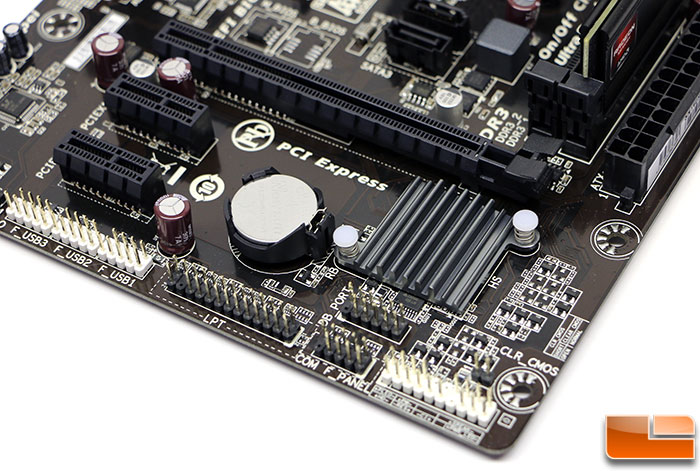 You might be wondering what is underneath the small heatsink in the bottom corner of the motherboard and that would be for the iTE Super I/O chip that adds support for the PS/2 keyboard/mouse, serial port (D-Sub) and LPT header. Not too many people have a printer that needs a parallel port these days, but if you are needing a line print terminal (LPT) header, this board supports it and might save the day.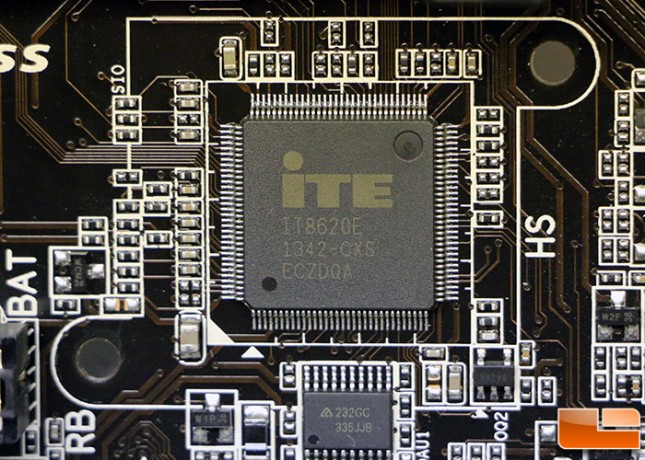 Here is a look at the iTE IT8620E I/O controller that resides under the heatsink.