ADATA XPG GAMMIX S10 512GB PCIe NVMe SSD Review
By
ADATA XPG GAMMIX S10 – A Dressed Up ADATA XPG SX7000
Last year, ADATA launched the XPG GAMMIX S10 series of M.2 PCIe x4 NVMe 1.2 certified SSDs that consists of drives with capacities of 128GB, 256GB, 512GB and 1TB. The XPG GAMMIX S10 series is not the fastest drives offered by ADATA, but the performance of the series is no joke. This drive series offers sequential speeds of up to 1800 MB/s read and 850 MB/s write. Random 4K performance is also good with up to 130,000 IOPS read and 140,000 IOPS write. This is made possible by the pairing of an SMI controller and 3D TLC NAND Flash memory.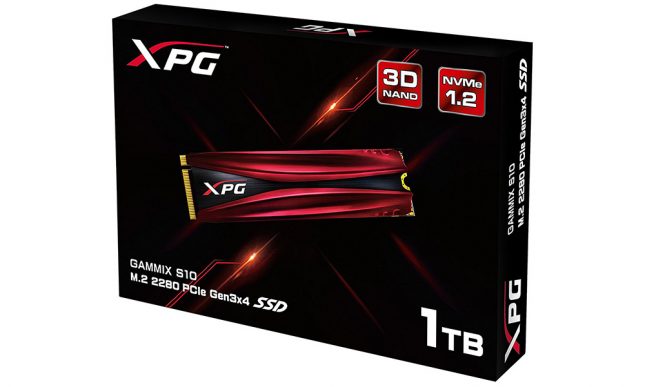 Future examination of the drive itself shows that ADATA went with Silicon Motion's SM2260 controller and Micron's first generation 32-layer 3D TLC NAND Flash memory for this drive. That is a combination that we have seen before on the Intel SSD 600P series back in 2016 and ADATA SX7000 series that was launched in April 2017. The Intel SSD 600P series is widely regarded as Intel's entry-level PCIe NVMe drive, so this is going to be a dressed up budget drive and not a product aimed at enthusiasts looking for the very best performance. Truth be told, the XPG GAMMIX S10 series looks to be nothing more than an ADATA SX7000 series drive with a heatsink on it for an extra $10. The good news is that the heatsink looks great and ADATA claims that it drops drop temperatures by around 10 degrees

ADATA XPG GAMMIX S10 Series Features:
Form Factor: Double-Sided M.2 2280
Interface: PCIe Gen 3.0 x4
Capacities: 128GB / 156GB / 512GB / 1TB
Controller: Silicon Motion SM2260
NAND: Intel 384Gb 32-layer 3D TLC (First Gen)
MTBF: 2,000,000 hours
Sequential Read: Up to 1800 MB/s
Sequential Write: Up to 850 MB/s
4K Random Read: Up to 130K IOPS
4K Random Write: Up to 140K IOPS
Operating Temperature: 0C to 70C
Power Consumption (Typical):

Active: 0.33W
Idle (Slumber): 0.14W

Endurance:

128GB: 80 TBW
256GB: 160 TBW
512GB: 320 TBW
1TB: 640 TBW

Warranty: 5-Years
The exact model that we'll be testing today is the ADATA XPG GAMMIX S10 512GB PCIe NVMe SSD that is sold under part number ASX7000NPC-512GT-C for $164.99 shipped. The ADATA SX7000 512GB PCIe NVMe SSD is sold under part number ASX7000NP-512GT-C and is available for $154.99 shipped, so you are paying $10 extra for having the heatsink on this model. Both drives are identical other than the heatsink down to the firwmare and even are backed by the same warranty. Many new motherboards come with heatsinks for SSDs, so you might not even need a drive with a heatink from the factory.

The heatsink on the GAMMIX S10 looks pretty cool, but it isn't needed as we have seen no reports of any ADATA SX7000 series drives overheating since it was released nearly a year ago.

The bottom of the this double-sided M.2 drive doesn't have room for a heatsink, so one TLC NAND Flash package and DDR3 DRAM chip will not have heatsink coverage.
Let's take a look at how this drive benchmarks.