GIGABYTE Z87X-UD3H Intel Z87 'Haswell' Motherboard Review
Sat, Jun 01, 2013 - 9:01 AM
Futuremark 3DMark 2013
3Dmark Fire Strike Benchmark Results – For high performance gaming PCs

Use Fire Strike to test the performance of dedicated gaming PCs, or use the Fire Strike Extreme preset for high-end systems with multiple GPUs. Fire Strike uses a multi-threaded DirectX 11 engine to test DirectX 11 hardware.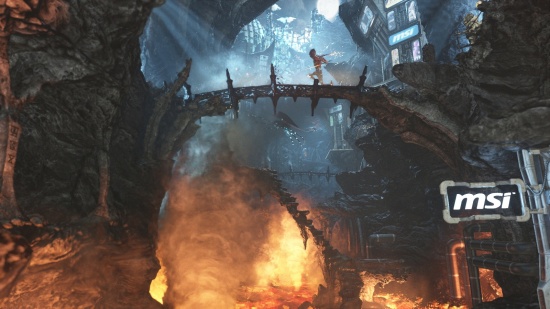 Fire Strike Benchmark Results – Intel HD Graphics:
Benchmark Results: The GIGABYTE Z87X-UD3H Intel Z87 system with the latest Intel HD Graphics 4600 was 270 points faster overall than the MSI Z77A-GD65 Gaming system with the previous generation Intel HD Graphics 4000. That's a jump of 40% over the previous generation!
Benchmark Results: Plugging in our ASUS GeForce GTX 670 DirectCU II there is a whole point separating the GIGABYTE Z87X-UD3H and the ASUS ROG Maximus VI Hero. Compared to the Intel Z77 system the GIGABYTE and ASUS Z87 systems were in the ball park of just over 50 points ahead, though much of that score is likely coming from the ASUS GTX 670 graphics card. If we look at the Physics sub-scores we can see that our Intel Haswell systems are roughly 12% faster than the Ivy Bridge system when it comes to the processor..