Zaward Generation 3 Golf Fan 120mm & 140mm Review
By
Introduction – Generation 3 From Zaward
Back in 2006, Zaward implemented a patent for dimpled surfaces on the impeller of a cooling fan, and followed up with the release of their Generation 1 Golf Fans to the market. The distinctive shape of the GOLF FAN has become a trademark of Zaward products and has been reused by companies like Sharkoon & Rosewill with cooling fans, heatsinks, and power supplies. Today we get to look at the brand new Generation 3 Golf fans from Zaward and test their performance for ourselves!The Third Generation of Zaward Fans introduces a few new key components to maximize airflow while limiting the sound pressure, and profile of the fan itself. This is in the interest of the end user, so they can have the best experience possible with an adequately cooled system that doesn't introduce excess noise into their environment.

Zaward's new Generation 3 line of silent cooling fans comes in 3 sizes and 16 variations:
Zaward G3 Models:
Each model of the G3 Series either varies in speed, color, or LED option. All staying under the ISO standard room noise level of 30dB(A), meaning even the high speed products from Zaward running at 2000 RPM should stay silent, even at full bore.Today, going on the test bench, we have the ZG3-120C & the ZG3-140C which are both spec'd to only produce a maximum of 10.8dB(A) & 11dB(A), respectively, in a sub <10dB(A) environment. Unfortunately, due to the limited abilities of our testing equipment, if these fans due truly perform as they say, we will not be able to get an accurate measurement below 10dB(A). That is, if the specifications of these fans are accurate.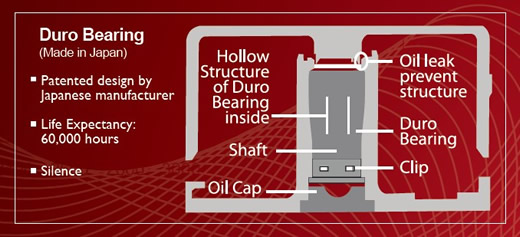 Zaward's G3 Fans feature what is called a Duro Bearing, which unfortunately, does not have that much information out about it. From this diagram on the Zaward site, I can summarize that this is a closed oil shaft bearing, with a hollow shaft in the center.This type of design is what you see with Hypro Bearings & Fluid Dynamic Bearings, but with a hollow shaft in the middle instead of a solid one. Most likely there are more secrets to this design that are just not publicly available.