Western Digital WD TV Live HD Media Player
By
Connecting the WD TV Live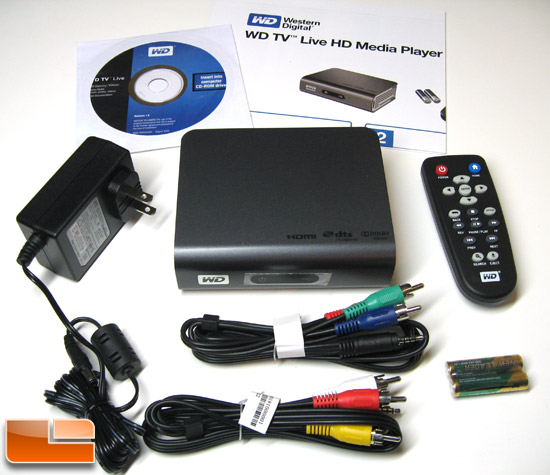 Western Digital ships the WD TV Live with everything you need to get up and going. Besides the HD Media Player, you also get a set of Composite and Component AV cables, the AC Power Adaptor, Remote Control, Quick Install Guide, a CD with documentation and software, and even two AAA batteries.
Western Digital makes two other media players the WD TV and WD TV Mini and the single thing that sets the WD TV Live apart from them (and their competitors) is the ability to access the internet as well as your local network. All of the Western Digitals units are aggressively prices as you can pick up a WD TV Mini for around $65. Unfortunately, none of the Western Digitals other units have network capabilities.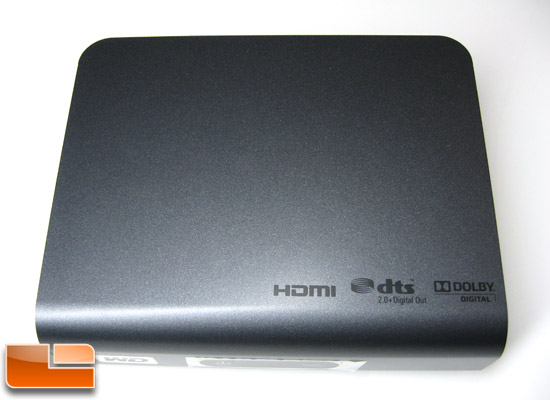 Not only can the WD TV Live play almost every popular Audio and Video container, the WD TV Live can playback multiformat content files. Multiformat is a file type that groups other files of the same digital content but may be encoded in different digital formats. The WD TV Live also supports a variety of subtitle formats for those who like to view international and region free video content. Below is a partial list of format types the WD TV Live supports: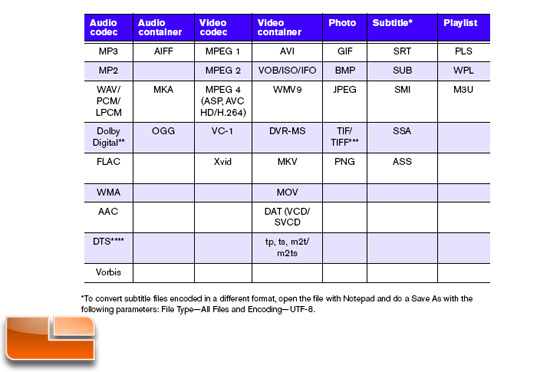 The WD TV Live supports USB Plug-n-Play USB storage devices. If your USB drive contains FAT/FAT32, NTFS, and HFS+ file systems, then you will be good to go with the media player. The WD TV Live has w USB 2.0 ports that not only support your removable storage devices, but also allows you to connect your portable media player, digital camera and USB wireless adapters.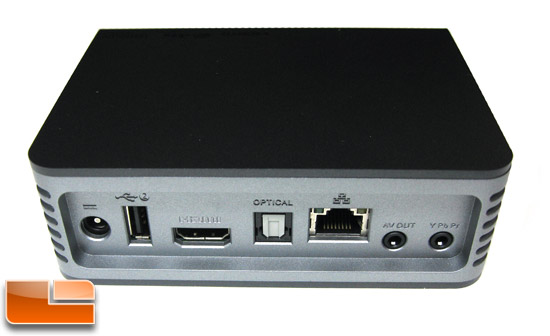 On the back of the unit , you will find the power jack, one of the two USB ports, an HDMI port, a Toslink (optical audio) port, Ethernet port, composite jack, and a component jack. There is also Reset button on the side of the unit next to the second USB port that not only resets the unit, but toggles the video output between NTSC and PAL.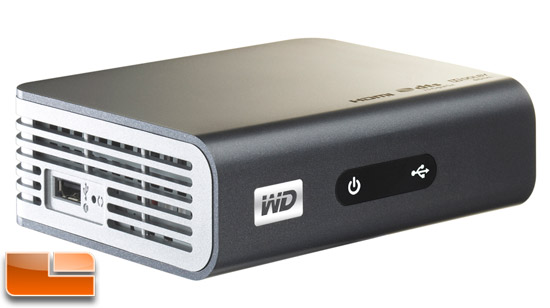 On the front, you will find two status indicators one for Power, and the other for device Status. When you plug in a USB device, you will see the Status LED light up. When data is being accessed from one of these devices, the light will blink. It is a very clean look that gives enough details to help out the user as they use the device in their home or office.
One note before we move on, there are no toggle switches or directional keys on the main body of the WD TV Live so if you lose or break your remote control, you will not be able to navigate any of the menus to play your content. Make sure you keep your remote away from small children and animals!