WD Blue 1TB SSD Review
By
WD Enters The SSD Market Again
WD is taking another stab at the Solid-State Drive market after purchasing SanDisk earlier this year by releasing the WD Green and WD Blue SSD series. The WD Green SATA consumer SSD is aimed at the entry-level market whereas the the WD Blue SATA Consumer SSD is aimed at mainstream consumers. Both series are available in both 2.5″ and M.2 form factors, so they will fit in a wide range of desktop and mobile systems.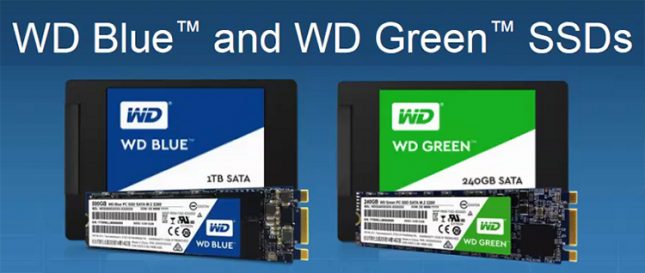 With the acquisition of SanDisk, WD has instantly become a powerhouse in the SSD market as they are number two when it comes to market share by supplier behind only Samsung! Nearly 34 million SSDs were shipped in the second quarter of 2016 with the average SSD capacity being 368GB.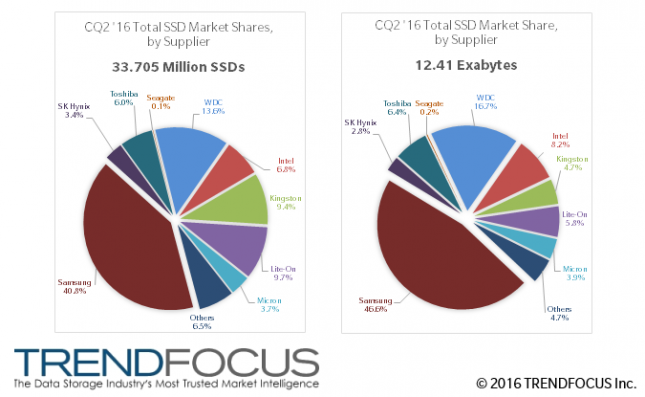 The WD Green SSD series is designed for those that are looking to replace an older system with a hard drive to extend a PC life cycle or for a budget boot drive. The WD Green is only available in 120GB and 240GB capacities, so its appeal to many of our readers likely won't be that high due to the small size capacities. The WD Green Series offer speeds of up to 540MB/s sequential write and 435 MB/s sequential write with 4K random reads of up to 37,000 IOPS and 4K random writes of up to 68,000 IOPS. WD backs the WD Green SSD series with a 3-year warranty and an endurance rating of 40 TBW on the 120GB drive and 80 TBW on the 240GB drive. WD will be launching the Green SSD series later this quarter to select regions and customers. We aren't sure if they will be available in many regions and pricing won't be announced until the drives become available in that region.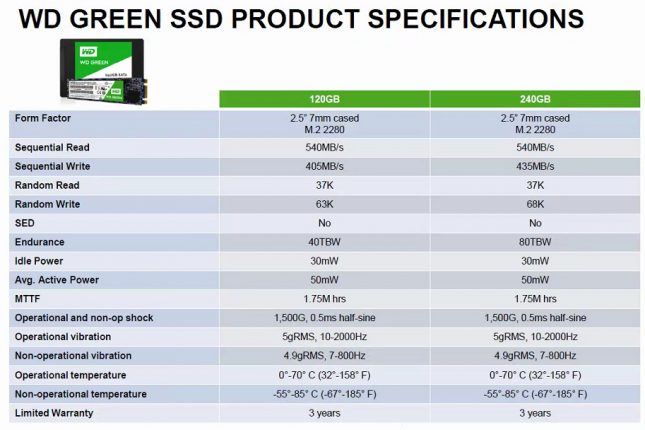 For those that are looking for a little more mainstream performance there is the WD Blue SSD series that is available starting today in most all regions in the World. The WD Blue Series is available in 250GB, 500GB, and 1TB capacities with prices of $79.99, $139.99 and $299.99, respectively. With price per GB as low as $0.28 with the MSRP these drives are sure to get some attention. The performance on the WD Blue SSD series varies between capacities, but the sequential read peaks at 545 MB/s and the Sequential write tops out at 525 MB/s. The 4K Random performance reaches up to 100,000 IPS read and 80,000 IOPS write, which is pretty solid for the mainstream market. WD went with a Marvell 88SS1074 4-channel controller and SanDisk 15nm 3-bit per cell (TLC) NAND Flash for this series.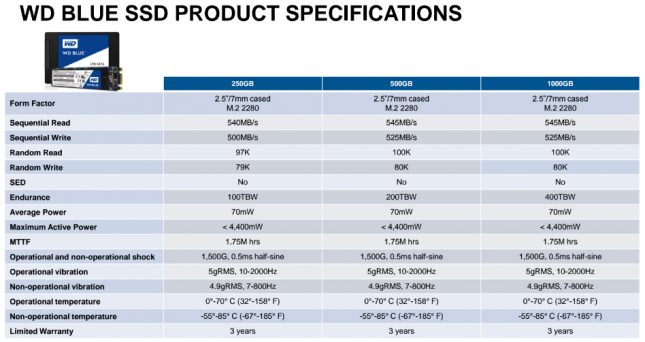 The WD Blue SSD series lacks support for AES 256-bit hardware encryption, but does support DevSLP (Device Sleep). For the WD Blue 1TB SSD you are looking at 6.0-9.7 mW in DevSLP, 45-52mW in Slumber, 70mW for average active power, 2,850 mW for maximum read operating and 4,400mW for its maximum write power. The mean time between failure (MTBF) rating is the arithmetic mean (average) time between failures of a system and is used by many to gauge the reliability of an SSD and this series is higher than most at up to 1.75 Million hours.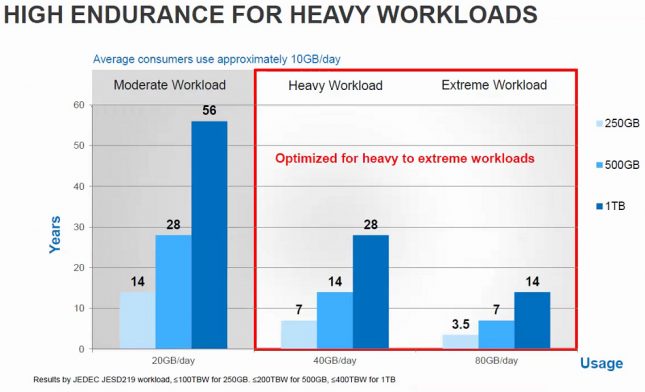 All WD Blue SSD products are backed by a 3-year warranty that is limited by a terabytes written (TBW) endurance rating. Basically, if you write too much data to the drive before the warranty is up you may invalidate the remaining time left for the warranty. The WD Blue SSD 1TB has a 400 TBW rating, 200 TBW on the 500GB model and 100 TBW on the 250GB mode. Not bad endurance ratings and WD boasted that if you write 20GB of data each and every day to the WD Blue SSD 1TB drive that it will take 56 years to hit 400 TB of data written to the drive. Even heavy users that write 80GB of data a day will need 14 years to hit the 400 TBW mark. Note that on the smaller 250GB drive that heavy users will get there in just 3.5 years, so heavy users might want to buy a larger capacity drive just to get a higher endurance rating.
WD Blue SSD Performance, Endurance & Pricing:
| | | | |
| --- | --- | --- | --- |
| Model | WDS250G1B0A | WDS500G1B0A | WDS100T1B0A |
| Capacity | 250GB | 500GB | 1TB |
| Controller | Marvell 88SS1074 | Marvell 88SS1074 | Marvell 88SS1074 |
| NAND | Sandisk 15nm TLC | Sandisk 15nm TLC | Sandisk 15nm TLC |
| Max Sequential Read | 540 MB/sec | 545 MB/sec | 545 MB/sec |
| Max Sequential Write | 500 MB/sec | 500 MB/sec | 520 MB/sec |
| Max Random Read | 97,000 IOPS | 100,000 IOPS | 100,000 IOPS |
| Max Random Write | 79,000 IOPS | 80,000 IOPS | 80,000 IOPS |
| Avg. Active Power | 70mW | 70mW | 70mW |
| Max Write Power | 3,400 mW | 4,000 mW | 4,400 mW |
| TBW | 100 TB | 200 TB | 400 TB |
| Warranty | 3-Years | 3-Years | 3-Years |
| MSRP in USD | $79.99 | $139.99 | $299.99 |
| Street Price | $79.99 | $139.99 | $279.99 |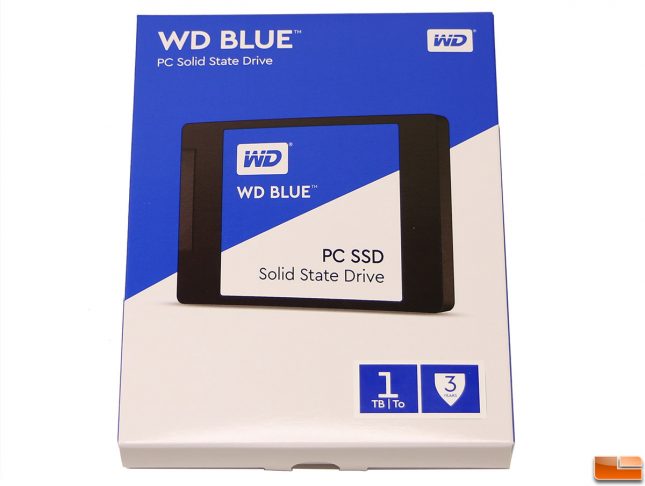 The drive that we'll be looking at today in-depth is the WD Blue PC Solid State Drive 1TB 2.5″ SATA III (6Gbps) model that is sold under part number WDS100T1B0A for $299.99. The packaging is simple and inside you'll find just the drive. No spacers, paperwork or drive cloning software key is included with the purchase of a WD Blue SSD. You can download WD SSD Dashboard to use with the drive though as it is a handy little piece of software that will allow you to check out the drive details and make bootable thumb drives to secure erase the drive if needed down the road.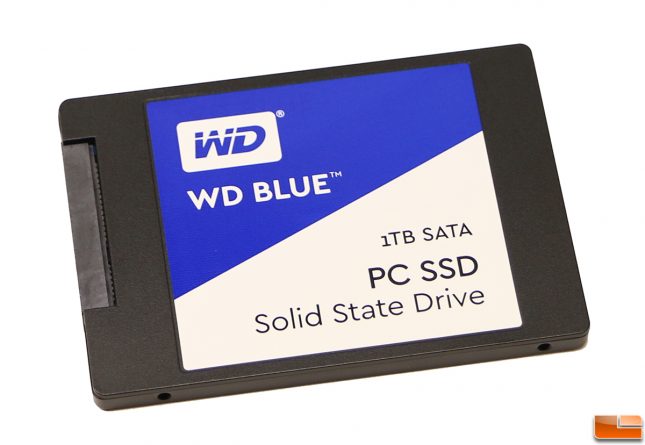 To remove the cover you need to remove the bottom sticker as there are four right in the middle of the drive drive that holds the top plastic lid to the bottom metal cover. We already know WD is using a Marvell controller and SanDisk 15nm TLC NAND Flash, but sources inside WD told us that they aren't using any thermal pads and that there are eight NAND Flash packages used on the 1TB drive that we got. Knowing this, there really isn't a need to pop open the drive.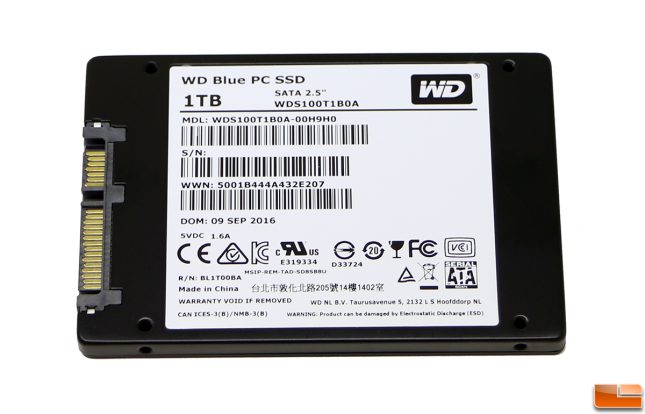 The WD Blue SSD 2.5″ drive series come in a black enclosure and features a standard SATA III 6 Gb/s interface. The product label on the back of the drive lists the capacity, model number, serial number, date of manufacturing (DOM), power information, country of production and more.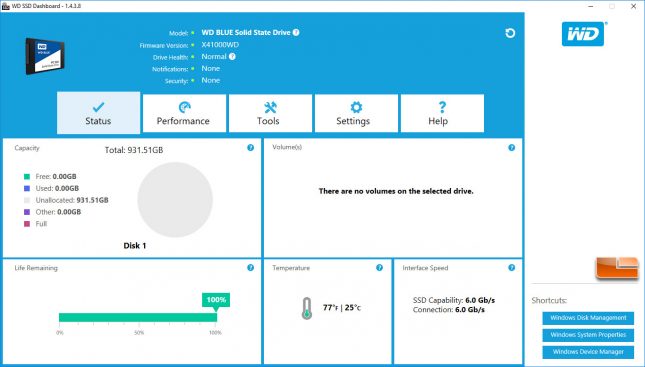 You can also download the WD SSD Dashboard utility from the WD website that will allow you to check out the status of the drive, make a bootable USB Flash drive to perform secure erase on the drive for those running Windows 8 or newer, update the firmware of the SSD, manually run the TRIM command and more. This software is virtually identical to the SanDisk SSD Dashboard that has been out since 2014.
Let's move along and take a look at the test system and then the benchmark numbers!