SanDisk Extreme PRO Series SSD Review
By
Go With The PRO You Know – SanDisk Extreme Pro SSD
SanDisk is an extremely popular brand in the flash memory card business and it stands to reason that they would also draw those same customers over to their SSD business. So it's not too surprising that, based on discussions with shoppers and general internet chatter, SanDisk appears to be one of the prized SSD brands among consumers. This with good reason as their Extreme II line of drives performed extremely (no pun intended) well in our testing. Their literature also states that they are qualified at six of the top seven server and storage OEM supplier so they are definitely doing something right.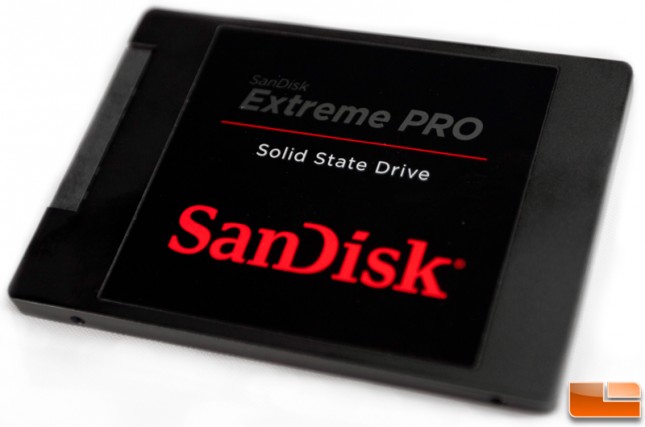 The new SanDisk Extreme Pro Series of SSDs feature the same controller as the Extreme II, albeit with updated firmware, slightly higher clock speeds and new 64Gbit 19nm MLC NAND. As such, their specifications have been bumped slightly as well as seeing a huge increase in the warranty length that's been jacked up to 10 full years! Though curiously, the drive endurance rating remains the same at 80 TBW for which they are probably counting on most consumers to upgrade well before the 10 years. They've also dropped the 120GB version available in the Extreme II line and now offer only 240GB, 480GB and 960GB versions. Part of this is because the 120GB versions just don't see the same performance as the larger drives and the second part is that SSD prices have dropped enough that the 240GB drives are now in the market sweet spot. The performance piece is key as these drives are targeted to gamers, PC enthusiasts and media professionals for which most are probably looking for 240GB drives at a minimum.
SanDisk Extreme PRO Features and Specifications:
SATA 6Gb/s compliant, backwards compatible
ATA8-ACS v6
NCQ support up to QD = 32
Support for TRIM
S.M.A.R.T. feature supported
DEVSLP for ultralow power consumption
Advanced Flash Management:

nCache PRO- Non Volatile Write Cache
Dynamic and Static Wear-leveling
Bad Block Management
Background Garbage Collection

Advanced Features:

Tiered Caching – volatile and non-volatile cache
Supports multi stream – improves user experience in multitasking systems
Minimal write amplification – increases endurance and performance

Support For Thermal Throttling:

Performance will be throttled in the even junction temperature of critical components is measured to be exceeding the maximum allowable for product
Specification:
Parameter:
240GB
480GB
960GB
Part Number:
SDSSDXPS-240G-G25
SDSSDXPS-480G-G25
SDSSDXPS-960G-G25
Pricing:
$195.00
$369.99
$599.99
Flash:
SanDisk 1Ynm, eX2 ABL MLC, Toggle
Interface:
SATA 6GB/s backward compatible
Performance:
PCMark Vantage Score:
81K
81K
81K
CrystalDiskMark:
Seq Read (up to):
550MB/s
550MB/s
550MB/s
Seq Write (up to):
520MB/s
515MB/s
515MB/s
Rnd Read (up to):
100K IOPS
100K IOPS
100K IOPS
Rnd Write (up to):
90K IOPS
90K IOPS
90K IOPS
Power:
Active Power:
0.13 W
0.15 W
0.15 W
(Typical)
Max Read Operating:
2.7 W
2.7 W
2.9 W
Max Write Operating:
2.6 W
3.5 W
3.6 W
Slumber:
82.5 mW
100 mW
100 mW
DEVSLP:
5.5 mW
19.0 mW
19.0 mW
Endurance
Terabyte Written:
80 TBW
80 TBW
80 TBW
Weight:
Individual Product:
58 g
58 g
61 g
Size:
2.5″ SFF-8223 & -8201:
70mm x 69.85mm x 100.5mm
Environmental:
Operating Temp:
0C to 70C
Non-Operating Temp:
-55C to 85C
Warranty:
10 Year limited warranty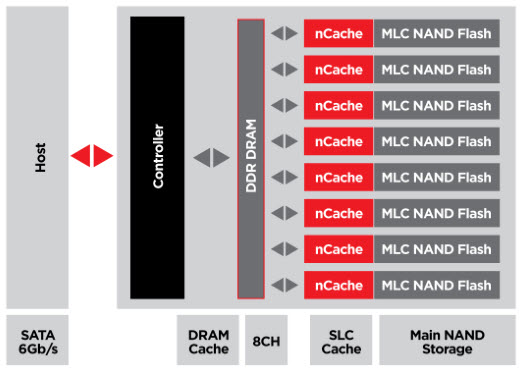 As many are aware, the majority of I/O operation on modern computers comes in the form of 4KB reads. For SSDs, the block structure is typically >1 MB so SanDisk has designed three storage layers to assist in the process – DDR DRAM cache, the MLC NAND Flash, and nCache. The first two should be familiar to everyone but the last which is also known as tiered caching, may be new to some. Basically, the nCache is an undisclosed quantity of SLC NAND used to quickly cache the data which is then flushed to the MLC NAND in an organized and consolidated manner. It's basically used for bits of data < 4KB and works in conjunction with the DRAM cache that takes on the larger bits of data.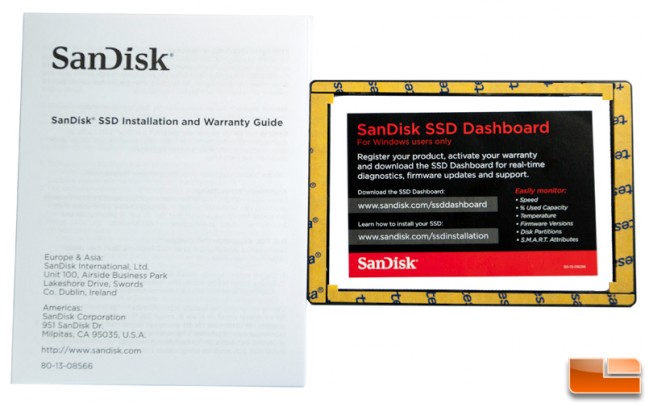 In the box along with the drive, SanDisk provides a 2.5mmshim to change the drive Z height from 7mm to 9.5mm in the even it is needed. It also comes with an installation and warranty guide brochure and a registration card with a link to the SanDisk SSD Dashboard.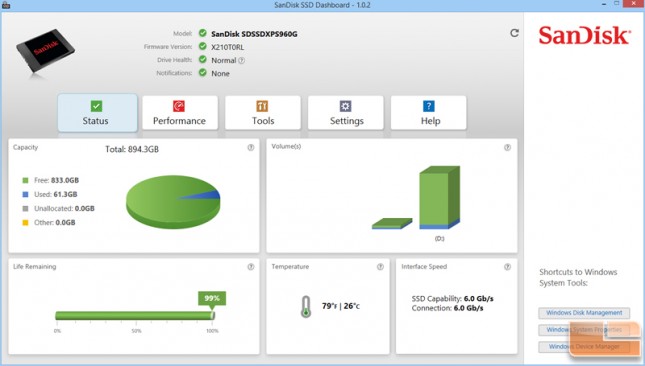 The dashboard is a great tool for doing a number of things such as viewing the status of the disk, performing a secure erase, changing partition size and even running benchmarks. They did an excellent job providing a nice piece of software.