VisionTek Data Fusion PCIe SSD 240GB Review
By
Final Thoughts & Conclusions
The VisionTek 240GB PCIe SSD has 256GB of physical NAND on board (1GB byte = 1,000,000,000 bytes) but virtually, the user ends up with 223GB (1GiB = 1,073,741,824 bytes) in which to use as they please. This takes into account over-provisioning and the bit that Windows keeps for its own purposes.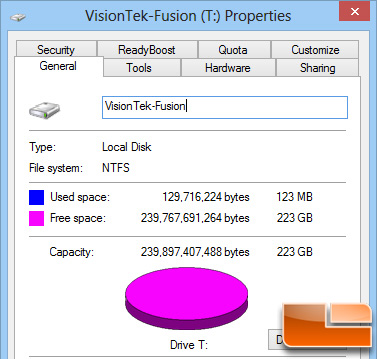 It's good to see more PCIe options in the marketplace that aren't just aimed at enterprise/server applications. It's the only way, as of now, the circumvent the limited bandwidth of SATA III (6Gbps) but it does come with some minor pitfalls. Not all PCIe drives are bootable and the ones that are can have some issues with various utilities that may or may not recognize it, or only partially. Also, if you want to clone over the OS like we do for all of the drives we test to keep the Windows install consistent, it can be a real challenge as the drivers that allow it to be recognized as a valid drive are generally not present in the image being cloned over so there are some hoops to jump through to get it right. A fresh install of Windows is a bit easier as there is opportunity to load the driver during the install. With the next iteration of the SATA interface (SATA Express) on the horizon, the future of consumer PCIe drives is still uncertain but we expect to see a fair number of them to emerge over the next few months.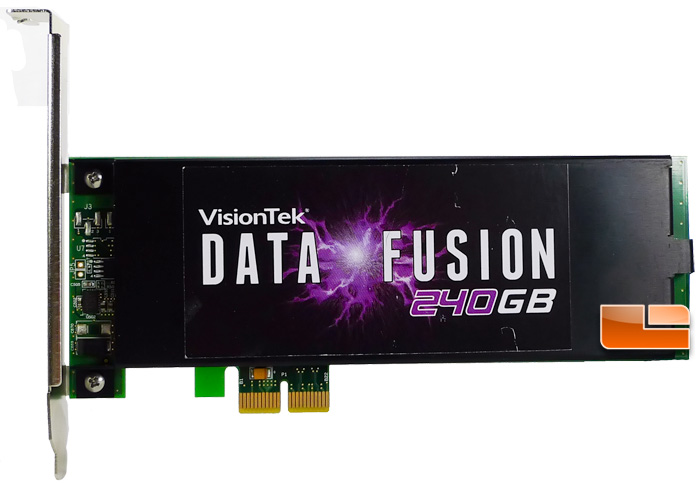 In terms of the VisionTek PCIe SSD on hand, we have a mixed bag of performance and we don't have recent results of another PCIe drive for comparison. As such, we kept the SATA III drives numbers for points of reference. Sequential reads/writes on compressible data is fantastic due to the twin SD-2281 controllers that leverage real-time compression to maximize performance. Throw in some incompressible data and the write speeds drop off, maybe a bit more than we expected. Most 4k performance was lower than expected too and we know the controllers are aging with the next generation LSI SandForce SF-3700 controllers are at least half a year away as they are expected in the 2H of 2014. Part of the performance is attributed to the Marvell 9200 series RAID controller that isn't necessarily a 'best in class' part but it helps mitigate the cost of the drive. On the topic of RAID, you can choose to configure it as two separate drives or even as RAID 1 but that would defeat the purpose of utilizing the PCIe interface as performance would drop to below where the SATA III interface maxes out.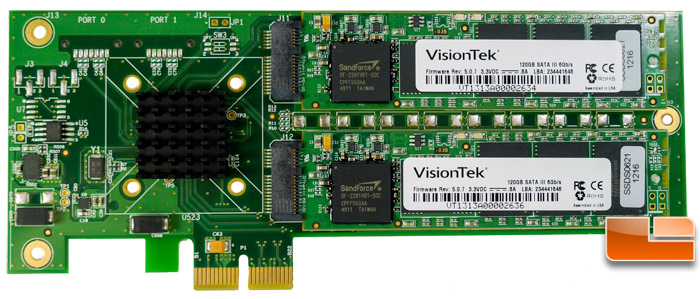 For the 240GB version, we are seeing street prices at $399.00 which comes out to about $1.79 per usable GB as compared to anywhere from $0.70 to $1.15 per usable GB for 'normal' 240GB drives in this price range. So, it may seem pricey at first glance but bear in mind that this has two SF-2281 controllers along with the RAID and PCIe to SATA bridge hardware so it's not an apples to apples comparison. If you look at other PCIe drives the pricing it very competitive. Here are the Amazon prices for the three different capacities that are available in this series:
All in all, it's a solid offering for those who want a high performance drive without messing with multiple SATA drives and going through the whole RAID setup. However, we'd love to see VisionTek be aggressive in moving to the newest controllers as they become available to bolster their competitiveness in the marketplace.
Legit Bottom Line: VisionTek has a very capable PCIe based SSD with a proven and reliable set of SandForce controllers and the ability to fit into small form-factor systems.