VisionTek Data Fusion PCIe SSD 240GB Review
By
VisionTek Goes RAIDing The PCIe Bus
It's been quite some time since we had a look at a PCIe based SSD. In fact, it was all the way back in October of 2011 when we tested the OCZ RevoHybrid drive which was the last of a handful of PCIe drives from OCZ that we had on our benches. The PCIe trend is gaining steam, especially in enterprise applications, as the SATA III bandwidth gets maxed out. VisionTek, long known for their graphics cards, is using their PCIe expertise to get their footing in the SSD arena with their version of a PCIe SSD which is powered by a pair of SandForce SF-2281 controllers. They sent us over a 240GB version to scope out and we're happy to do so. Although the product branding says Data Fusion drive, VisionTek let us know that the official drive name is simply called the VisionTek PCIe SSD so that's how we'll reference it in this article.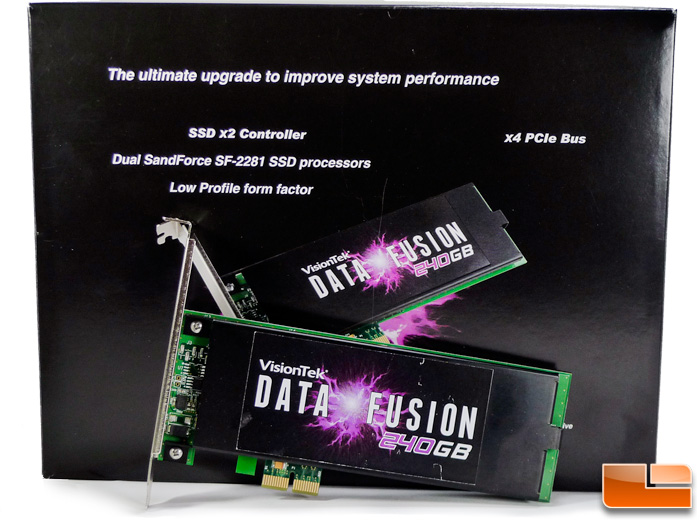 In the RAID 0 configuration and a virtually unencumbered x4 PCIe Bus interface, we know this drive can fly. With reads hitting 815MB/s and writes up to 810MB/s, there's no wanting for more. It's flexibile in that it can be fit into a PCIe x4, x8 or x16 slot. Just stay away from the x1 slot as it will bottleneck performance. Obviously, this leaves out laptops but included with the drive is a shortened bracket for those with smaller form factor machines. With no moving parts, as is applicable to all SSDs, there's little to break but it's covered with a three year warranty anyway and the MTBF is rated as 1,500,000 hours. The retail pricing for the 240GB version is at about $375.00 now so it is a bit of an investment.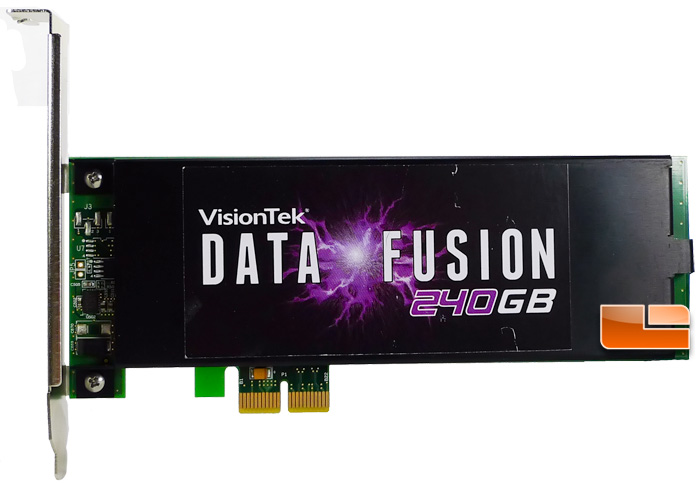 VisionTek PCIe SSD Features and Specifications:
Features:

For us as boot drive or as data storage
2x SATA
Internal RAID 0,1
Compatible with Windows XP 32/64,Vista 32/64, Windows 7 32/64, Windows 8

Performance:

Sequential Read: Up to 815MB/s
Sequential Write: Up to 810Mb/s
Random Write IOPS at 4k blocks: Up to 100,000

Reliability:

MTBF: 1,500,000 hours
3 Year Limited Warranty
ECC: Up to 27 bytes correctable per 512-byte sector (BCH) up to 12 9-bit symbols correctable

Reduced Power Requirements:

No moving parts
Super-low operating and standby power needs
Power requirements notably reduced over a typical HD

Reliable:

No volatile memory elements
Improved resistance to shock & vibration
Predictable & manageable failure modes reduce IT costs

Fast Performance:

Virtually zero spin up or seek times
Zero rotational latency
High sustained high-speed data transfers

Improved Operation:

Noise and vibration free
Extreme IOPS per Watt improvement
Lighter than conventional storage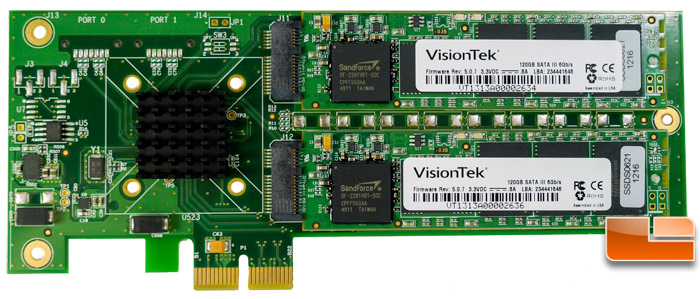 It's a little easier to have a look at the guts of this thing as compared to normal SATA drives which often include tamper-proof measures to keep them safe from prying eyes. Removing the bracket and external metal guard are done through the extraction of three screws. Now you can see the overall PCB as well as two daughter boards that each hold NAND chips and a controller. The heat sink on the left covers the Marvell 9200 series RAID controller which apparently can get a bit toasty.

The daughter boards slide right out of the slots so theoretically could be easily replaced.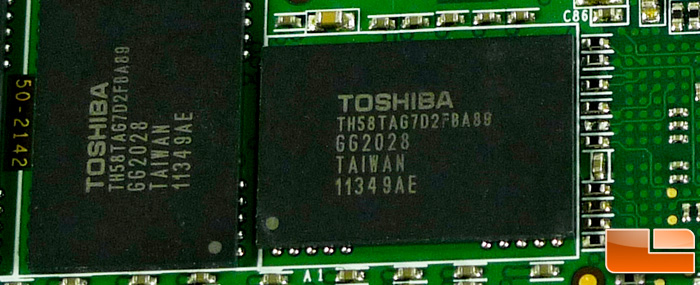 The 25nm MLC Toggle NAND is manufactured by Toshiba carrying part # TH58TAG7D2FBA89. There are eight IC's on each daughter board for a total of sixteen on board.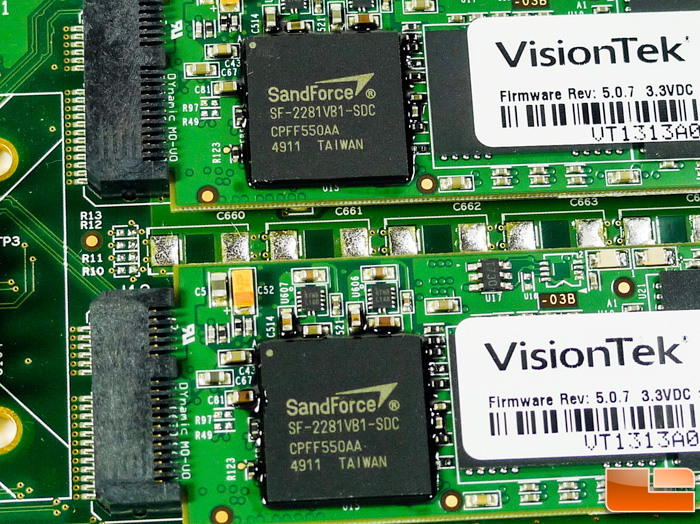 Finally, the pair of LSI SandForce SF-2281 controllers that we've seen numerous times although not very often on the same drive. They leverage LSI SandForce's DuraClass and RAISE technologies to handle everything from wear-leveling and data compression to error correction and drive maintenance. These are aging quickly and we know the next generation of controllers will be out soon.