New Generation Of LSI SandForce SSD Controllers Announced
By
New Generation of Market-Leading LSI SandForce SSD Controllers Drive Flash to Higher Levels of Performance, Reliability and Endurance
Multiple Industry Firsts Include Over 1.8GB/s Client Performance and Dual PCIe and SATA Interface Support; Optimizations for Client, Enterprise and Hyperscale Environments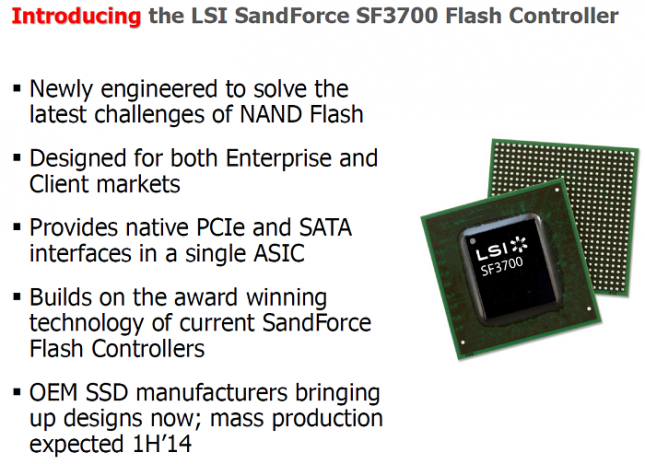 DENVER, Nov. 18, 2013 (GLOBE NEWSWIRE) — SC13 — LSI Corporation
(Nasdaq:LSI) today unveiled the third generation of its market-leading
SandForce(R) flash controller line, the industry's most widely deployed
flash management technology for driving PCIe(R) and SATA solid state
drive (SSD) and flash card solutions. Designed to support
power-sensitive client computing applications as well as I/O-intensive
enterprise and hyperscale environments, the new LSI(R) SandForce SF3700
flash controller family provides the increased levels of flash
performance, reliability and endurance needed to meet the exacting
needs of SSD manufacturers.

The SF3700 family is the industry's first flash controller that
provides the flexibility to support both native PCIe Gen2 x4 and SATA
6Gb/s host interfaces in a single ASIC design. This unique capability
greatly simplifies SSD designs and helps to significantly reduce
development and manufacturing costs for SSD makers.

With the addition of the SF3700 family's PCIe interface support, users
can achieve breakthrough client performance of over 1.8GB/s sequential
reads, a 3x improvement compared to SATA-based solutions.

"From our everyday lives to the hyperscale datacenter, flash storage
solutions are transforming the speed and efficiency of data storage,"
said Huibert Verhoeven, vice president and general manager, Flash
Components Division, LSI. "The SF3700 family brings a new architecture,
designed from the ground up to deliver unmatched flash performance and
the longevity required to drive current and future portable client
computing, enterprise and big data applications."

"Intel is focused on providing unique offerings optimized for our
customers' specific needs," said Rob Crooke, Intel corporate vice
president and general manager for the Intel Non-Volatile Memory
Solutions Group. "Intel expects accelerated and broader industry
adoption of PCIe clients, including those with the new LSI SF3700 PCIe
controller family, helping to ensure our customers have the right
solution for every application."

Unique and industry-first LSI SandForce SF3700 features and benefits:

— Native PCIe and SATA Interfaces: M.2 form factor cards designed with the
SF3700 flash controller's industry-only dual PCIe and SATA interface can
use a simple manufacturing jumper to select the final desired interface
for better inventory and cost management. The SF3700 family's PCIe
interface supports AHCI and NVMe protocols to enable both legacy
applications of PCIe flash and efficient NVMe flash storage application
acceleration solutions.

— Optimized DuraWrite(TM) Data Reduction: Exclusive SandForce controller
data reduction technology combines several techniques to extend NAND
flash memory life as flash geometries shrink and trend toward lower
reliability. The SF3700 family's optimized DuraWrite data reduction
technology helps to maximize SSD endurance by further lowering write
amplification and the number of program erase (P/E) cycles.

— SHIELD(TM) Error Correction: This technology extends flash memory life
and significantly improves data integrity by implementing a
flash-optimized low-density parity-check (LDPC) code that combines
hard-decision, soft-decision and digital signal processing (DSP)
together with unique adaptive error correction code rates. This enables
SSD manufacturers to deliver enterprise-class product life and data
integrity, even when using less expensive flash memory.

— Enhanced RAISE(TM) Technology: Redundant Array of Independent Silicon
Elements (RAISE) technology, which is similar to RAID, delivers new
levels of data protection specifically designed for SSDs by protecting
against page, block and full die failures in a single drive environment.
The SF3700 family's unique ninth channel for an extra flash package
enables more RAISE protection and user capacity options.

— Dual AES-256 Encryption: Data security is an important component in
today's digital age, and the SF3700 family enterprise controllers
feature unique dual AES-256 drive-level encryption to secure data
without incurring additional host processor load. Optional support for
TCG Opal and Enterprise specifications ensure broad interoperability and
ease of data security management.

SF3700 family controllers provide up to 2TB maximum capacity and a
9-channel ONFI-3/Toggle-2 flash interface. Their modular and flexible
architecture enables fast migration to new host interfaces and media
types, allowing for significant firmware reuse between new products, as
well as continuous innovation throughout the life of the product. The
result is an accelerated time to market, increased ability to support
customer-specific customizations, and an extended product life for SSD
manufacturers and system OEMs.

LSI is demonstrating the new SF3700 family controllers this week at the
SC13 conference in Denver, Colo., and at LSI's Accelerating Innovation
Summit (AIS) taking place in San Jose, Calif.

The AIS demo will showcase the SF3700 family's breakthrough client
performance of 1.8GB/s sequential reads using Toshiba's second
generation Advanced 19 nanometer (A19nm) NAND flash memory. LSI will
also display initial reference designs, which support flash memory
vendors Micron, SanDisk and Toshiba. In addition, SandForce flash
controller customers ADATA, Avant and Kingston will showcase
SF3700-based PCIe and SATA SSD products.

SF3700 flash controllers are currently sampling to select SSD OEM
customers. Volume customer shipments are expected in the first half of
2014.

For more information on LSI SandForce flash controllers, visit

Customer quotes:

Shalley Chen, Executive Vice President, ADATA Technology

"ADATA continues to commit to the LSI SandForce partnership and is
supporting early demonstrations of the SF3700 flash controller in both
a 2.5″ and M.2 solid state drive form factor. We believe the SF3700
family provides a competitive solution in the PCIe arena and we look
forward to bringing products to market based on the new controller."

Paul Goodwin, Chief Technology Officer, Avant Technology

Avant is a leading provider of DRAM memory modules and solid state
drives for both the client and enterprise markets and our ongoing
relationship with LSI SandForce is fundamental to Avant's continued
success in the space. We're designing SATA and PCIe SSDs based on the
SandForce SF3700 controller family and the new and enhanced features
will be critical to meeting the performance, reliability and reduced
power requirements of our customers."

Ariel Perez, SSD Business Manager, Kingston Technology

"We believe the LSI SandForce SF3700 controller family is a game
changer that will allow us to further expand Kingston's SSD portfolio
and support the evolving data storage requirements of our customers and
partner community. From supporting I/O-intensive big data and
virtualization workloads to power-sensitive client computing
applications, the SF3700 family enables us to build robust PCIe and
SATA SSD solutions optimized to meet the demands of enterprise and
client applications."

Technology partner quotes:

Paul Petersen, Director of Marketing, NAND Component Division, Micron
Technology

Micron is working with LSI to ensure the new SandForce SF3700 family of
controllers supports Micron's 128Gb MLC NAND flash memory technology.

These new flash storage solutions will deliver the high performance,
superior reliability and endurance needed to address the requirements
of enterprise and client computing applications.

Scott Nelson, Senior Vice President, Memory Business Unit, Toshiba
America Electronic Components, Inc.

"LSI SandForce flash controllers are key technology to extending flash
reliability and endurance in SSDs as fabrication geometries continue to
shrink. Toshiba's Advanced 19nm (A19nm) NAND is the world's smallest
MLC 64 gigabit NAND flash memory. We're excited to be working with LSI
to enable the first public demonstration of the new SandForce SF3700
controller supporting Toshiba A19nm NAND in a solid state drive."

Industry analyst quotes:

Greg Wong, Founder and Principal Analyst, Forward Insights

"The industry has been eagerly awaiting the next generation of LSI's
award-winning and widely deployed SandForce flash controllers. The new
architecture and enhanced features are designed to meet the challenges
of TLC and future NAND technologies. As the successor of the
bestselling line of turnkey flash controller solutions, the SF3700
family is expected to be a key enabler for the proliferation of flash
in personal computing and datacenter environments."

Jeff Janukowicz, Research Director, IDC Corporation

"The thriving demand for information is driving enterprise adoption of
flash-based solutions to accelerate access to data and boost datacenter
efficiencies in a cost-effective manner. Advanced flash controllers
like the SandForce SF3700 with its native PCIe interface support will
play a key role in optimizing flash implementations for the enterprise
and overcoming the shorter endurance, lower reliability and higher ECC
requirements of evolving NAND flash types."

Jim Handy, Semiconductor Analyst, Objective Analysis

"The PCIe interface is growing in importance in both PCs and the
enterprise. LSI's new SF3700 flash controller family is well positioned
to tap into that trend, while its upgraded features will be significant
in overcoming the challenges of TLC and future NAND types."

About LSI

LSI Corporation (Nasdaq:LSI) designs semiconductors and software that
accelerate storage and networking in datacenters, mobile networks and
client computing. Our technology is the intelligence critical to
enhanced application performance, and is applied in solutions created
in collaboration with our partners. More information is available at
www.lsi.com. Connect with LSI via Facebook, Twitter and YouTube.