Super Talent UltraDrive ME 64GB MLC SSD Benchmarks
By
Final Thoughts and Conclusions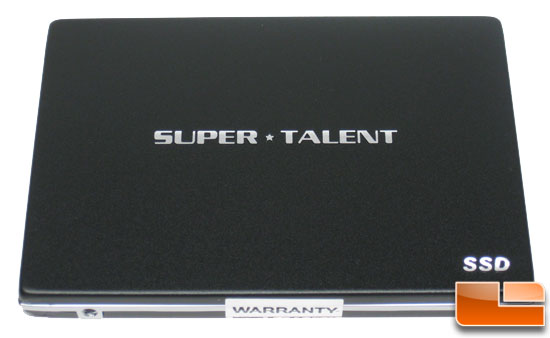 The Super Talent UltraDrive SSD series is hands down better than the MasterDrive SSD series that we have all come to know over the past three years. When it comes to performance the UltraDrive ME 64GB SSD that we benchmarked here today was found to have three times better write performance than the older MasterDrive OX 64GB! The fifth generation of SSDs by Super Talent are by far the most impressive and are worth looking into when upgrading to an SSD.
If the performance alone didn't impress you the pricing will most certainly do so. The Super Talent UltraDrive ME 64GB SSD retails for just $195.99 plus shipping at Newegg. The OCZ Vertex 60GB SSD retails for $219.00 plus shipping at Newegg, but has a $20 rebate promotion right now. If you were interested in a larger 120-128GB drive the OCZ Vertex costs $377.45 plus shipping, while the Super Talent UltraDrive ME costs $355 with free shipping. Both drives have the same internal parts (PCB, cache, controller, MLC NAND Flash & firmware) and even have identical two year warranties. The only noticeable ratings difference between the two drives is the capacities, but don't let that fool you either.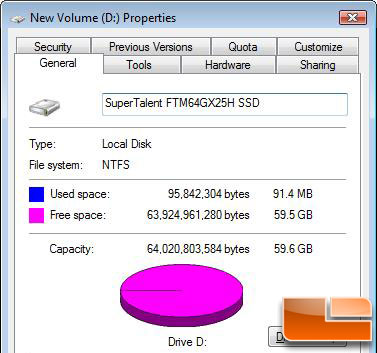 When it comes to storage capacity the Super Talent UltraDrive ME 64GB SSD hard drive has a free capacity of 59.5GB as shown above. Basically the Super Talent UltraDrive ME series is identical to the OCZ Vertex series in every imaginable way as they source the drives from the same manufacture and put them in different metal cases.
Many enthusiasts have pointed out in forums around the internet and in the Newegg customer comments that Super Talent tech support was weak and said that OCZ releases firmware updates faster. We brought these claims to the attention of Joe James, Director of Marketing at Super Talent, and he had this to say.
Were completely committed to supporting the UltraDrive going forward. We released the v1370 firmware later than some competitors because, in keeping with Super Talents quality policy, we thoroughly test any product changes before we release them to customers. In light of the demand from our UltraDrive customers to have the newest firmware updates as soon as we get them, in the future well release beta firmware before its fully tested and allow our customers to help test new pre-release firmware. Also, to improve our direct support to customers we just launched a new Forum.
Basically, Super Talent is saying that they released v1370 firmware for the UltraDrive two weeks after OCZ because they were testing the firmware internally for stability and reliability before releasing it to the public. They hinted that OCZ just posted the new firmware update from Indilinx without testing it themselves, but if that is what enthusiasts expect they will now do so on their new forum. It looks like Super Talent has a great new drive on their hands with the UltraDrive ME SSD series and they are now striving to support the enthusiast community, which can only be a good thing for everyone.
Since the Super Talent UltraDrive brings you the same performance as other big name SSDs at a lower price point the UltraDrive ME series is more than deserving of our Value Award!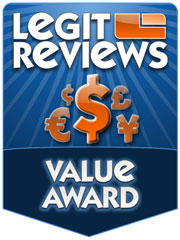 Legit Bottom Line: The Super Talent UltraDrive ME is one super fast MLC based Solid State Drive that features the Indilinx barefoot controller and 64MB of cache at a price lower than what other companies are selling the same drive for.