Super Talent UltraDrive ME 64GB MLC SSD Benchmarks
By
Super Talent UltraDrive ME 64GB SSD – FTM64GX25H
The UltraDrive ME series of Solid State Drives are the fifth-generation of SSDs to be released by Super Talent. These drives are said to offer leading-edge performance for high-end notebook computers and desktops with read speeds up to 260MB/Sec and write speeds up to 200MB/Sec. With drive speeds like that you know the UltraDrive ME series has a great controller and indeed it does as the UltraDrive ME series uses the Indilinx 'Barefoot' internal controller that has been paired with an 64MB Elpida IC for internal cache. This setup is very similar to the OCZ Vertex SSD Series, so if you don't know about SSDs with the Barefoot controller that would be a great place to start reading.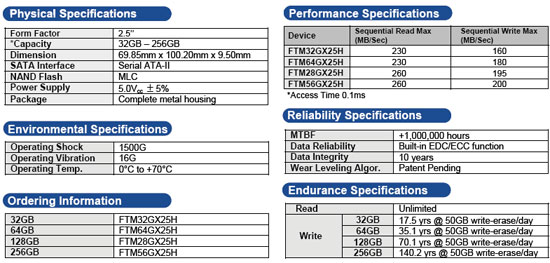 Super Talent's specifications suggest a maximum sequential read speed of 230MB/s and write speeds of up to 180MB/s for the 64GB model we tested, with part number FTM64GX25H. The drive arrived with UltraDrive firmware version 1370, which is said to improve performance when used with Microsoft Windows 7 according to the Super Talent Press Release. The press release is a little misleading, though, as firmware version 1370 does not support TRIM yet, so it doesn't really boost performance in Windows 7. What the firmware does is enable you to run the UltraDrive Performance Refresh Tool, which is a fancy new name for the Wiper utility. This utility has been known to be problematic on 64-bit operating systems, so while the latest firmware is a step in the right direction, it is not the solution that will allow for native use of TRIM on Windows 7 that we have all been waiting for.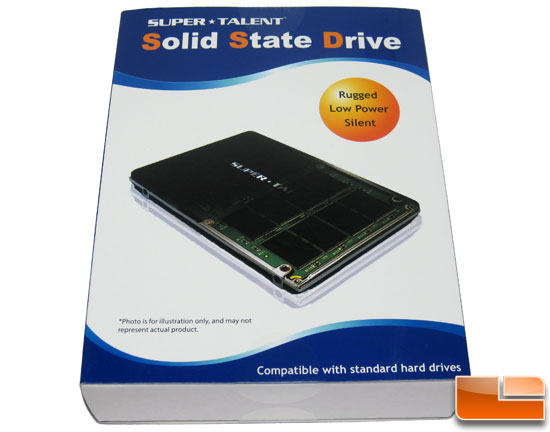 The Super Talent 64GB UltraDrive ME FTM64GX25H SATA II 2.5″ Solid State Drive comes in a small box that has a fairly plain front, but lists all the key features of the drive on the back. Super Talent also has 32GB, 128GB and 256GB versions of the UltraDrive ME on the market in case you were wanting a different size. It should be noted that all capacities have the same controller and 64MB of cache, but they do differ in write and read speeds as the density of the NAND Flash chips and how many channels are used from the controller directly impact performance.
UltraDrive ME FTM64GX25H Features:
NAND Flash Type: MLC
Onboard Cache: 64MB
Seek Time: <0.1ms
Slim 2.5″ Design
Size: 100.20 x 69.85 x 9.5mm
Lightweight: 77g
Operating Temp: 0C ~ +70C
Storage Temp: -55C ~ +140C
Low Power Consumption: 2W in operation, 0.5W in standby
Operating Shock Resistance: 1500G
RAID Support
MTBF 1.0 million hours
2 year warranty
Read: Up to 260 MB/s
Write: Up to 200MB/s
Firmware Upgradable: Yes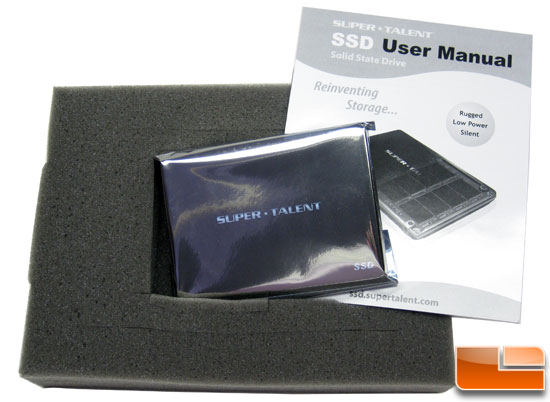 Inside the retail box the Super Talent 64GB UltraDrive ME SSD comes stuffed in foam packing material with a user manual. The seven page user manual covers the basics about the drive and doesn't mention firmware updates, TRIM support, or anything about the UltraDrive Performance Refresh Tool.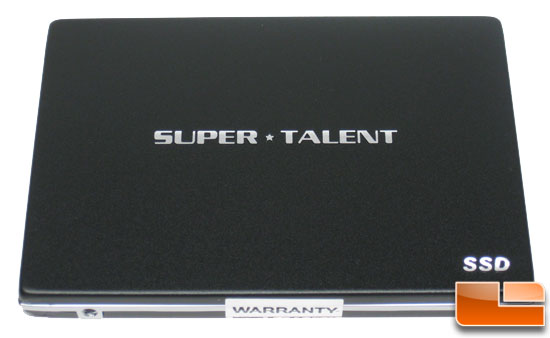 The UltraDrive ME SSD uses the 2.5″ form factor used in notebooks with a height of 9.5mm, so this drive will work in any notebook. If you wanted to be able to mount it in a desktop chassis with 3.5″ bays you'll be forced to use something like a 3.5″ adapter bracket in order to get it bolted up in the system properly. Actually, a little double sided tape will work and you can stick it any place your heart desires as these drives have no moving parts and don't make any noise. The UltraDrive ME SSD is encased in a full metal housing that has a nice clean look to it that should look good in any desktop.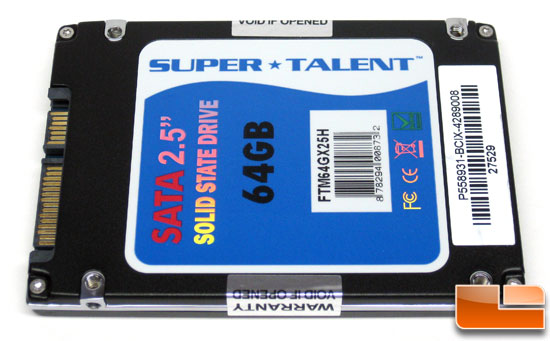 Flipping the UltraDrive ME SSD over you get a better look at the SATA II header and the SATA power connector. Super Talent states that the UltraDrive ME SSD series has a MTBF (Mean Time Before Failure) of 1.0 million hours and can tolerate a force of 1500G, so this is a tough drive. Super Talent backs the UltraDrive ME series with a two year warranty as well, so you are covered if something happens to go wrong.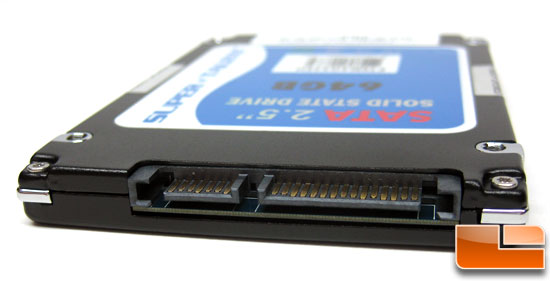 Here is a closer look at the UltraDrive ME SSD SATA II header and the SATA power connector. All Super Talent SSDs are compatible with SATA 1.5 GB/s and SATA 3.0 GB/s standards for drop-in drive replacement. Let's take a look at the benchmarks to see how the UltraDrive ME does when it comes to the benchmarks.