Sapphire R9 290X Vapor-X OC 4GB Video Card Review
By
Sapphire R9 290X Vapor-X OC with AERO 10 VRM
The Sapphire R9 290X Vapor-X OC is one of the most recent AMD Radeon R9 290X video cards to come to market. The Radeon R9 290X became the flagship single-GPU card for AMD nearly 8 months ago (released in October 2013) and it has been a popular card for both gamers and Litecoin miners. While the Sapphire R9 290X Vapor-X OC was arguably late to market, it might very well be one of the best Radeon R9 290X video cards due to the custom Vapor-X/Tri-X GPU cooler, 10-phase power design and one of the highest factory overclocks that we have seen on any Radeon R9 290X 4GB graphics cards. Sapphire's Radeon R9 290X Vapor-X OC 4GB graphics card is sold under part number 100361VXSR for $629.99 shipped with a 2-year warranty.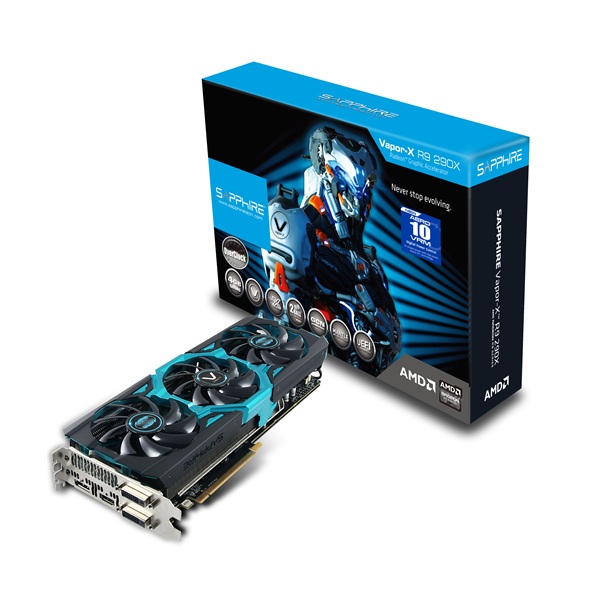 How high is the 290X Vapor-X OC overclocked? The 2816 Stream Processors of the 28nm GCN Hawaii GPU are running at 1080MHz and the 4GB of Hynix GDDR5 memory is running at 1410MHz (5640MHz effective). Those are pretty aggressive speeds for a factory overclock, but Sapphire has the GPU cooler and power design to make these clock speeds a reality. The AMD Radeon R9 290X reference card is clocked at 1000MHz core and 1250MHz memory (5000MHz effective).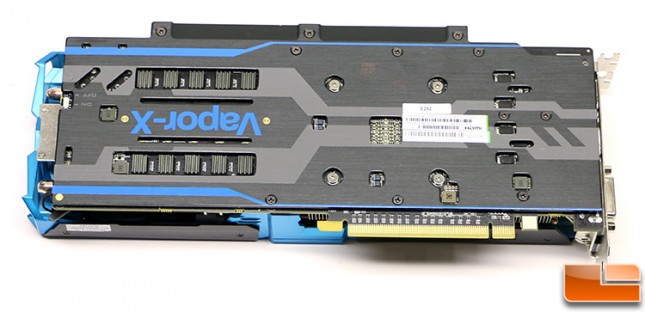 For example you when you flip the Vapor-X 290 OC video card over youll first notice the nice metal backplate, but then youll notice the 10-phase power for the new Aero10 VRM power arrangement. The 290X Vapor-X OC uses digital power control along with Aero 10 VRM to deliver 10-phase power with high power Direct-FET technology to the GPU, memory and control circuitry. Sapphire also used solid electrolyte capacitors, Sapphire Black Diamond Chokes and other tough components for the power delivery system to ensure the Vapor-X 290X will be able survive years of gaming or mining.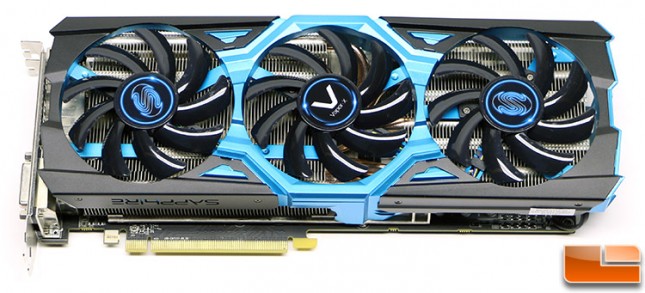 The Vapor-X cooler has been around for years and it doesnt look like Sapphire will be moving away from vapor chamber technology anytime soon. The Vapor-X cooler sits atop the GPU and then the R9 290X Vapor-X is topped off with the Tri-X structure. The Sapphire Tri-X structure on this card has five heatpipes and three 90mm dust resistant fans with aerofoil blades. There are two 6mm, two 8mm and one 100mm heatpipe being used to better dissipate heat to the aluminum cooling fan arrays in the Tri-X structure! Sapphire doesnt say how much cooler than the AMD Radeon R9 290X reference card this design is, but they did note that the Vapor Chamber helps drop the temperature 5-10C cooler than without it.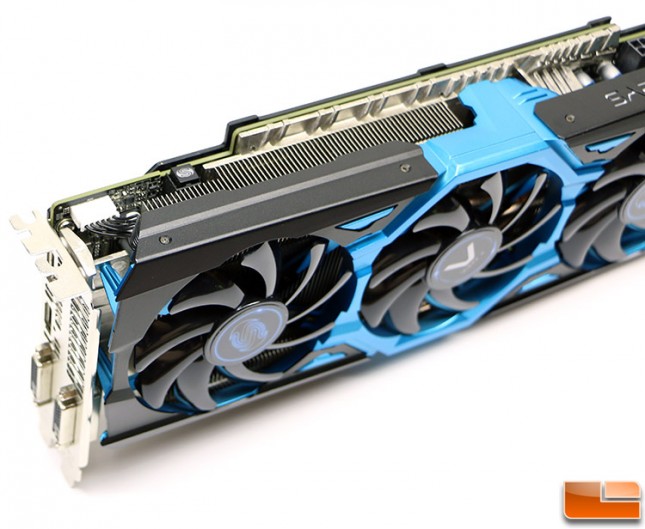 One of the new features on the Sapphire R9 290X Vapor-X OC that is fairly innovative is the use of a PCB Component heat spreader. In an attempt to help lower VRM, GPU and other component temperatures on this card the designers extended the PCB upwards to improve the cooling potential. Basically the designers left one of the copper layers exposed in this section that has no electrical trace routes for a heatsink to be directly mounted to it. Sapphire says that this extra exposed copper area on the PCB and associated heatspreader can reduce the GPU core temperature by several degrees.
One other interesting design feature that Sapphire is incorporating on the Vapor-X series cards from now on is Intelligent Fan Control (IFC). When IFC is enabled only the middle 90mm fan will operate and the two outer fans will stop spinning. This is done mainly to reduce noise and to a lesser extent save on some idle power. So, when you are running 2D clock speeds just one fan spins and then when you hit after you hit 3D clock speeds for a couple seconds all three fans will kick in to keep the card cool under heavy loads. There is an IFC override on/off switch located at the end of card that can be used to disable this feature if a user deems it not necessary.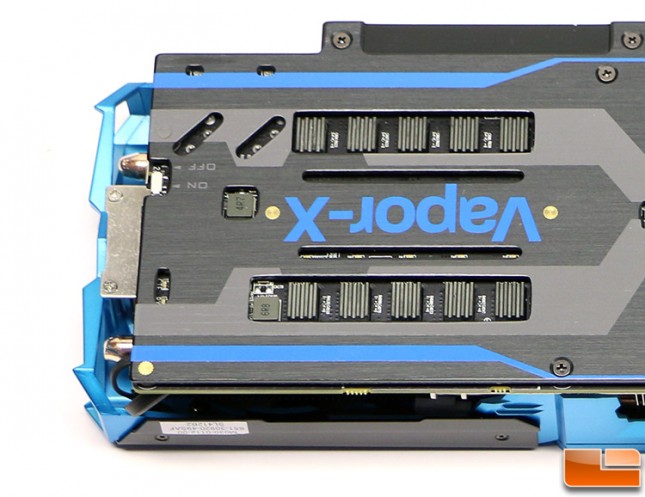 Will it fit? The Sapphire R9 290X Vapor-X OC measures in 11.75-inches in length with the PCB itself measuring 11-inches in length. The thickness of the R9 290X Vapor-X OC is about 1.85 inches that means it will require the use of three PCI-E slots rather than just taking up two.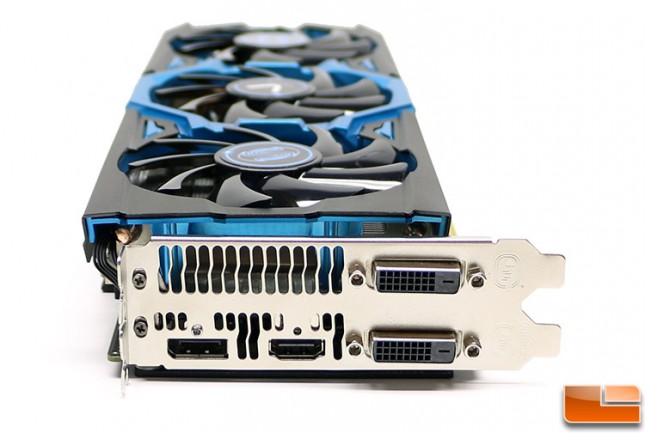 When it comes to display outputs the design team left it untouched and went with the standard AMD connections. This means you have a pair of Dual-Link DVI-D, HDMI 1.4a and DisplayPort 1.2 outputs. The DVI outputs support screen resolutions up to 2560×1600 and the DP and HDMI ports support screen resolutions up to 4096×2160. There is a high-flow hot air exhaust bracket, but not much air is exhausted out of a case since the GPU coolers aluminum cooling fins are arranged vertically and not horizontally.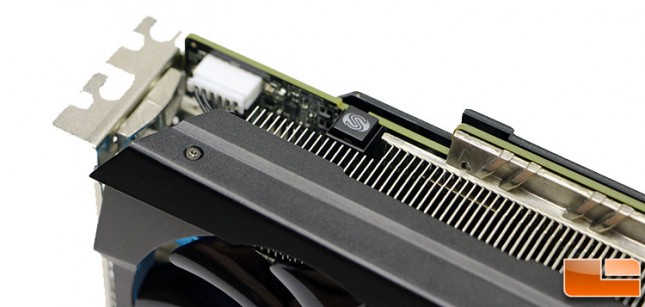 The Sapphire R9 290X Vapor-X has a dual BIOS design like the AMD Radeon R9 290X reference design, although Sapphire did away with the tiny hard to use dip switch and placed a nice large button style switch for your use. One BIOS is designed for compatibility and the other is for use on legacy based systems. The card comes in legacy mode, but by pressing the button down with SAPPHIRE logo, UEFI mode is enabled.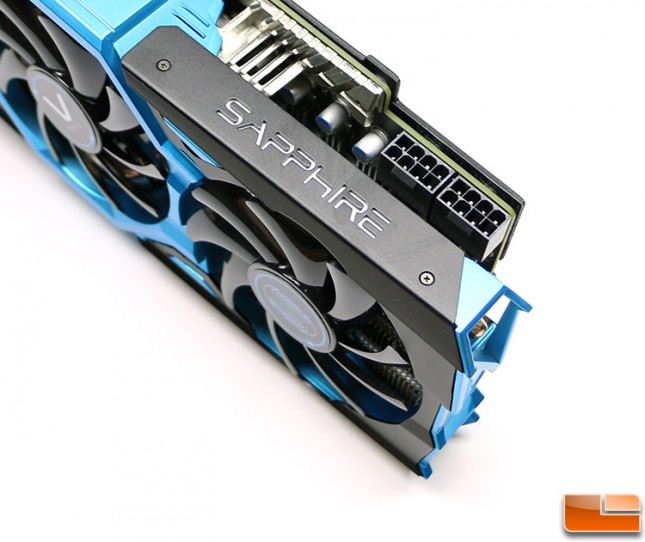 The Sapphire R9 290X Vapor-X OC features two 8-pin PCIe power connectors and Sapphire recommends using an 750 Watt or larger power supply for proper operation with one card. Multiple cards can be used for an AMD CrossFire setup and no bridge or interconnect is needed on this card series. If you get a second, third or fourth card you can just enable CrossFire in AMD's Catalyst Control Center and go about your day.
One cool thing about LED illuminated Sapphire logo that is changes colors based on the temperature of the GPU. The logo is supposed to change from blue when cool then yellow as it gets warm and then red when it is hotter than crap. The good news is that during our testing we never were able to get the card over 70C and the logo was yellow when gaming. You wont see us complaining about not getting it to red! We later found out the temperature ranges for each color: Blue (0 to 60C), Yellow (60 to 80C) and Red (80C or higher). The tolerance for the changing LED colors is +/- 5C, so this will give you a rough idea of the GPU temperatures without needing additional software if you have a case window that allows you to see your card.
Let's take a look at the retail box or accessory bundle before we move along to benchmarking!