SanDisk Extreme PRO Series SSD Review
By
Final Thoughts & Conclusions
Looking at overall capacity for the 240GB, 480GB and 960GB SanDisk Extreme PRO drives (1GB byte = 1,000,000,000 bytes) the capacity accessible to the end user as reported by Windows comes out to be 223GiB, 447GiB and 894Gib (1Gib = 1,073,741,824 bytes) respectively. Given the price points of $195.00, $369.99 and $599.99 we find the price per GB to be $0.82, $0.77 and $0.62 which is pretty darn good for an enthusiast level drive and very competitive with drives of this ilk.

We found the performance to be excellent and an improvement upon the Extreme II series drives. With the Marvell 88SS9187 controller leveraging the nCache technology to quickly cache the data to SLC NAND and then flush to the MLC NAND array, we saw very favorable and balanced outcomes on all of the tests performed. Particularly impressive was its performance in the PCMark 8 consistency test which shows relatively unhampered performance, even in 'dirty' states which brings a good number of other drives to their knees. Gamers, PC enthusiasts and media professionals are the target demographic for these drives and it should suit them just fine. However, those looking for drive encryption will have to look elsewhere as it is not a feature of these drives though likely could be added with a firmware update.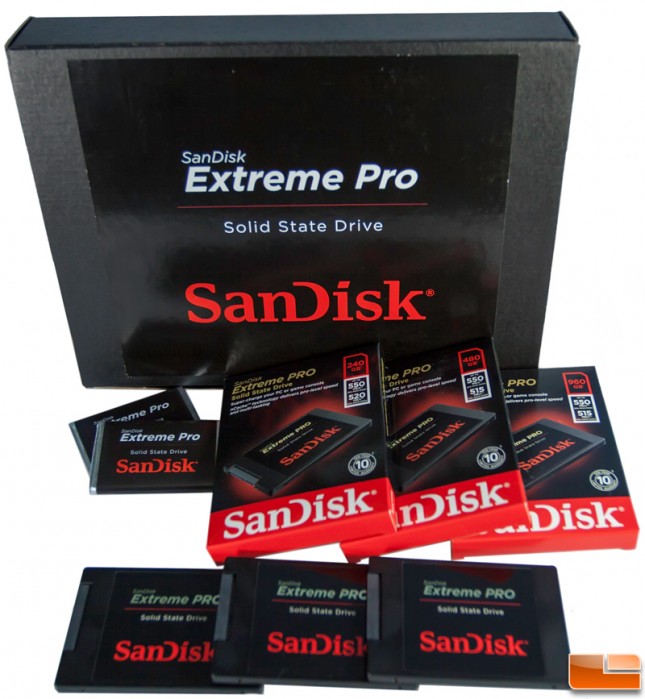 SanDisk has provided a very nice and polished dashboard utility to go with the drives which is a big plus. Frankly, all manufacturers should provide something similar. They've also upped the warranty on the Extreme PRO to 10 years which matches Samsung's 850 PRO (SanDisk was the first to offer this) and is a huge leap forward given that most drives only carry a three year warranty. This is another factor in the competition between drive makers as the market demand levels off a bit since a large number of customers have either upgraded their current machines or defaulted to an SSD as part of a whole machine purchase. In this area, SanDisk is doing quite well by supplying drives to OEMs. It will be interesting to see if SanDisk ends up creating their own controller or buying out an existing one as they are one of the few prominent drive makers to leverage a third party controller exclusively. Until then, Legit Reviews gives a big thumbs up recommendation for the Extreme PRO from SanDisk!
Legit Bottom Line: With high performance, best in class consistency and a killer 10 year warranty, SanDisk's Extreme PRO series should be at the top of your SSD shopping list.