SanDisk Extreme II Series 120GB, 240GB and 480GB SSD Review
By
Exteme II The Max
It was June of last year when we had a look at the first edition of the SanDisk Extreme SSDs which was powered by what was at the time, the hottest SSD controller on the planet – the SandForce SF-2281. Times have definitely changed and while the SF-2281 controller is still very much a popular controller, there are a number compelling options available now. With that, SanDisk has decided to change things up a bit with their high performance Extreme II drives and go with the latest Marvell 88SS9187 controller which we first saw on the Crucial M500 review. It puts out some really nice numbers and in fact SanDisk has even stated that the Extreme II drives are the fastest retail drives they've outed to date.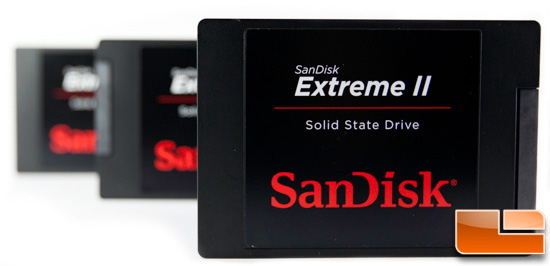 We were fortunate enough to get our hands on all three available capacities SanDisk is offering 120GB, 240GB, and 480GB. All of them see an overall performance increase over the first generation Extreme drives with the increases most pronounced on data that's incompressible which we'll see in our benchmarks. They are all also covered with a robust 5-year warranty which equals the best on the market that we could find and have a MTBF of 2,000,000 hours.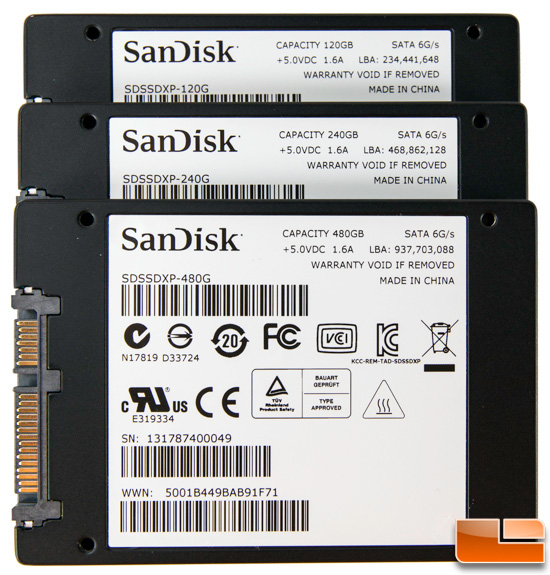 SanDisk Extreme II Series SSD Specifications and Features:
| | | | |
| --- | --- | --- | --- |
| Capacity | Notebook Bundle | Desktop Bundle | MSRP |
| 120 GB | SDSSDXP-120G-G25 | SDSSDXP-120G-G26 | $129.99 |
| 240 GB | SDSSDXP-240G-G25 | SDSSDXP-240G-G26 | $229.99 |
| 480 GB | SDSSDXP-480G-G25 | SDSSDXP-480G-G26 | $439.99 |
Specification:
120GB
240GB
480GB
Controller:
Marvell 88SS9187 SSD processor
Max Seq Read:
550MB/s
550MB/s
545MB/s
Max Seq Write:
340MB/s
510MB/s
500MB/s
Max IOPS Read:
91K
91K
95K
Max IOPS Write:
74K
78K
75K
Active Power:
0.22W
0.22W
0.24W
Max Read Operating:
2.9W
3.5W
3.2W
Max Write Operating:
3.4W
5.0W
5.0W
Slumber:
0.10W
0.10W
0.10W
MTBF:
2.0M Hours
2.0M Hours
2.0M Hours
Endurance:
>80 TBW
>80 TBW
>80 TBW
Weight:
54g
57g
57g
Size:
7.0 mm x 69.85mm x 100.5mm
SATA 6 Gb/s compliant: Backwards compliant to SATA 3 Gb/s & SATA 1.5 Gb/s
ATA Command Set ACS-2
NCQ support up to queue depth = 32
Support for TRIM
S.M.A.R.T. feature supported
Advanced Flash Management:
nCache™ – Non Volatile Write Cache
Dynamic and Static Wear-leveling
Bad Block Management
Background Garbage Collection
Advanced features:
Tiered caching – Volatile and non-volatile cache
Supports multi stream – improves user experience in multitasking systems
Minimal write amplification – increases endurance and performance
Support for Thermal throttling:
Performance will be throttled in the event junction temperature of critical components is measured to be exceeding the maximum allowable for the product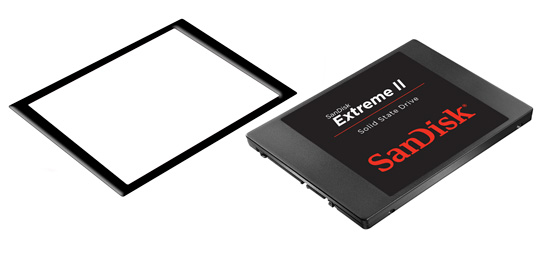 The notebook bundle comes with a spacer shim for more fitment options in a variety of equipment, changing the drive height from 7mm to 9.5mm.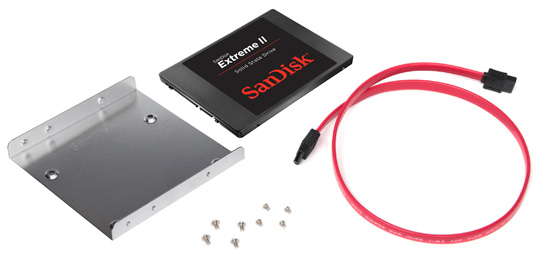 The desktop bundle comes with a SATA 6Gbps data cable and a 2.5″ to 3.5″ adapter plate as well as the necessary screws for affixing to the plate. We'll have a look inside each drive now.