Samsung SM951 512GB M.2 PCIe SSD Review
By
AS SSD Benchmark & PCMark 8
AS-SSD (1.7.4739.38088) Benchmark:
We have been running the AS-SSD Benchmark app for over some time now and found that it gives a broad result set. The programmer has worked very hard on this software and continues to make updates often so if you use it, show him some love and send him a donation. There are now three tests that are found within the tool and we'll show the results from all three of them.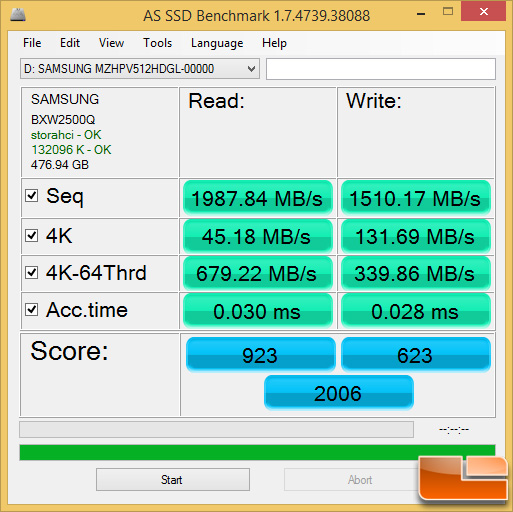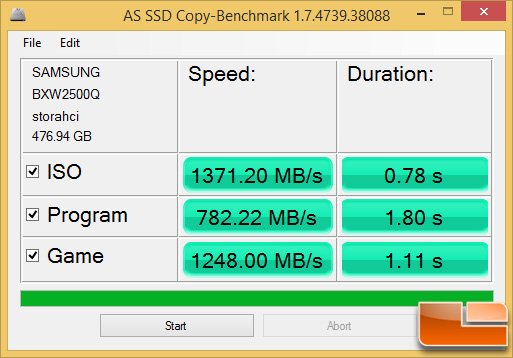 Benchmark Results: AS SSD showed the Samsung SM951 512GB M.2 PCIe SSD hitting 1988 MB/s read and 1510 MB/s write in the sequential benchmark with the overall score being 2006 points. This is the first time we have ever broken the 2000 point mark on the overall score with a single drive! 4K performance was observed at 45MB/s read and 132MB/s write. The AS SSD Copy-Benchmark showed ISO speeds of 1371MB/s and the game test hit 1248MB/s!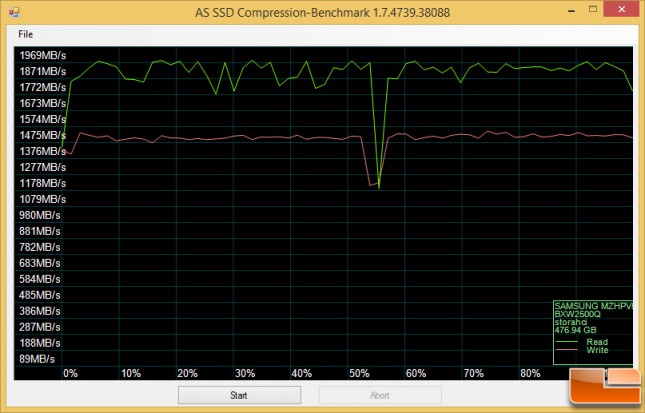 Benchmark Results: For this benchmark chart you would ideally want to see a straight line as you don't want any compression performance loss as the test goes from 0% compressible to 100% compressible data during the benchmark test period. The Samsung SM951 512GB M.2 PCIe SSD wasn't exactly smooth during the read and write test scenarios, but it wasn't too bad especially at these speeds!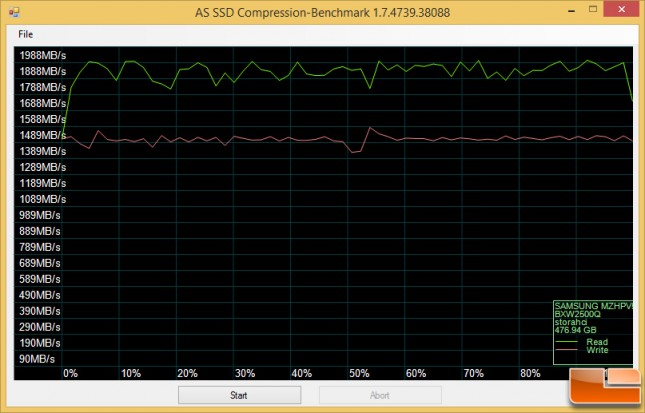 What happens if you Secure Erase the SM951 drive and then run the AS SSD Compression-Benchmark immediately after the Secure Erase was completed? The scores slightly go up, but there is still some jitter across the test that you can't get rid of no matter the state of the SSD.
PCMark 8 Storage Test
PCMark 8 is the latest version in Futuremark's series of industry standard PC benchmarking tools. With PCMark 8 you can test the performance of all types of PC, from tablets to desktops. With five separate benchmark tests plus battery life testing, PCMark 8 helps you find the devices that offer the perfect combination of efficiency and performance. PCMark 8 is the complete PC benchmark for home and business. We ran the storage benchmark test suite on the Samsung SM951 512GB M.2 PCIe SSD.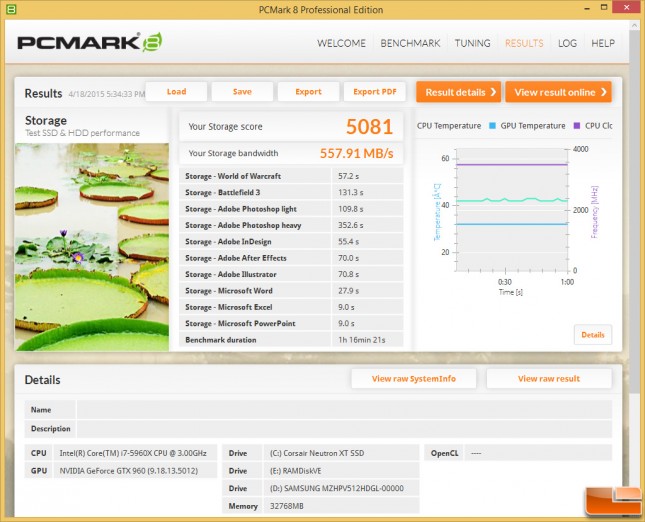 Benchmark Results: When it comes to PCMark 8 performance you are looking at an overall score of 5081 with a storage bandwidth score of 557.91MB/s, which is the highest score that we have ever received on both of those results for any SSD running PCMark 8 version 2.3.293. The Kingston HyperX Predator 480GB M.2 PCIe SSD scored 5018 with a storage bandwidth of 337MB/s, so the Samsung SM951 is up there on the storage bandwidth test!