Samsung SM951 512GB M.2 PCIe SSD Review
By
Samsung SM951 Heat Throttling Issues and Solutions
To try out the Samsung SM951 SSD we used an ASUS X99 Sabertooth motherboard and tried it out in both the boards integrated M.2 PCIe slot and with the ASUS Hyper M.2 x 4 add-in card.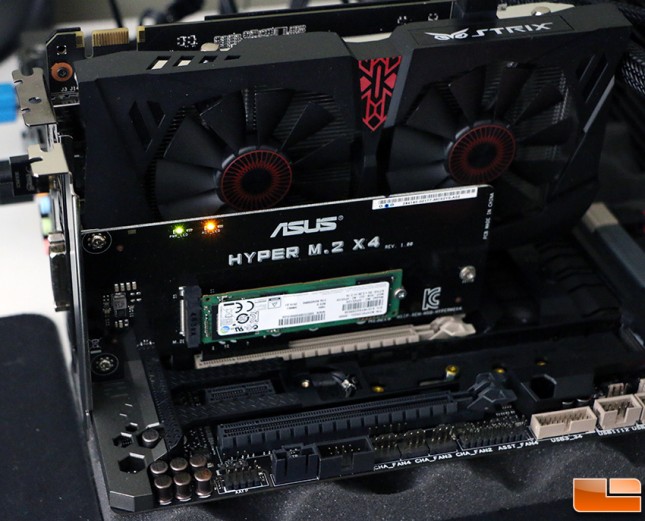 Both installation methods led to nearly identical performance numbers, so you can use either method that works best for your system. We highly advise using active cooling on the Samsung SM951 as it did get rather hot. From what we have been told there are a number of different SM951 drives floating around and they have different firmware versions depending on the OEM device that they are supposed to be going into. For example most SM951 drives are destined for Lenovo laptops and they are said to have a thermal limiter of sorts that prevents the drive from overheating. Our Samsung SM951 came directly from our friends over at Samsung and was not a system pull, so we believe that the firmware on ours is not vendor specific nor is it thermally limited. In our open air test bench we quickly found out that we were experiencing performance throttling due to overheating.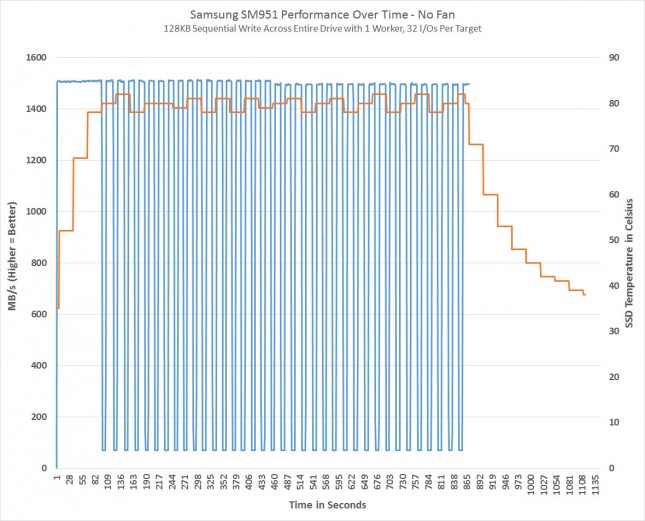 Once we noticed that the drive was throttling we stopped our testing and did some investigating on the SM951. With the drive in a used very dirty state we logged the drives temperature during a 15 minute sequential write and found that in just just 130 seconds that our drive went from an idle temperature of 35C to the throttle point of 82C! Our performance went from being ~1500MB/s all they way down to 70MB/s during the throttle as a way to cool the drive down by what we are guessing is a short term cut in power and operations on the controller. This impacted all of our performance numbers, so we tossed out a days worth of benchmarking and started over with better cooling.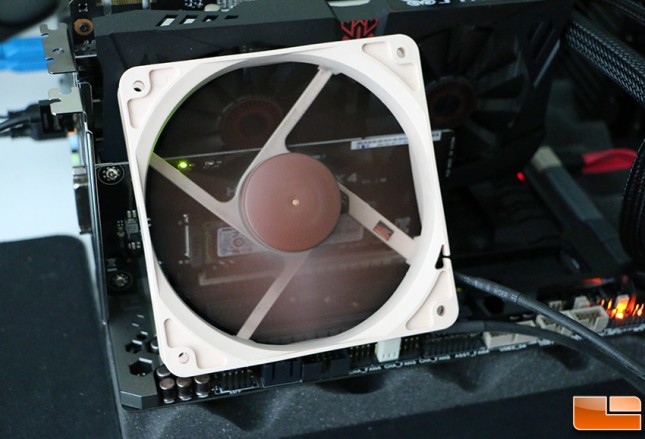 Many think you need to put heatsinks on the SM951, but that is tough to do on many systems. Our solution was to place a 120mm cooling fan over the Samsung SM951 M.2 PCIe SSD to help keep it cool. The exact fan we used was the Noctua NF-S12B-FLX, which spins at 1200RPM for 59CFM of blowing power.
The added fan kept the SM951 temperature down to just 58C, so we dropped the temperature of the drive by 24C at load by just doing this. The Samsung SM951 seemed to be fine with running at 58C as we never experienced any throttling again. Note that our idle temperature also dropped from 35C to 26C by adding the 120mm fan in front of the M.2 drive, so there was also a major temperature drop with regards to the idle temperature.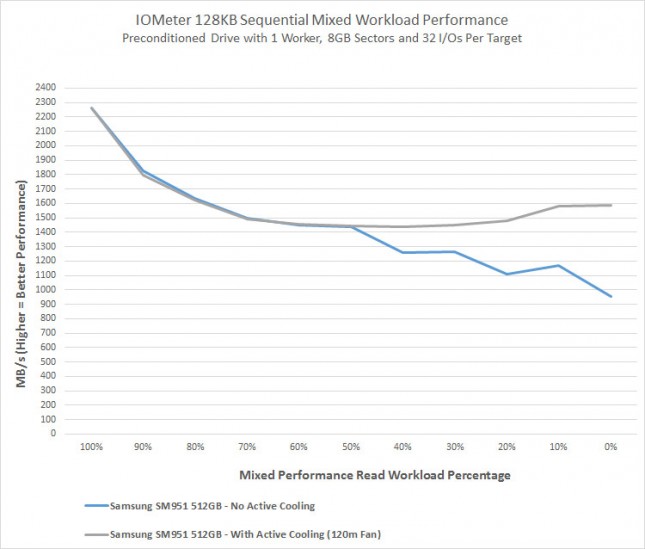 Here is a look at our mixed workload performance test to show how the overheating drive was impacting our performance results. As you can see from the chart above, as the writes intensify so does the heat generated by the controller and NAND and halfway through the test the drive started to overheat and performance dropped by nearly 40% at the end of the benchmark test!
Just make sure you use the Samsung SM951 M.2 PCIe SSD someplace that has good airflow. If you are trying to mount it on the back of a motherboard that has an M.2 slot located or flat on the board under your video cards you'll likely find yourself overheating! We don't think you need to go out and buy heatsinks and cooling fans for your M.2 PCIe SSD as good airflow is enough to keep it from throttling, but it certainly won't hurt anything if you wanted to go the extra mile and really keep the SM951 nice and cool. The only bad thing about applying heatsinks to the SM951 is that you need to remove the label on the front of the drive and that will void whatever warranty you might have on the SM951!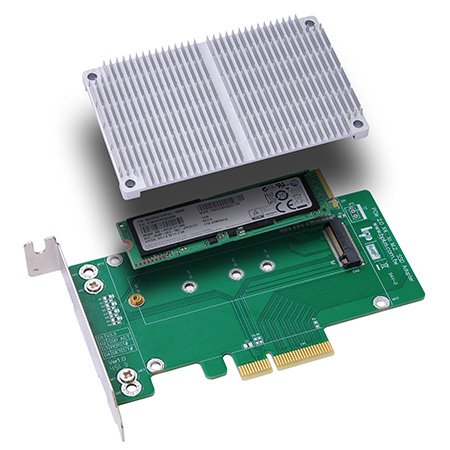 One example of a PCIe x4 adapter that comes with a heatsink would be the Bplus M2P4A that supports 2230/2242/2260/2280/22110 type M.2 cards and retails for $52.00 plus shipping.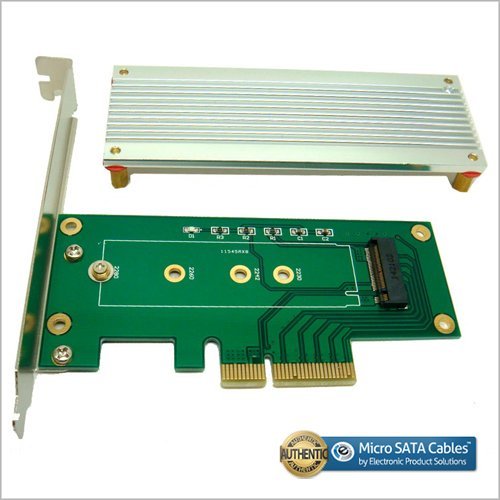 Another option would be this one for $28.75 plus shipping that actually has been reviewed by a verified customer that states it works on his Samsung SM951, but needed to order a thermal pad for the heatsink to make contact with the actual M.2 drive. Thermal pads will run you around $5 to $10 depending on the brand. Here is a pack of five from StarTech for $6.12 shipped.
Now that we have covered the heat issues on the SM951 we can take a look at the benchmarks!