Samsung SM951 512GB M.2 PCIe SSD Review
By
Samsung SM951 Final Thoughts and Conclusions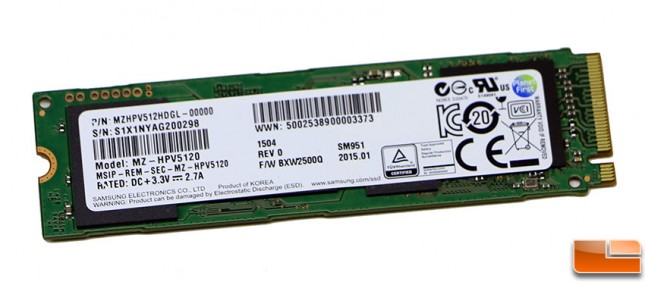 The Samsung SM951 is the mythical unicorn of SSDs right now, but if you really want one you can find one to purchase as they are starting to trickle out through various retailers. The performance of the Samsung SM951 is impressive on paper and it destroyed the Kingston HyperX Predator and Plextor M6e Black in most all of the performance tests that we ran. We are still experimenting with some real world benchmarks that are easily repeatable, so in the weeks and months ahead we plan on continuing to test this drive and will be comparing it to the other stack of drives that we have here waiting on being reviewed. That stack of drives includes a number of Intel SSD 750 series drives with NVMe support, so we will be giving the Samsung SM951 a run for its money here shortly.
When it comes to overall performance we were able to hit 2,265 MB/s read and 1,591 MB/s write in ATTO and 2,264 MB/s read and 1,587 MB/s write in IOMeter when it came to sequential write performance, so we are happy to find that the SM951 512GB SSD was able to exceed the manufacturer specifications. When it comes to the the peak4K random Read/Write IOPS it looks like the like the 90k/70k rating is wrong or just very conservative as we were able to reach 179,200 IOPS Read and 88,000 IOPS Write in our testing on IOMeter!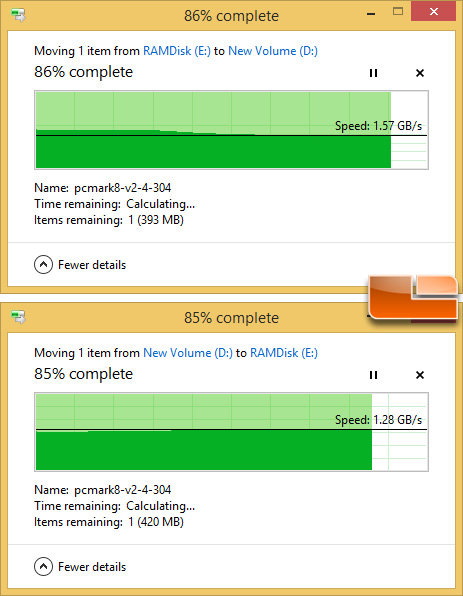 Daily use with the Samsung SM951 was pretty impress and we struggled to find a way to show real world transfer speeds, so we ended up purchasing RAMDisk and using the program to make part of our system memory as a disk drive. On our Intel X99 platform with Crucial DDR4 memory running at 2666MHz this means that we have a drive that is capable of 6000 MB/s sequential write speeds and 8500 MB/s write speeds
(benchmark result)! That should keep our file transfers by being bottlenecked! We then tried moving around some movie files and program installation directories and found that the performance was pretty consistent. We ended up using the compressed download installation file for PCMark8 as the test to show you so you can duplicate our test results. This 2.90GB file was moved from the RAMDisk to the Samsung SM951 and back in under three seconds each way! We were hitting about 1.6GB/s to write to the disk and then 1.3GB/s to move the file off the disk! The Samsung SM951 is a blistering fast SSD and we are glad to see the first PCIe 3.0 x4 M.2 SSD performing so well.
Samsung SM951 M.2 PCIe SSD Drives
Part Number
Capacity and Features
Sequential (R/W)
Max 4K IOPS (R/W)
Price
MZ-HPV2560
M.2 Form Factor 256GB
2150/1200 MB/s
90k/70k IOPS
$264.95
MZ-HPV5120
M.2 Form Factor 512GB
2150/1500 MB/s
90k/70K IOPS
$499.95
Pricing on the Samsung SM951 is around $0.98 per GB, which isn't bad for a drive capable of speeds like this! If you want to update your SSD and have an M.2 slot you might want to pick one of these up and give it a shot. Just look at your motherboards M.2 slot specifications before you order one as not all motherboards support PCIe 3.0 x 4 M.2 SSDs. In fact we'd go as far as saying most Intel Z97 motherboards have just M.2 PCIe 2.0 slots that have x2 or x4 lanes. This means you could be severely limiting your M.2 PCIe 3.0 x4 SSD performance if you try running one of these drives on a board that doesn't have a PCIe 3.0 x 4 slot. Make sure you do your due diligence and research your hardware to make sure you have a PCIe 3.0 capable CPU and M.2 slot that has proper cooling!
Update 04/19/2015: Be sure to check out our Samsung SM951 M.2 PCIe SSD RAID 0 article as well.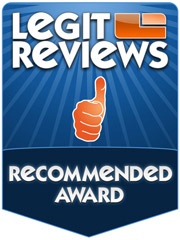 Legit Bottom Line: The Samsung SM951 is the real deal and it is the fastest M.2 SSD that money can buy this very second!