be quiet! Silent Base 800 PC Case Review
By
be quiet! Silent Base 800 Mid Tower ATX Case

Founded in 2002, German-based company be quiet! is a manufacturer of high quality components for desktop computers with an emphasis on form, quality and of course, silent operation. A couple of short years ago, be quiet! was a relatively unknown manufacturer here in the states, but the company has made a nice push into the North American territory, notably with their high quality CPU coolers which we have reviewed previously here at Legit Reviews.
There really is a lot of innovation and clever design going into PC cases these days, so it will be very interesting to see what be quiet! brings to the table with their first chassis offering, the Silent Base 800. The Silent Base 800 is by no means a new chassis, in fact, it's been out for a year. It was sent to us recently because be quiet! has updated the case with a windowed side panel that should renew interest in the model. Customers can buy the case with the side panel included if they don't already own a Silent Base 800, while existing users are able to purchase the panel separately. Unfortunately, supply of both the case and side panel are scarce here in the states, which we will get into more later.
Let's read more about the Silent Base 800 directly from be quiet!:
Unique Performance and Usability

be quiet! is justifiably famous for making some of the most technologically-advanced, and absolutely the quietest, PC equipment available. True to the motto form follows function the PC case Silent Base 800 Black offers the perfect symbiosis of noise prevention and cooling performance, a good usability and an extensive capacity for high-end hardware.

With a targeted combination of unique airflow control and sound insulation features, Silent Base 800 is a truly superior case ideal for high-end gaming gear and for quiet systems.

Outstanding performance thanks to an innovative construction that assures excellent cooling efficiency and a perfect air-circulation at well-known whisper-quiet operation
Excellent usability with simplest mounting and tool-free fitting of drives, an intelligent and adaptable cable solution, and air intake filters that are easily accessed for cleaning
Ample space and cutouts are provided for high-end components of today and tomorrow, including space for water cooling radiators
Three pre-installed Pure Wings 2 fans feature nine airflow-optimized fan blades and are decoupled from the case to move heat out with a minimum of vibration and the quietest possible operation
Professional cable management is supported with generous space for organizing cables, silicone rubber grommets, and carefully placed pass-throughs
Form follows function principle maximizes performance; the look of the case is based upon its intended function and purpose
Product conception, design and quality control in Germany

be quiet! Silent Base 800 specifications
CASE TYPE:
Mid-Tower
MATERIAL:
Steel & Plastic
WEIGHT:
9.3 kg (20.5 lbs)
PCI-E SLOTS:
7
DRIVE BAYS:
3x External 5.25″
7x Internal 3.5″
4x Internal 2.5″ (2x on Rear Motherboard Tray, 2x on HDD cages)
MOTHERBOARD
FORM FACTORS:
Mini-ITX, Micro-ATX, ATX
DIMENSIONS (W x H x D):
266 x 559 x 495 mm
AVAILABLE MODELS
Black (BG002), Orange(BG001), Silver(BG003), Black Windowed (BGW02), Orange Windowed (BGW02), Silver Windowed (BGW03)
FRONT FANS:
140mm Fans x 2 / 120mm Fans x 2 (2x 140mm Pure Wings 2 Installed)
REAR FANS:
120mm Fan x 1 (1x 120mm Pure Wings 2 Installed)
TOP FANS:
120mm Fans x 2 / 140mm Fans x 2
BOTTOM FANS:
120mm Fan x 1 / 140mm Fan x 1
SIDE FANS:
120mm Fan x 1
I/O:
2x USB 3.0
2x USB 2.0
1x Headphone
1x Microphone
Warranty
3 Years
Compatibility:
CPU Cooler: 170mm
GPU: 290mm, 400mm without HDD cage
PSU: 290mm
be quiet! is touting silent operation along with extensive support for high-end hardware with the Silent Base 800. The maximum supported CPU Cooler Height is 170mm when the stock side panel is used, so tall CPU coolers like the Noctua NH-D15 are supported. Support for mITX, mATX and ATX motherboards is noted. Support for 400MM GPU's is available when the top drive cage is removed, so pretty much any consumer GPU is going to work in the Silent Base 800 without issue if you remove the middle drive cage. The Silent Base 800 is now available in six different models. Black, Orange and Silver base models have been available since late last year and be quiet! has just released these same cases with a windowed side panel that has a unique dual pane design.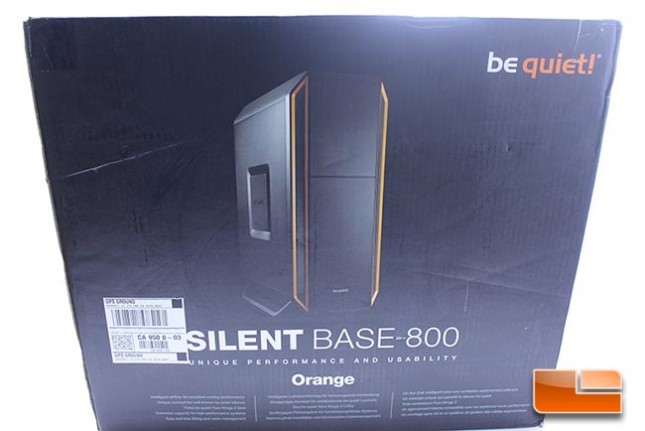 be quiet! ships the Silent Base 800 in a black cardboard box that has nice pictures of the case and spells out the specifications and features in various languages. This packaging stands out when compared to that of other cases I've reviewed lately and would look great on retail shelves. The windowed side panel, which we were unable to find available for sale separately at the time of review, arrived to us damaged and won't be used for this review.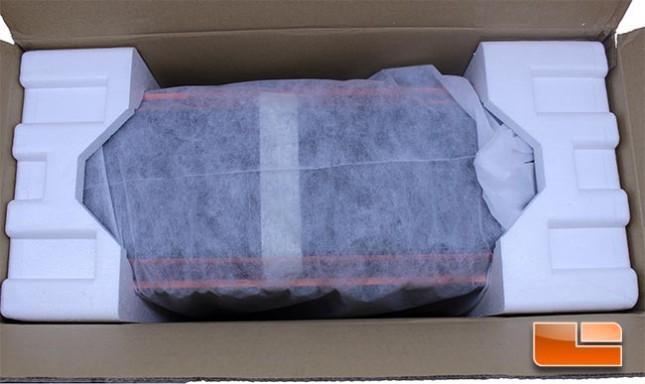 The Silent Base 800 comes packaged between two large Styrofoam inserts and is wrapped with a cloth cover to prevent scratching. This cover is very soft and does a great job of protecting the case. The feet are not installed on the case when shipped, likely to prevent them from being damaged. Overall, the packaging is adequate and did well in protecting the case in its journey to me.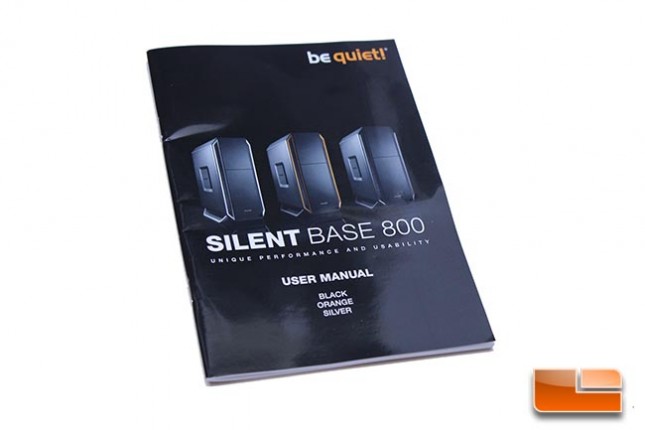 The accessory kit included with the Silent Base 800 is more than adequate, with a simple, yet informative manual being provided.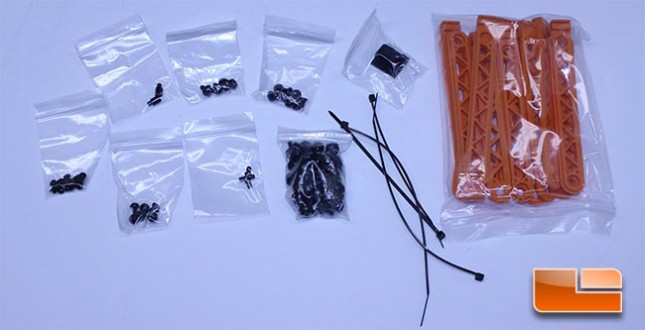 There is a cable tie down included to help with cable management behind the motherboard tray, along with several zip ties. The accessory kit also includes multiple thumbscrews to attach hard drives to the rubber mounts. We doubt users are going to end up using all of the hard drive brackets, so these thumbscrews can be used for other applications. be quiet! also includes an abundance of screws for mounting SSD's and securing optical drives. While it's not the greatest bundle we've ever seen, it's better than ones we've seen in more expensive cases we are currently reviewing.
We are very happy to see the warranty terms for the Silent Base 800 clearly spelled out in the case documentation. The case is covered for three years for manufacturers defects. If you should ever experience a problem with the case, such as a USB port failing, or other functional issue, be quiet! will take care of the issue for you. be quiet! is located in Germany, so any type of support that requires shipping back to them may be cost prohibitive and inconvenient to end users who happen to be outside of Europe.
Let's take a look at the external features of the Silent Base 800, now.