be quiet! Silent Base 800 PC Case Review
By
be quiet! Silent Base 800 Mid Tower ATX Case Internal Impressions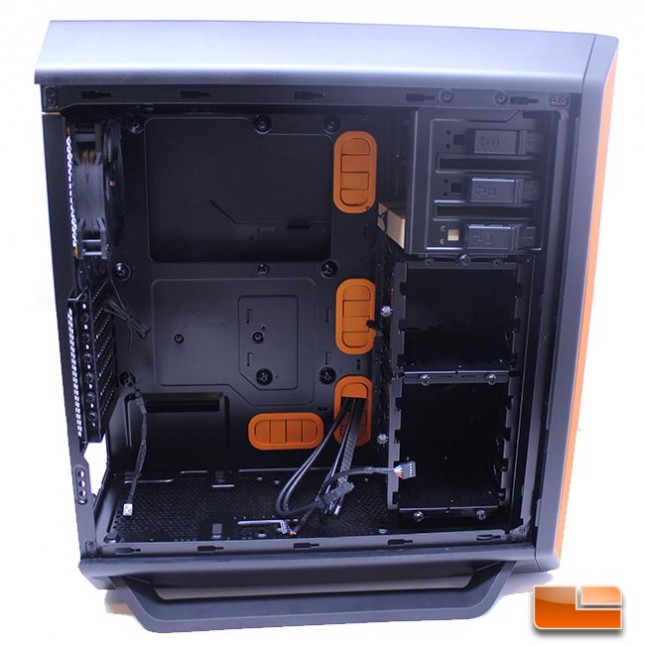 The Silent Base 800 offers a very familiar internal layout that is similar to that seen in the Corsair 300R, 450D and others. This is a very functional layout that doesn't have any glaring issues, offering up multiple rubber grommets for cable routing, adequate spacing and solid overall build quality. There is a large CPU cutout, as expected, to aid in the installation and removal of CPU coolers. There are proper cutouts on the tray to allow 8-Pin CPU connectors to pass through above the motherboard and overall, this is a layout we're very familiar and happy with. While it would have been nice to see some innovation here or something new, you can't fault be quiet! for going with a tried and true internal layout that other manufacturers have had excellent results with.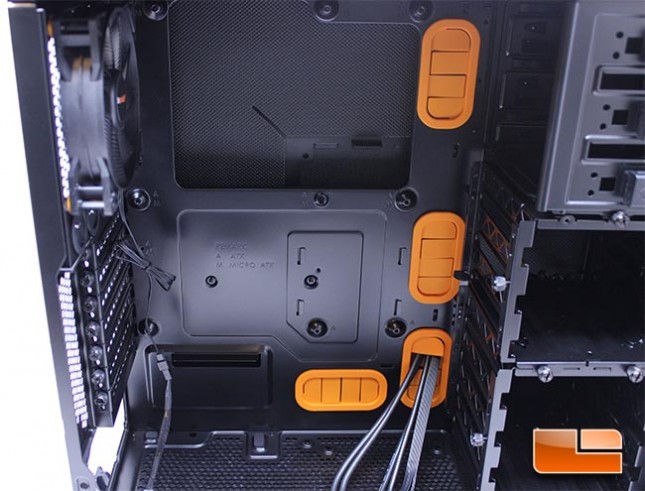 The motherboard tray doesn't feature traditional standoffs, but rather the in-tray standoff design we've become used to with various cases. This is a great design choice, as it saves time and will ensure a more stable motherboard installation, as there won't be any crooked standoffs. I've always disliked standoffs, as they tend to get stuck on their screws when removing boards, creating more trouble than should be necessary when swapping motherboards. Seven PCI-E slots is standard for a Mid Tower ATX case, though it would be nice to see eight slots here to allow for additional expansion. Unfortunately, the lack of airflow to the Silent Base 800 GPU area and limited watercooling potential should keep the system limited to dual GPU use, in my opinion.
The orange grommets be quiet! ships with the Silent Base 800 are very high quality and the way they are slatted actually allows for excellent cable management when using flat cables. The rubber is very soft and pliable and won't disintegrate like we've seen with some cheaper grommets used in more expensive cases.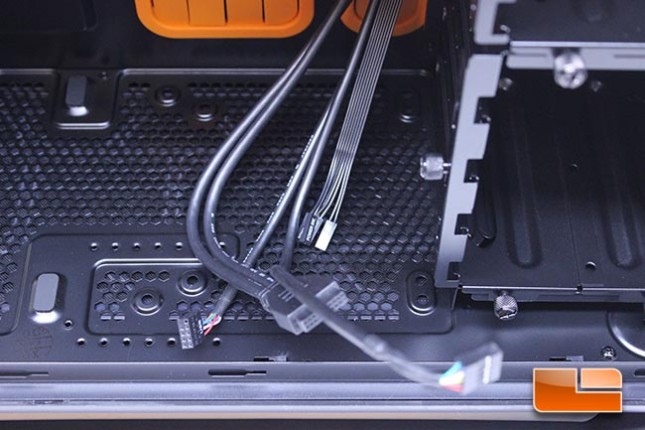 be quiet! has done the right thing in terms of looks by making sure all of the header cables are black. This really is a simple thing that helps improve looks a lot. When I see a case in 2015 that has multicolored panel cables, it just doesn't look right.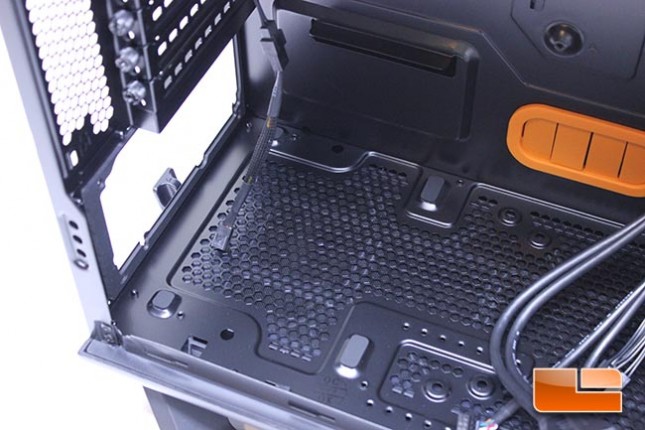 The PSU sits on rubber pads that help isolate it from the chassis and reduce noise. These pads or similar are something I consider to be a requirement in any quiet or enthusiast chassis, as their absence can make a big difference in noise output and vibration. The anti vibration pads on the Silent Base 800 are high quality and didn't have any issues with lifting after removing and replacing the PSU a few times, which is something we've had a problem with on other cases.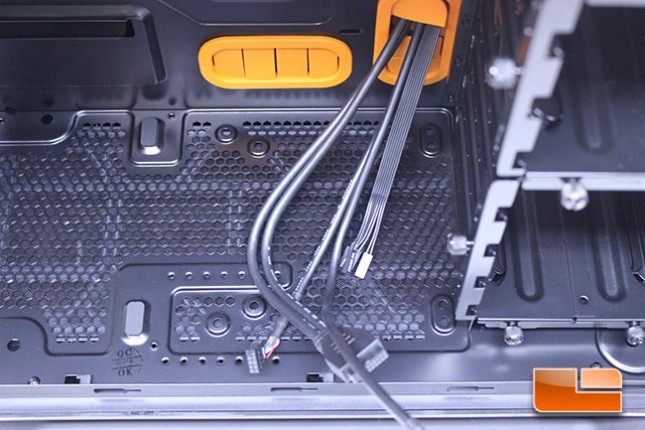 There is room for a 120MM or 140MM intake fan to be installed on the bottom of the case. In order to install the fan you will need to remove the bottom panel of the case, which is simple enough to do and the manual also provides instructions. Some longer power supplies are going to interfere with fan installation, no doubt.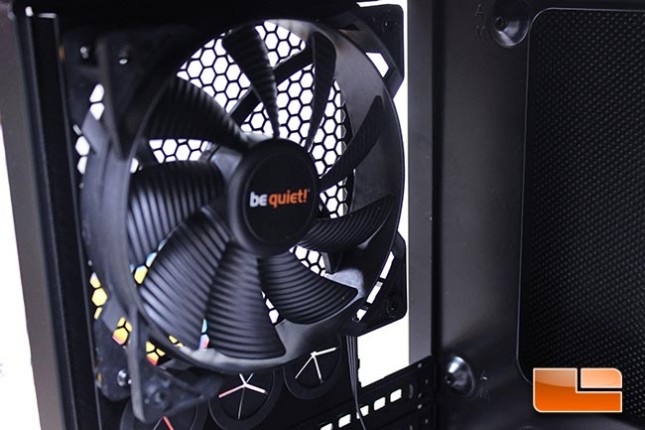 The rear of the case features a Pure Wings 2 120MM fan that moves just shy of 52 CFM of air at 1500 RPM while producing just under 20db of noise. be quiet! has included an in-line adapter that reduces voltage to the fan, thus letting it run at a slower speed and run more quietly. Even at full speed, this fan is barely audible.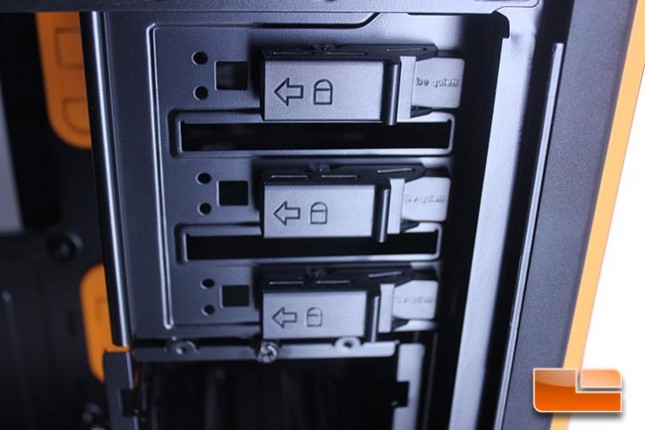 The Silent Base 8000 offers up three 5.25″ bays that operate with a very convenient slide-to-lock system. The locks are stylish and feature the be quiet! logo. As we will soon point out, be quiet! has subtly placed their branding all throughout the Silent Base 800. Also of note, if you dig into the manual, you will discover that you may place one of the hard drive cages into the optical bay area. This is a nice feature to have available, as it can help users configure their systems for better airflow by removing the drive cages from in front of the intake fans.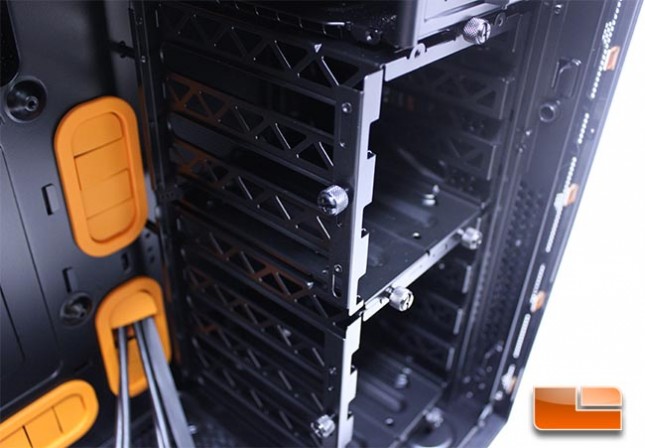 The hard drive cages in the Silent Base 800 are all easily removable via thumbscrews. You can also reverse the order of the cages, remove them altogether to help increase airflow and, as mentioned before, you can even put one in the optical drive area. Hard drives lock into place within the cages with a simple thumbscrew and slide mechanism, which works quite well.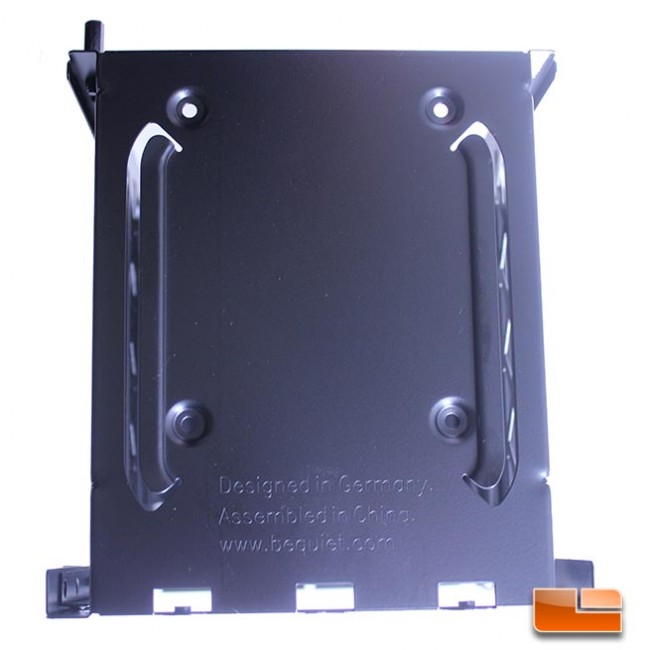 Each of the drive cages features an SSD mount on top, which is a nice touch and almost necessary, as there would only be two SSD mounts if these mount points weren't available. Drive mounting has been well thought out by be quiet! on the Silent Base 800. The rubber mounts are easy to use and mount to the hard drives with ease, although their inability to be used with 2.5″ drives is a let down. Here we see their "Designed in Germany. Assembled in China" stamp. This won't be the last time this shows up, as be quiet! has made sure to brand this case throughout.
be quiet! has outfitted the Silent Base 800 with two Pure Wings 2 140MM fans that produce 65CFM at 1600RPM while producing less than 20 dBA of noise. These are great fans, especially when paired with good motherboard speed control software to tune them. However, when designing this case, be quiet! should have specified that the back of the fan mounts be open, thus allowing better airflow. The way they are designed, the back of these intakes are used as HDD slide mounts on other cases, such as the Corsair 300R. Since be quiet! is using a different mounting system than other manufacturers who use this base chassis, they could have easily had the cage changed to a less restrictive model and allowed less noise and increased airflow.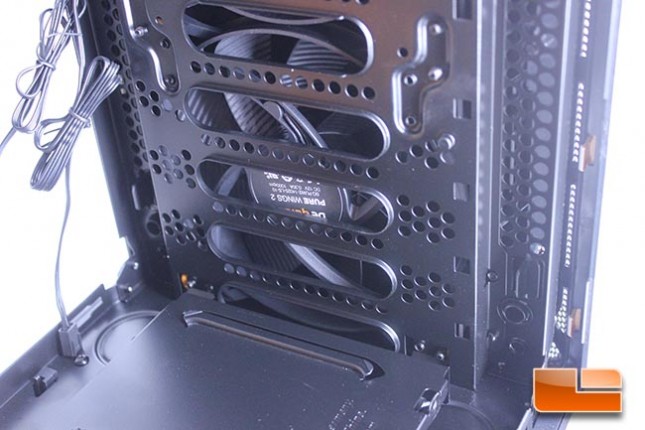 Due to the platform the HDD cage sits on, which features the 'Designed in Germany. Assembled in China' stamp to remind you again of where this case came from, installing a 240/280MM radiator in the front of the Silent Base 800 just isn't possible. Not all is lost, as the Silent Base 800 is still compatible with these types of coolers being installed in the top panel of the case. Still, the front intake area is something we would like to see be quiet! to address in future cases they design, as it seems like there was wasted potential and design flaws here and competing cases like the Fractal R5 and NZXT H440 support front radiator mounts.
The rear motherboard area is spacious, with lots of room for wiring and offers two 2.5″ SSD mounts that are removable via thumbscrew. Unfortunately we can immediately see there are no cable tie down points beyond the ones running along the header cables and the single point we see above the PSU wiring grommet. For a high quality case preaching aesthetics, this is a major drawback and will lead to longer build times.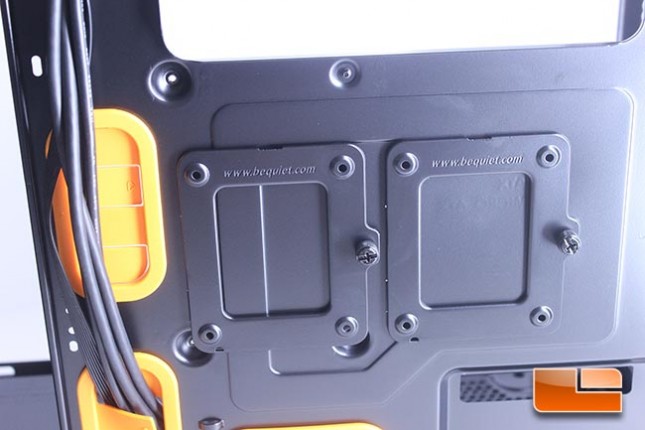 These SSD mounts are high quality and each sport the be quiet! logo, which is obscured when SSD's are in place. This type of hidden mount is something we've begun to see consistently in enthusiasts chassis and we certainly notice when they are omitted from other cases. Manufacturers, take note, these SSD mounts are borderline necessary in an enthusiasts chassis with removable drive cages. This is be quiets! first go at a case and they got it right.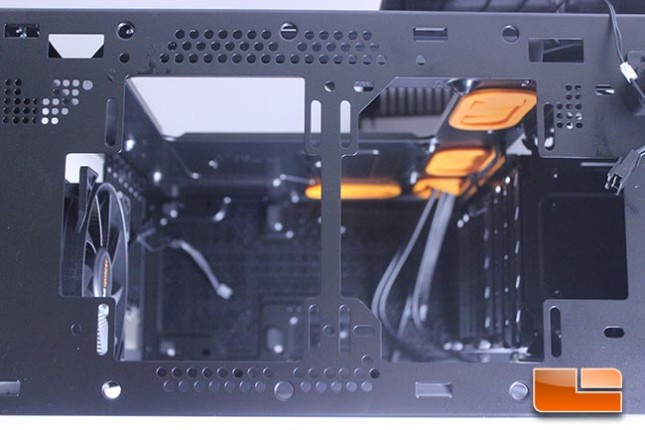 The top panel of the case shows a very clean layout that allows for simple fan installation. Dual 120MM or Dual 140MM fans are supported and there are screw slots rather than uniform holes so that you can adjust the fans outwards from the motherboard to aid with clearance when using a radiator. This is a well thought out design, as it increases flexibility in possible cooling options and alleviates concerns with being able to install AIO coolers with large radiators. We also note that be quiet! has included cut outs on both the front and rear beyond the fans actual mounting area. This is so hoses from radiators can run through with the radiator being placed on top of the cage. This is great flexibility to have and be quiet! has done very well with the design and functionality of the top panel on the Silent Base 800.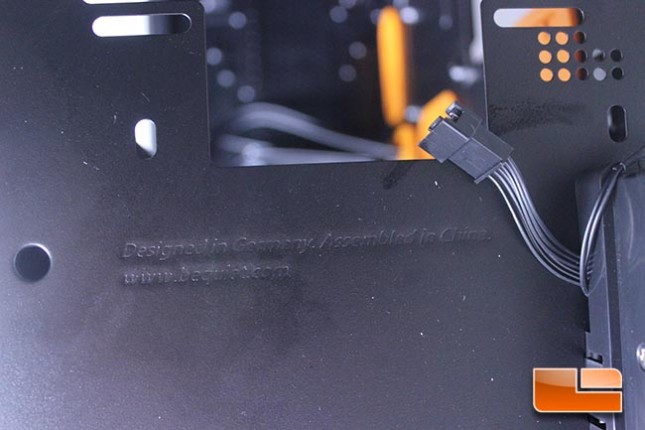 We also like that the cables on the top panel can easily be removed via adapters so that they don't snap off. This was an issue for us when reviewing the Zalman Z11 Neo and I had wished at the time Zalman had done exactly what be quiet! has done here. Also of note, be quiet! has managed to include their 'Designed in Germany. Assembled in China' stamp on this part of the chassis, just in case you're deep into your build and needed a reminder of your cases origin, again.
We are impressed with the be quiet! Silent Base 800 internally, for the most part. We've noted the flaws we found in design, notably in regard to the intake area having unnecessary metal blocking air intake and a lack of front radiator support. Also disappointing to a lesser degree, there are only a couple of cable tie down points on the motherboard tray. Besides these issues, the Silent Base 800 looks great internally and has some great design elements that should help the build process go smoothly.
Now that we've taken a look at the cases internal features, let's get a system built into it and see how things look. We'll also examine any build issues or fundamental flaws that we couldn't discover during our external and internal looks at the case.