be quiet! Dark Rock TF CPU Cooler Review
By
Introduction to the be quiet! Dark Rock Top Flow CPU Cooler
be quiet! is a business that absolutely lives up to its name and word: Silent premium quality made by the quietness experts. They create some of the best performing and quietest air coolers on the market, along with a few other products that do very well. They're not only built well and perform great, but they are also visually appealing. A couple weeks ago we got a chance to take a look at the Shadow Rock LP cooler, designed to fit in a low profile chassis, and today we're going to look at the recently released Dark Rock TF.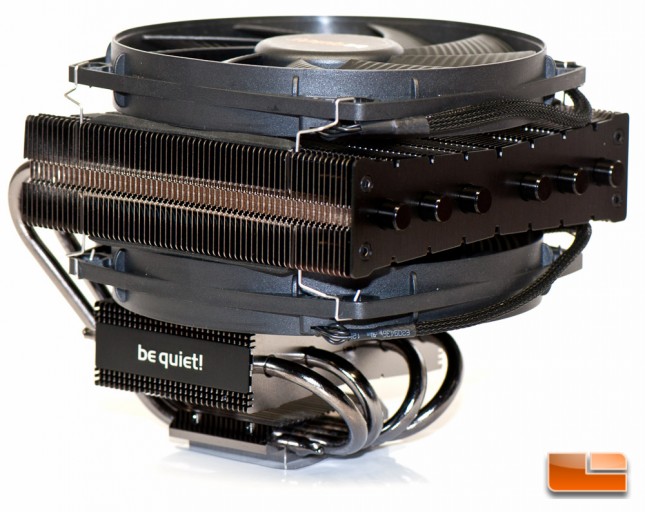 The Dark Rock TF – TF meaning Top Flow – is the latest cooler by be quiet! It's designed to fit in cramped spaces, standing approximately 163mm tall, which means if you've got space problems inside your chassis, you may be able to squeeze the Dark Rock TF inside. The whole idea behind the 'Top Flow' design, is to not only allow it to fit in a cramped space, but to allow the dual 135mm SilentWings PWM fans to cool the components that surround it. Speaking of the fans, they'll produce a mere 26.7dBA at 100% speed, which is incredibly quiet. They also utilize a 6-pole fan motor, which will produce a smoother transition between the magnetic poles. This results in very low vibration and silent operation with less energy consumption.
"Compact PCs pose significant design challenges, not least of which is how to quietly cool a high-performance, overclocked CPU in a cramped space. be quiet!s Dark Rock TF offers a solution to this challenge.

This top-flow cooler with two powerful heat sinks is an extension of the well-established successful be quiet! product series Dark Rock and a compact cooling beast. It is designed to bring the famous be quiet! silent technology into your PC. With the best performance-to-noise ratio available in the compact cooler category, it strikes the perfect balance between cooling and serenity with absolutely no compromise in silence and performance."
With a 220 watt TDP, this cooler is expected to be a beast! Featuring six (6) nickel-plated heat pipes and dual heat sinks, you should be able to overclock your CPU and still have mildly tamed temperatures, all while retaining near silence. We'll have to run the cooler through some tests to see if this holds true!
be quiet!'s Dark Rock TF comes with an outstanding 3-year warranty and will run you $79.90 shipped on Newegg.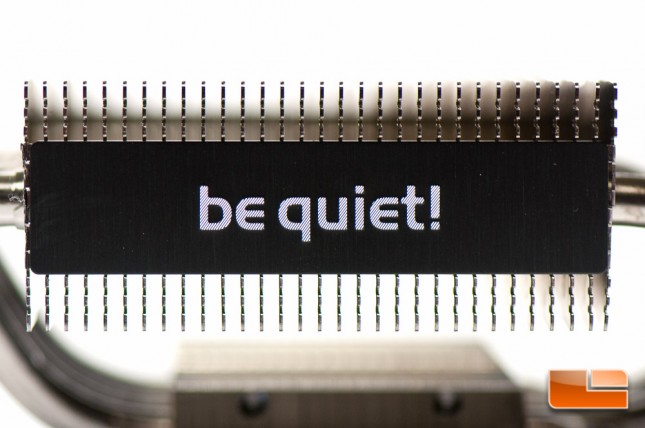 Dark Rock TF Technical Specifications:
Model
Dark Rock TF
Main Specification
Overall dimensions (L x W x H)
162.6 x 140 x 130.8 mm
Total weight
0.81 kg
TDP
220 Watts
Socket compatibility
Intel: 775 / 115X / 1366 / LGA2011(-3) Square ILM / 1150
AMD: AM2(+) / AM3(+) / FM1 / FM2(+)
Overall noise level @ 50/75/100% (rpm)
11.9 / 19.3 / 26.7 dBA
Warranty
3 Years
Heatsink specifications
Dimensions (L x W x H)
130.8 x 140 x 162.6 mm
Number of fins
Top: 62; Bottom: 64
Fin material
Aluminum
Base material
Copper
CPU contact surface
CNC machined
Heatpipes
6 @ 6mm
General fan specifications
Fan model
SilentWings
Fan dimensions
135 x 135 x 22 mm
Speed @ 100% PWM
1,400 RPM
Air flow @ 12V
67.8 CFM
Air pressure @ 12V
1.85mmH2O
Bearing type
Fluid Dynamic Bearing
Motor technology
6-pole fan motor
Rated voltage
12 Volts
Input current
0.20 Amps
Input power
2.4 Watts
Connector
4-pin PWM
Lifespan
300,000 hours @ 25C
Let's move on and take a quick look at the packaging and what comes inside the box, and follow that up with a review of this great looking air cooler.