Noctua NH-D15 Air CPU Cooler Review
By
Introduction to the Noctua NH-D15 CPU Cooler
Noctua is a name that I bet the majority of our readers have heard of, being that they make a vast array of highly successful and quality cooling fans, CPU coolers, and thermal pastes. Noctua's premium products are aimed at those who seek reliable coolers that provide extreme and quiet performance, so the cooler that we're going to review today has some high expectations. Designed off of the highly successful NH-D14 cooler, the NH-D15 was born and tweaked for improved performance.
"Built on the basis of the legendary NH-D14 and carrying on its quest for ultimate quiet cooling performance, Noctuas flagship model NH-D15 is an elite-class dual tower cooler for the highest demands. Its expanded heatpipe layout and two premium grade NF-A15 140mm fans with PWM support for automatic speed control allow it to further improve the NH-D14s award-winning efficiency. Topped off with the trusted, pro-grade SecuFirm2 multi-socket mounting system, Noctuas proven NT-H1 thermal compound and full 6 years manufacturers warranty, the NH-D15 forms a complete premium quality solution that represents a deluxe choice for overclockers and silent-enthusiasts alike."
The NH-D15 is a massive air cooler with nickel plating throughout, featuring dual cooling stacks with six 6mm heat pipes running through them. This dual tower heatsink will provide more surface area, better heat distribution, and superior airflow when utilizing two fans. The copper heat pipes between the two cooler stacks are shared and run through a copper cold plate.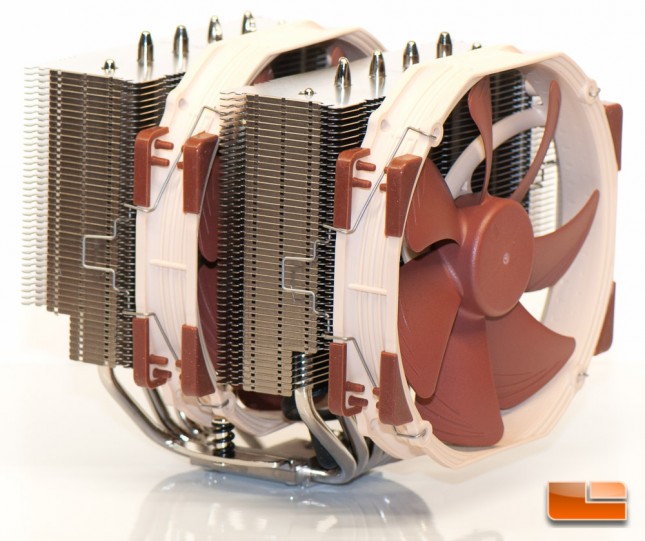 Attached to the cooling stacks are either one or two – depending on the space availability in your chassis – NF-A15 140mm PWM fans, which are capable of pushing 82.5 CFM at 1500 RPM, producing a mere 24.6 dBA. The static pressure was not listed on the D15 product page, however the NF-A15 page states 1.51 mmH2O at a different (lower) RPM and CFM spec. If the 24.6 dBA noise level is too much for you, you can tame the fans with a low-noise adapter (LNA). The LNA will drop the max RPMs to 1200 at 19.2 dBA.
The NH-D15 features a widened aluminum fin stack, when compared to the D14, widening the stack from 140mm to 150mm. In turn the heat pipes are placed farther apart in the stack, with the end result being more uniform heat distribution over the now larger surface area.
Mounting this cooler will be made easy thanks to the SecuFirm2 mounting system, and in this review you'll see exactly how easy it is. You will end up mating this cooler to your system with Noctua's NT-H1 high grade thermal compound.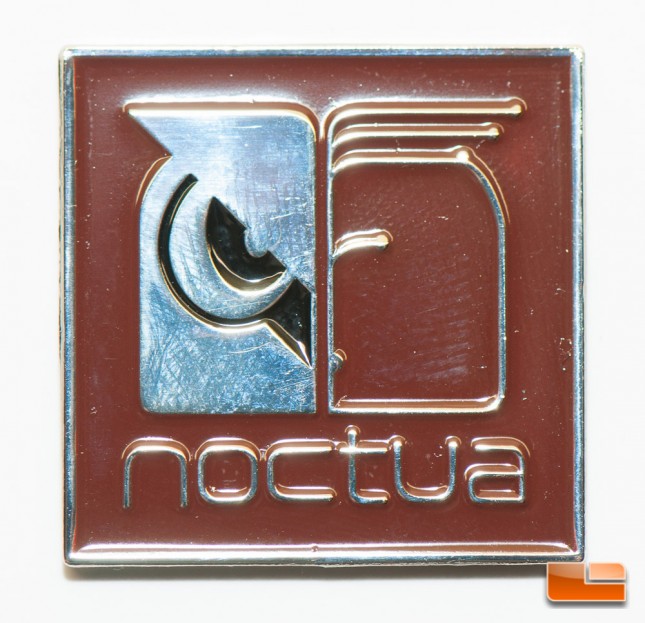 While the NH-D15 has been out on the market for over a year now, we wanted to see how it faired against some of the modern air and liquid coolers you find today. Will it set the bar high for the air coolers that we've recently reviewed, or will it get into the liquid cooler territory? Those are answers that we can't wait to find out!
You can currently grab the NH-D15 for $93.04 shipped on Amazon, which this cooler includes a whopping 6-year warranty!
Check out the below table for the technical specifications between the D15 and D14.
NH-D15 vs. NH-D14 Technical Specifications:
NH-D15
NH-D14
Socket Compatibility
Intel: LGA2011-0 & LGA2011-3 (Square ILM), LGA1156, LGA1155, LGA1151, LGA1150
AMD: AM2, AM2+, AM3, AM3+, FM1, FM2, FM2+ (backplate required)
Intel: LGA1366, LGA1156, LGA1155, LGA1151, LGA1150, LGA775, LGA2011 on request, Asus X-socket
AMD: AM2, AM2+, AM3, AM3+, FM1, FM2, FM2+ (backplate required)
Height (without fan)
160 mm
160 mm
Width (without fan)
150 mm
140 mm
Depth (without fan)
135 mm
130 mm
Height (with fan)
165 mm
160 mm
Width (with fan)
150 mm
140 mm
Depth (with fan)
161 mm
158 mm
Weight (without fan)
980 g
900 g
Weight (with fan)
1320 g
1240 g
Material
Copper (base and heat-pipes), aluminium (cooling fins)
Fan compatibility
140x150x25 (with 120mm mounting holes), 140x140x25 (with 120mm mounting holes), 120x120x25
Warranty
6 Years
Fan Specification
Fan Model
2x Noctua NF-A15 PWM
Noctua NF-P14 & Noctua NF-P12
Max RPM
1500 RPM (+/- 10%)
1200 / 1300 RPM (+/- 10%)
Max Speed (LNA)
1200 RPM (+/- 10%)
900 / 900 RPM (+/- 10%)
Min RPM
300 RPM (PWM, +/-20%)
N/A
Max Airflow
82.5 CFM
64.9 / 54.3 CFM
Max Airflow (LNA)
68 CFM
49.3 / 37.3 CFM
Max Noise
24.6 dBA
19.6 / 19.8 dBA
Max Noise (LNA)
19.2 dBA
13.2 / 12.6 dbA
MTBF
150,000 Hours
Let's move on and take a quick look at the packaging and what comes inside the box, and follow that up with a review of this beautiful air cooler.