Prolimatech Lynx CPU Cooler Review
By
Test System & Benchmarking
Today we will compare the Prolimatech Lynx to the Intel stock cooler.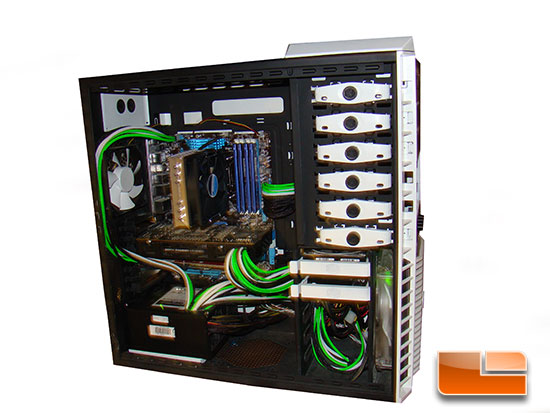 Intel Test Platform
Component
Brand/Model
Pricing
Processor
Intel Core i5-2500K 'Sandy Bridge'
Click Here
Motherboard
ASUS P8P67 'Intel P67'
Memory
Kingston HyperX 16GB DDR3 1600MHz
Click Here
Video Card
XFX Radeon HD 6950 1GB
Click Here
Hard Drive
OCZ Agility 2 64GB SSD
Click Here
Power Supply
PC Power & Cooling Silencer 750W PSU
Click Here
Chassis
Cooler Master HAF 932
Click Here
Operating System
Windows 7 Professional (64bit)
Click Here
These are the specs for the test system.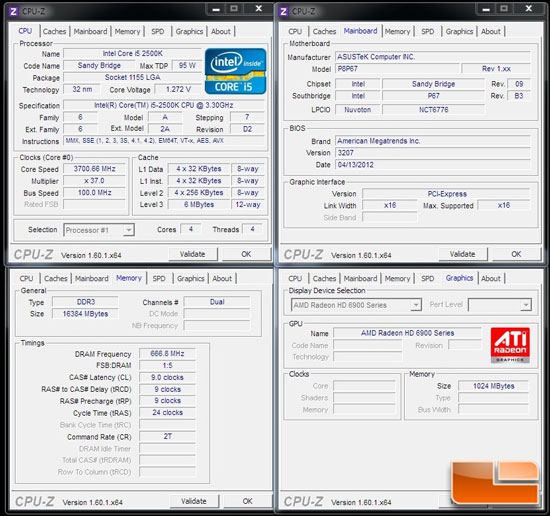 I will be using CoreTemp to monitor all temperatures. Idle temperatures were recorded after leaving the computer idle on the desktop for 30 minutes. After 30 minutes of running Prime95 on the Blend setting, load temperatures were recorded. Each test was done three times to ensure that all temperatures are correct. The CPU was tested at stock speeds with turbo enabled. Temperatures shown will be the average of all four cores. Arctic Cooling MX-2 thermal paste was used instead of the provided paste.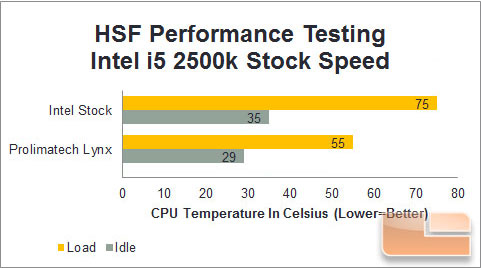 It was no surprise to me that this cooler would best the stock cooler. At stock speeds, the stock Intel cooler didnt stand a chance. The Lynx went above and beyond my expectations for a three heat-pipe cooler. Rolling in at just 55 degrees Celsius under full load, this cooler kept my CPU both cool and quiet.
I figured that this cooler was small to do any serious overclocking, but I went ahead and tried a reasonable overclock at 4.6GHz at 1.5v. I was very surprised to find that the Lynx actually out-performed the old bulky Coolermaster V8. This proves that more heat-pipes dont always make a difference. Prolimatech has put some serious care into the design of this cooler.