PowerColor Radeon R7 250X 1GB Video Card Review
By
PowerColor AXR7 250X 1GBD5-HE Radeon R7 250X 1GB Graphics Card
Last month AMD released the Radeon R7 250X, an entry level discrete graphics card that is part of the Radeon R7/R9 'new' product line. The AMD Radeon R7 250X sells for around $99 and fills the small gap between the AMD Radeon R7 250 at $89 and the the Radeon R7 260 at $109. The next step up from that is the Radeon R7 260X that goes for between $119 with 1GB of memory to $129 for 2GB of memory. This means that AMD now has offerings on the market at $10 price increments between $89 to $129! The mainstream discrete video card market is certainly not lacking enough cards to pick from and it feels like there is almost too many cards to pick from right now.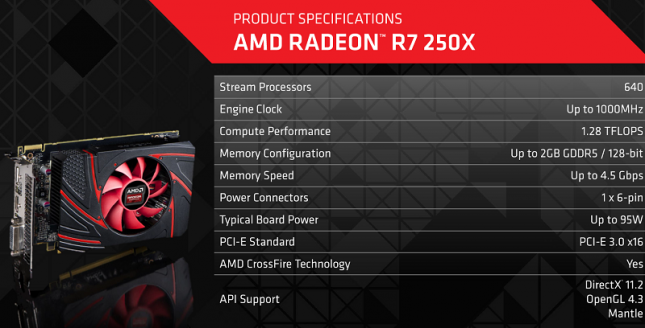 If you are looking for an AMD Radeon R7 series card to buy today prepare to spend some times looking for the best deal. For example we found a Sapphire Radeon R7 250 2GB DDR3 graphics card for just $69.99 shipped after rebate! We also ran across MSI Radeon R7 260 1GB OC card for $89.99 shipped after rebate. Both of these cards are selling for $20 below their SRP! The AMD Radeon R7 250X is still only weeks old and there aren't any good rebates or deals out right now. For example the PowerColor Radeon R7 250X that we are looking at today is available for $99.99 plus $5.39 shipping ($105.38 total). For that price you'd be better off getting the MSI Radeon R7 260 1GB OC card for about $15 less. Rebates are always changing and with such small price differences between product lines, gamers really need to search around before pulling the trigger on a new graphics card.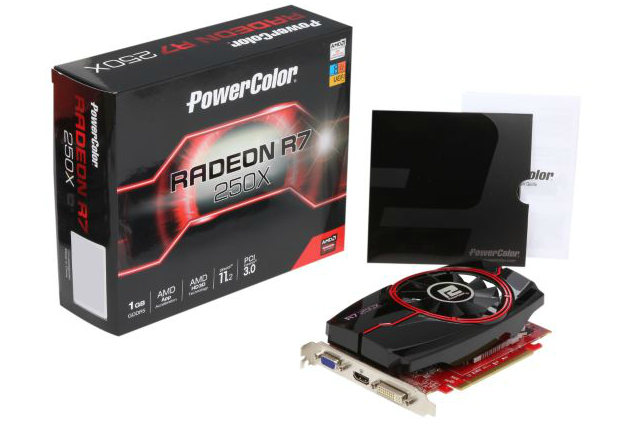 The AMD Radeon R7 250X graphics card that we are taking a look at today is the PowerColor AXR7 250X 1GBD5-HE. This card features 640 Stream Processors (16 ROPs and 40 TMUs) clocked at 1000MHz and 1GB of GDDR5 memory on a 128-bit bus running at 1125MHz (4500MHz effective). Is the AMD Radeon R7 250X a rebadge? Yes, The AMD Radeon R7 250X is essentially the new name for the AMD Radeon HD 7770 GHz edition graphics card. That means the AMD Radeon R7 250X uses the Cape Verde GPU, whereas the AMD Radeon R7 250 uses a fully enabled Oland GPU and the Radeon R7 260 uses a cut-down version of the Bonaire GPU that is fully enabled on the R7 260X. It gets confusing due to the mix of old and new product names and some newer GPUs that have just come to market in the past year.
The PowerColor AXR7 250X 1GBD5-HE card comes with instructions and a driver disc, so there really isn't much of a bundle to cover! It is worth noting that this card is backed by a 2-year manufacture warranty should anything go wrong. This is a little shorter than the industry standard of 3-years.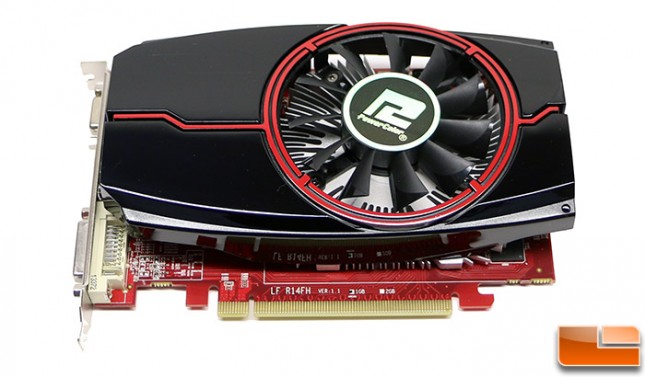 The PowerColor AXR7 250X video card is just 6.625-inches in length. It is a dual-slot card that has a black, red and silver motif. The PCB is red, the fan shroud is black with red accents, the fan is black and the GPU heatsink and the mounting bracket are both silver. It should be noted that you can run 2-way AMD CrossFire with this card without the need of a physical CrossFire bridge.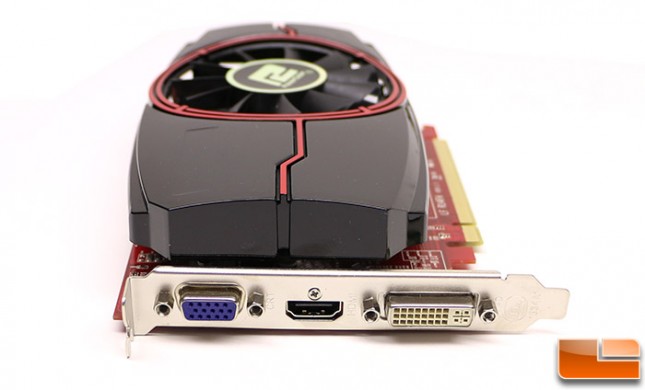 When it comes to video outputs, the PowerColor Radeon R7 250X 1GB has a single Dual-Link DVI connector along with HDMI and VGA. No video adapters are included with this card.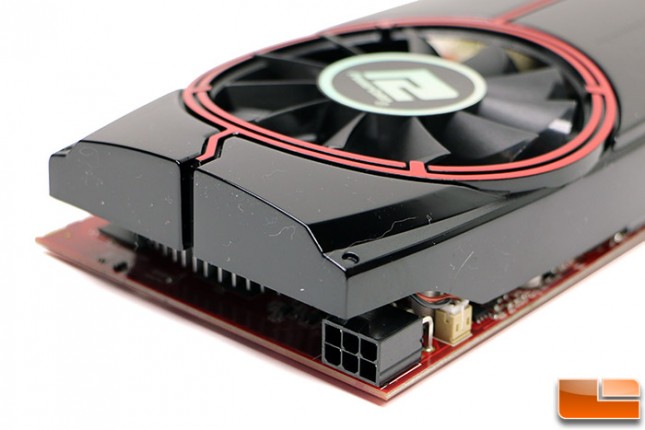 There is a 6-pin PCIe power connector located at the end of the PCB and keep in mind that both AMD and PowerColor recommend at least a 400W power supply for proper operation. This picture also shows how the high gloss black finish on the fan shroud shows dirt and hair like nobody's business! As soon as we'd wipe the card down with a cleaning cloth it would get dirty in seconds. The finish on this card is a magnet for dirt and that might not be good for those that have case windows.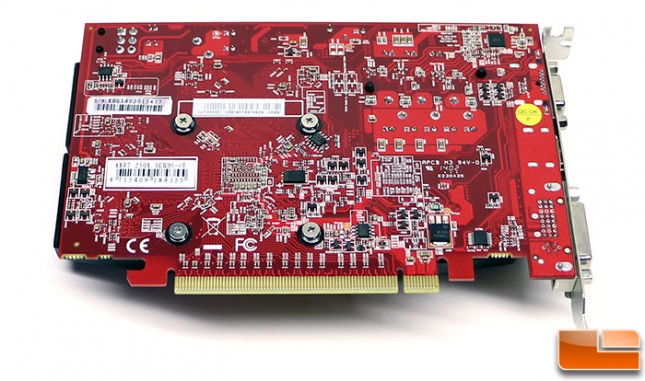 The back of the card doesn't have any key features that need to be talked about and we've all seen enough serial number and model number stickers in our lives.
Let's take a quick look at our test system and then get to benchmarking the PowerColor AXR7 250X 1GBD5-HE on some game titles!