NZXT Noctis 450 Mid-Tower Case Review
By
NZXT Noctis 450 Mid-Tower PC Case
Many manufacturing industries keep an award winning design and release updated versions of it; either to provide a change to the appearance or update features. Legit Reviews took a look at the NZXT H440 almost a year and a half ago, and recently the NZXT H440 Razer; both of which received high praise. NZXT took the internal heart of the H440 and updated the exterior and a few features of the case to become the Noctis 450.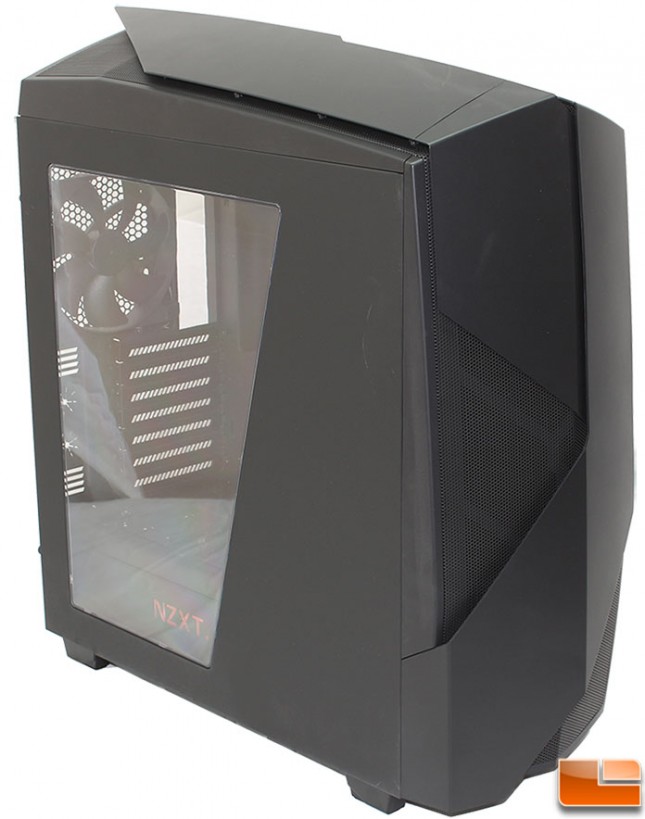 Taking a look at the exterior of the case, we can see a big change from the previous models. The top and front panels are no longer flat, they have wire mesh and plastic elements providing a new look. The Noctis 450 is still a mid-tower case, designed to support up to ATX motherboards. For storage, it has two 2.5″ drive trays located on top of the power supply shroud, and can also support up to six other 2.5″ or 3.5″ drives; there is no support for 5.25″ devices. Cooling options are plentiful with support for a total of up to seven 120mm fans, and support for up to two 360mm radiators; of course a fan controller is included to manage all those fans. NZXT kept the lighting capability from the previous models, with some enhancements, which we will discuss later.

The Noctis 450 is available in two models, Glossy White with Blue LEDs which is sold under part number CA-N450W-W1, and Matte Black with Red LEDs with part number CA-N450W-M1. Both cases are currently available at well known etailers for under $139.99 with free shipping; making it over $20 more expensive than the older H440. Did the changes NZXT make warrant the price increase? Let's take a look.
NZXT Noctis 450 Features:
Integrated 8-port PWM Fan Hub
Adjustable LED System
Fully Modular Hard Drive System
Effortless Cable Management Space
Integrated Power Supply Shroud with SSD Mounts
NZXT Noctis 450 Specifications
Model Number
CA-N450W-M1 (Black)
CA-N450W-W1 (White)
Drive Bays
External: 0
Internal: 3.5″ / 2.5″: 6 +2
Cooling System
Front: 2x140mm / 3x120mm (3x 120mm FN V2 Included)
Top: 2x140mm / 3x120mm
Rear: 1x1140mm / 120mm (1x 140mm FN V2 Included)
Fan Model
FN V2 1200
Fan Speed: 1200RPM
Airflow: 45CFM
Air Pressure: 0.9mm – H20
Noise: 21dBA
Bearing: RifleFN V2 140mm
Fan Speed: 1200RPM
Air Flow: 50CFM
Air Pressure: 0.9mm-H20
Noise: 21dBA
Bearing: Rifle
Filters
Front (Included)
Bottom Rear (Included)
Radiator Support
Front: 2x140mm or 3x120mm
Top: 2x140mm or 3x120mm
Rear: 1x140mm or 1x120mm
Clearance
GPU Clearance with HDD Cage: 294mm
GPU Clearance without HDD Cage: 406.2mm
CPU Cooler: 180mm
Cable Management Lowest Point: 17.7mm
Cable Management Highest Point: 32.5mm
Motherboard Support
mITX, mATX, ATX
Expansion Slots
7
External Electronics
1x Audio/Mic
I/O Panel and Lighting System LED On/Off
USB 3.0 Ports
2
USB 2.0 Ports
2
Material
SECC Steel, ABS Plastic
Dimensions
220mm x 567mm x 544mm
Product Weight
9.5Kg (20.94lbs)
Warranty
2 Years
Let's take a quick look at the packaging of the NZXT Noctis 450 case before taking a close look at the case itself.