NVIDIA SHIELD Android TV Review
By
NVIDIA SHIELD Android TV Functionality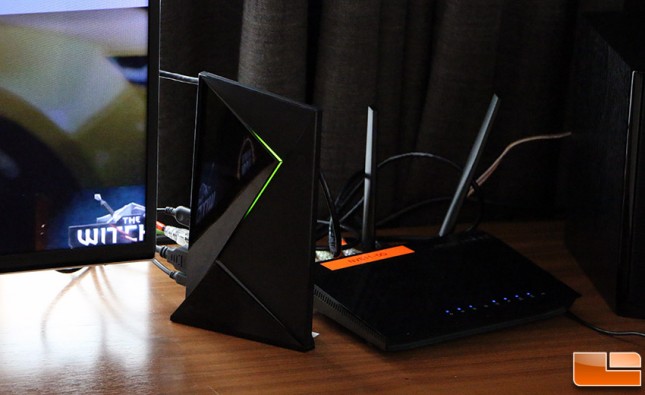 Hooking up the NVIDIA SHIELD is pretty easy as you just need to plug in the power cable and the HDMI video/audio output and you are done. Plugging other devices into the USB port or using a wired Ethernet connection are optional. We highly suggest using a wired ethernet connection as you won't have any signal strength distances to hassle with.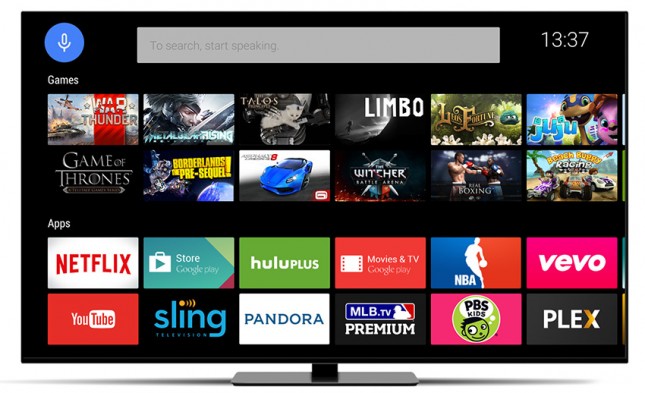 The Android TV interface (shown above) is very easy to navigate and supports Googles powerful natural language-based voice search that accurately recognizes both simple and complex voice commands. This means that you can quickly find movies or TV shows starring your favorite actors for example, or quickly locate music, obtain local weather reports, sports scores, in addition to many other searches that can be done. Voice search also works within many apps like Google Play Movies, CinemaNow, MUBI, Plex, and Youtube will display your movie search results if all are installed. Android TV will also personalize content recommendations for you based on your usage history on the SHIELD and the other devices associated with the Google account that you are using.
The bad news is that just because this device uses Android TV, it doesn't mean you get the ability to watch live TV channels out of the box. For that you'll need something that has a built-in tuner like the HDHomerun series from Silicon Dust and also an antenna for OTA service or lease a cablecard from your cable provider. HDHomeRun DVR was just funded on Kickstarter this month, so hopefully there will be a way to use the NVIDIA SHIELD Android TV as a DVR later this year. We were told that the app would be released in June, but we shall see!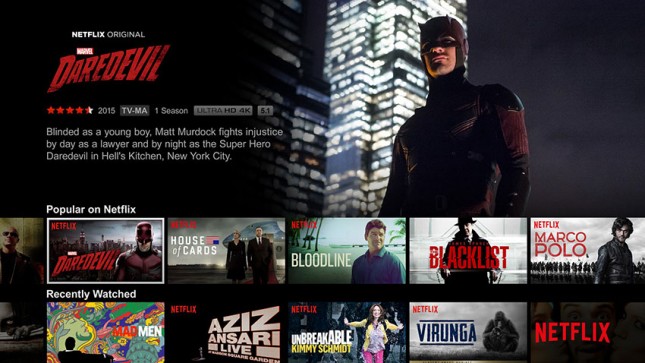 The HDMI 2.0 cable that comes with the NVIDIA SHIELD Android TV is ready for 4K content, but be sure that your HDTV is ready if you want to jump onto your Netflix premium subscription plan and watch the latest House of Cards episode in 4K. To watch DRM protect 4K 60 fps content from apps like Netflix you'll need to connect the HDMI cable to a port that supports HDCP 2.2 and 4K at 60 fps. Apps like Netflix HD, YouTube, Pluto TV and UltraFlix all offer 4K content this very second. The NVIDIA SHIELD Android TV also supports HDMI-CEC control for those that are looking for a home theater experience. Analysts expect 35 million 4K Ultra HD TVs will be sold this year as they are becoming more affordable as time goes on. You can get a 55-inch LG 55UB8200 4K Ultra HD 60Hz LED Smart TV right now for $950 shipped at Amazon or the 55-inch LG 55UB8500 4K Ultra HD 120Hz LED Smart TV for $1,398.
The HDMI cable is also how you get your sound. The NVIDIA SHIELD supports pass-through of 5.1 and 7.1 audio and supports Dolby Digital (AC3), Dolby Digital Plus (E-AC3), and DTS Core Audio Streams in pass-through mode. If you do not want to use audio pass-through from your TV, SHIELD can deliver multi-channel audio and High Resolution Audio (192 KHz, 24-bit) from its USB port. If you have a 4K TV with HDCP 2.2 but an older audio receiver that supports only HDMI 1.4, you will not be able to view DRM protected 4K content from apps such as Netflix if you connect SHIELD to your audio receiver via HDMI. In this case, Netflix will only output 1080p video. To get 4K content on a setup with a HDMI 1.4 receiver you'll need to connect the shield directly to the 4K TV and then use the TV's optical out port or the ARC (Audio Return Channel) HDMI port to output the audio from the TV back to the receiver. Not all TVs support pass through audio though, so you might want to look at your owners manual. Sounds like it might be time to invest in equipment that supports HDCP 2.2 across the board now that 4K is finally ready for mainstream use!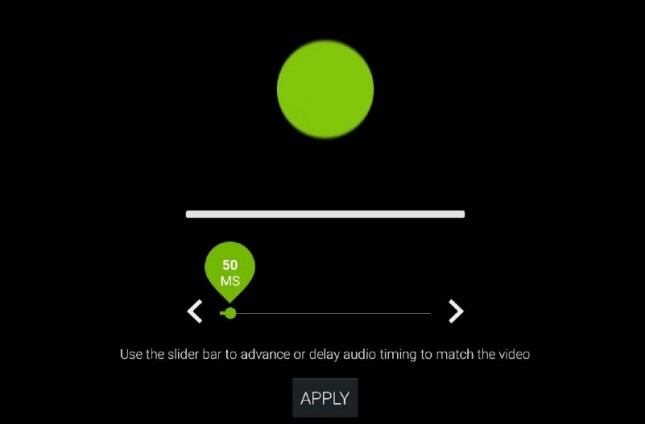 The NVIDIA SHIELD Android TV also has a built-in audio-video sync tuner that ensures you won't have lip-sync issues by adding audio delays if needed when consumers are using various home theater configurations.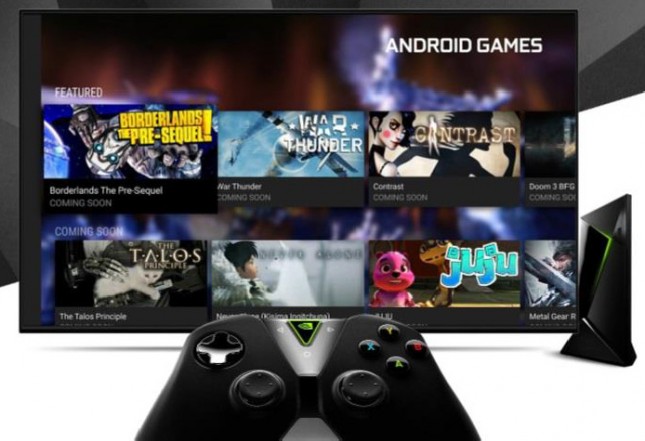 The NVIDIA SHIELD Android TV has access to over 200 Android game titles that have been optimized for the SHIELD to deliver the best gaming experience possible. Game titles include Borderlands TPS, Doom 3 BFG, Crysis 3, Talos Principle, Warthunder, Contrast Leo's Fortune, Juju, Crossy Road and hundreds more. In addition to the games currently available on Google Play, NVIDIA anticipates the following games will launch this summer for SHIELD Android TV:
Blacklight: Retribution
Borderlands 2
Borderlands: The Pre-Sequel
Contrast
Game of Thrones HD
Half-Life 2: Episode Two
Machinarium
Metal Gear Rising: Revengeance
Never Alone
Tales from the Borderlands HD
While the NVIDIA SHIELD Android TV has access to Google Play you won't find every single app in the marketplace that you'd normally find on your Android smartphone. We were told this is because app or game makers need to make small changes for them to be shown for Android TV. Usually the app developer just needs to add support for game controllers and then adjusting the resolution to fit larger screens for them to be considered ready for the Android TV app store.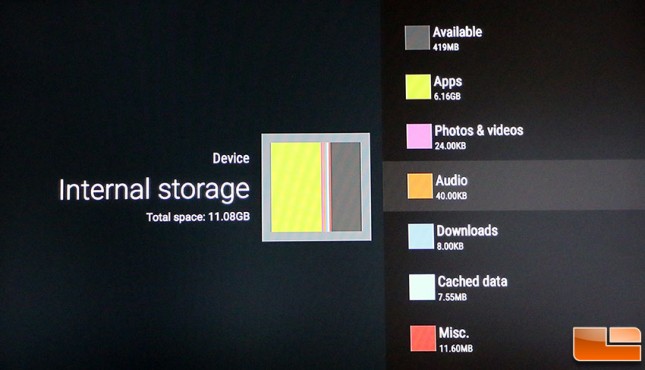 We bought and downloaded a handful of games, but quickly found out that the internal 16GB storage drive fills up fast! You really only have about 11GB of storage space available since Android TV and other pre-installed items from NVIDIA take up the remainder of the storage space.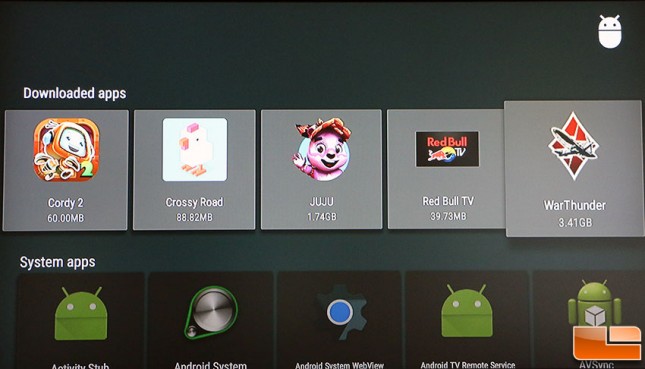 We managed to fill up our NVIDIA SHIELD 16GB Android TV by installing just five apps! We installed WarThunder (3.41GB), Juju (1.74GB), Red Bull TV (39.73MB), CrossRoad (88.82MB) and Cordy 2 (60MB) only to find that we couldn't install another large bought game title. If you just stream games, movies and music you won't need tons of internal storage space, but if you are buying and using apps from the Google Play store you'll most certainly need to use external storage. If you are a die hard gamer you'll most certainly want to go with the NVIDIA SHIELD Pro 500GB model as the extra storage space is well worth the extra $100 if you don't want to mess with a microSD card or external storage. The most cost effective way to add additional storage would be to purchase an external storage drive like the WD My Passport Ultra 1TB (review; $59.00) as you'll have more than enough space for all your Android games.
Update 5/29/2015: One feature that is worth mentioning is that the NVIDIA SHIELD Android TV is the first Android TV device that is capable of video calling. Google did not include UVC camera support in the Android TV platform, but NVIDIA did include it! You can use apps like Tellybean for easy HD video calling. We spoke with Cami Hongell, Tellybean CEO and Co-Founder, about the app and found out that they worked closely with Logitech and NVIDIA to develop and it was perfected using the Logitech C270 720p webcam ($22.79) and C920 1080p webcam ($65.57). Other video cameras will likely work, but those two were exclusively used in development.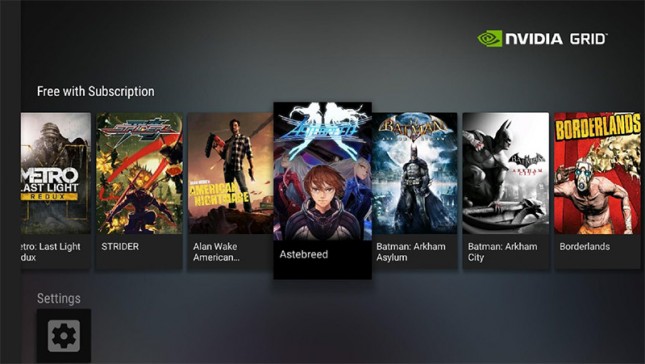 On top of all the Google Play game titles you also have access to the NVIDIA GRID cloud gaming service. When NVIDIA first launched GRID in November 2014, they were streaming games at 720p60 (1280 x 720 resolution at 60 frames per second) on about 20 games. NVIDIA is now streaming at up to 1080p60 (1920 x 1080 resolution at 60 frames per second)! Not all of the 50+ game titles in NVIDIAs GRID game library are able to be played at 1080p Full HD though. This very second NVIDIA supports about 35 games that can stream up to 1080p60, including Batman: Arkham Origins, DIRT 3, GRID 2, Borderlands 2, Lego Marvel Super Heroes, and Ultra Street Fighter 4.
NVIDIA is currently allowing all SHIELD owners to use the GRID cloud game streaming service for free until June 30th, 2015. At that point in time NVIDIA will begin charging for the service. From what we gather there will be different packages available as you can opt for the basic 720p60 service of the premium 1080p60 service through subscription tiers. NVIDIA will be allowing new SHIELD owners to access the GRID cloud gaming service and it's 1080p60 game titles for free for the first three months after your SHIELD purchase. It is unknown what the cost will be after the 90 trial period is over, but we are sure those details will become crystal clear in June 2015 as we approach the end of the free for all service date.
To get 1080p Full HD gaming going with the NVIDIA GRID service, NVIDIA recommends that you have an internet connection that is capable of at least 30Mbps download speeds (50Mbps is recommended) and a 802.11ac dual-band router so that you can run on the 5GHz Wi-Fi network. We aren't going to bother 'testing' the NVIDIA GRID gaming service as it really depends on your location and internet service provider as well as the internet data plan that you are subscribed to. NVIDIA also let us know that major changes are taking place to the worldwide GRID gaming service in June 2015 as well as a new store.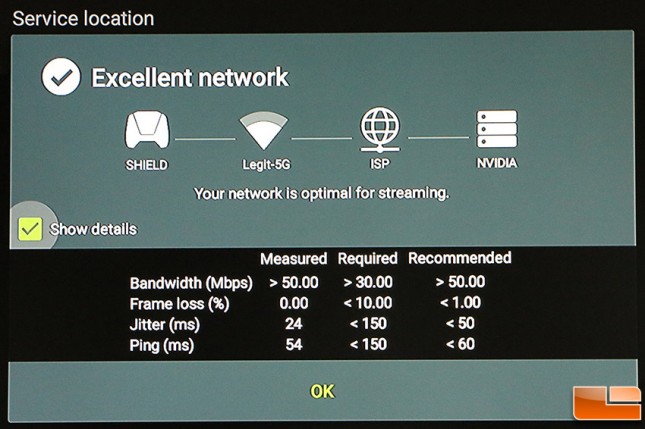 Legit Reviews is based outisde St. Louis, Missouri and our Charter Communications Internet broadband service crushed the recommended settings of 50Mbps download speeds with no frame loss and just 24ms of jitter in the middle of the day. Our ping of 54ms was higher than we would have liked though and was just under the recommended ping of 60ms for a good GRID game streaming experience. That has more to do with the location of the GRID servers though than our ISP.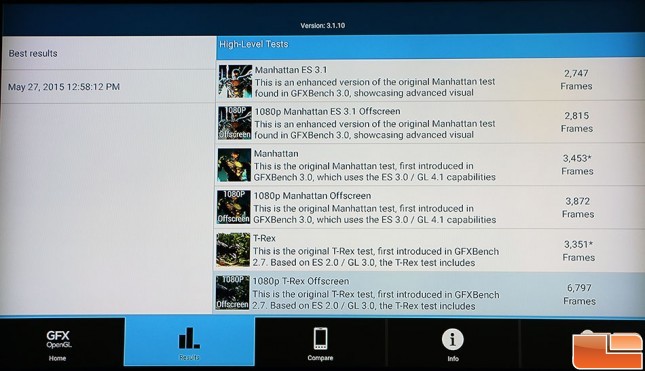 The next test we ran was GFXBench 3.1, an OpenGL ES 3.1-based, cross-platform and cross-API 3D graphics benchmark that measures graphics performance, long-term performance stability, render quality and power consumption in a fairly simple application. GFXBench 3.1 includes a special test Manhattan which is an intensive benchmark for the latest high-end mobile devices that utilize OpenGL ES 3 and ES 3.1. It features enhanced low-level tests, that exercise Compute shaders, Indirect draw-calls, HDR, and enhanced Depth-of-Field. You can download this benchmark for free on Google Play. We scored 2,747 frames in the Manhattan ES 3.1 benchmark. The Intel Atom Z3580 2.33Ghz quad-core processor and PowerVR Series G6430 GPU inside the brand new ASUS Zenfone 2 (review) scored just 1,698 frames in the 1080p T-Rex Offscreen benchmark. The NVIDIA SHIELD Android TV killed that score with 6,797 frames in the same test thanks to the mighty Tegra X1 SoC! We took an early look at performance on the NVIDIA SHIELD Android TV and side loaded a bunch of benchmarks on the unit back in March, so please reference that article if you are looking for general hardware performance numbers.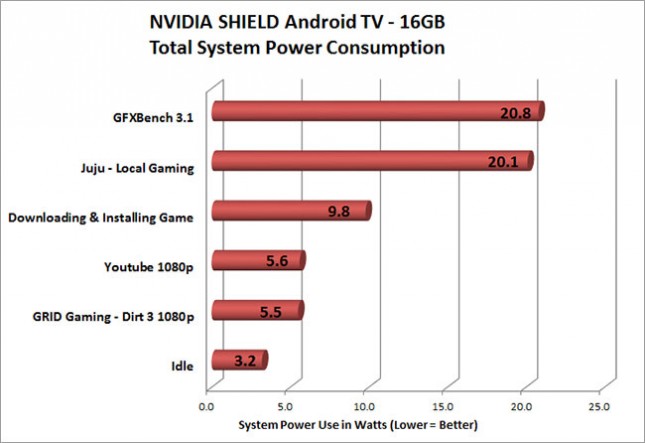 When it comes to power consumption the vast majority of times we used it to stream online videos, music and games we were in the 3-6 Watt range! We are thrilled to be power range as it means the SHIELD Android TV extremely power efficient. When you download content locally to the NVIDIA SHIELD and render it on this console you'll see the power levels reach into the 20W and above range, but even that is impressive!
Let's wrap this up!