WD My Passport Ultra 1TB Storage Drive Review
By
WD My Passport Ultra 1TB Portable Hard Drive
When it comes to external portable hard drives one of the most recognized product lines is most certainly the My Passport series that was first introduced by WD in 2004. These little portable hard drive enclosures and the included WD SmartWare software that automatically and continuously backs up your critical data has saved God only knows how much digital data over the years. For example in 2008 the flagship My Passport featured a 320GB hard drive, used the USB 2.0 interface, measured 126.2 x 79.5 x 15 mm (LxWxH) and cost a cool $199.99. WD has kept the My Passport brand alive over the years by continually refreshing it and offering new models like Essential, Elite, Edge, Enterprise, Studio and so on. Today, WD announced the My Passport Ultra, which is the latest refresh for this popular brand line and it includes 500GB ($99.99) and 1TB ($129.99) models now and a 2TB model that comes out in Q3 2013. So, the flagship My Passport Ultra is a 1TB hard drive costs $129.99, uses the SuperSpeed USB 3.0 interface and measures just 110.5 x 82 x 15.4 mm (LxWxH). Not bad considering where the My Passport line started from!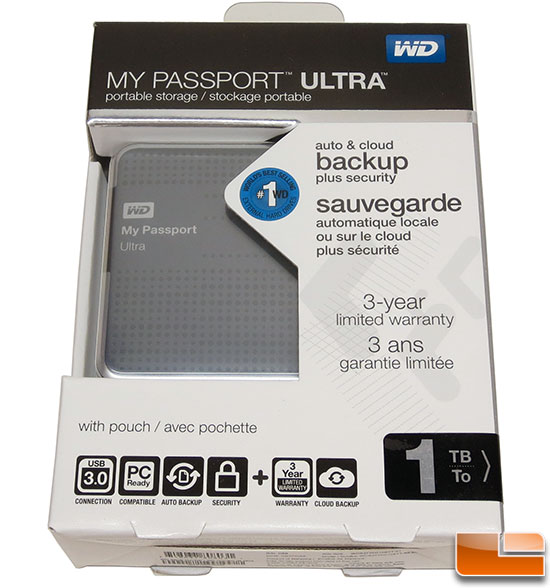 Besides the rather impressive hardware specifications, most of the magic happens with the software. When it comes to software you get WD Drive Utilities and WDSmartWare Pro backup software. These programs allow you to choose when and where you backup your files, but it also allows you to password protect and hardware encrypt the files on the drive, run diagnostics and more. You can also now use your Dropbox account, if you have one, to back up your files to the cloud. The WD My Passport allows you to back everything up locally on traditional media and then to the cloud if you want it, which is a nice touch. The WD My Passport Ultra comes backed by a 3-year warranty that covers both parts and labor. It is nice to see WD increase the warranty period on the My Passport series as it was previously just 2-years.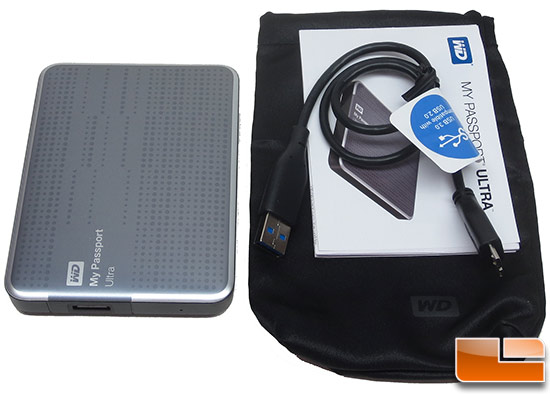 Inside the retail box you'll find the portable hard drive, 1.5-foot USB 3.0 cable, soft pouch, warranty card and the Quick Install Guide. WD lists that the WD SmartWare software, WD Security and WD Drive Utilities are included in the box, but you won't be getting a disc or flash drive with the bundle as the software is already on the portable hard drive. This is the first My Passport drive to come with a carrying pouch to protect the drive from scratches on the go.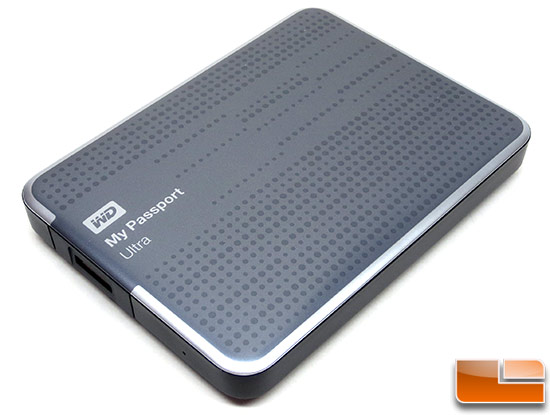 Western Digital went with a grey plastic casing on the My Passport Ultra series that is adorned with a circular pattern and the WD logo and product name. This is the same exact pattern that was used on the My Passport Edge (soon to be phased out), so if it looks familiar that is why. The finish on the My Passport appears to be semi-gloss and it does not show finger prints and smudges. The size of the WD My Passport depends on which capacity that you get.
| | | | | |
| --- | --- | --- | --- | --- |
| My Passport Ultra Model | Height | Depth | Width | Weight |
| 500GB | 4.33 in. (110 mm) | 0.50 in. (12.8 mm) | 3.21 in. (81.6 mm) | 0.30 lb (0.13 kg) |
| 1TB | 4.35 in. (110.5 mm) | 0.61 in. (15.4 mm) | 3.23 in. (82 mm) | 0.34 lb (0.16 kg) |
| 2TB | 4.35 in. (110.5 mm) | 0.82 in. (20.9 mm) | 3.23 in. (82 mm) | 0.50 lb (0.23 kg) |
The WD My Passport Ultra 1TB drive that we are looking at today measures in at 110.5mm x 82mm x 15.4mm with a weight of 5.44 ounces. Western Digital is using a 1TB WD Blue 5400 RPM hard drive with two platters and a 7mm Z-height on this particular drive.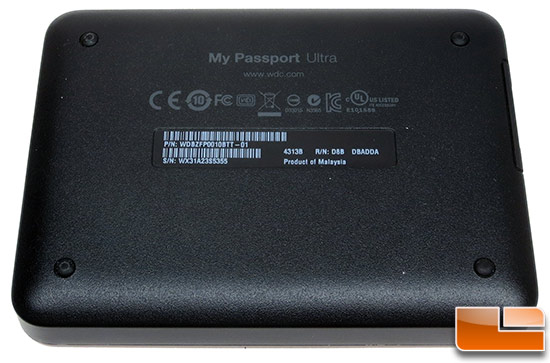 Flipping the My Passport Ultra over we see that WD placed four rubber pads on the bottom to keep the portable hard drive from sliding around the surface that you place it on. The designers of this enclosure obviously know that, and made indentations in the housing for the feet to sit down into. The back also lists the part number, serial number, where it was produced (Malaysia) and a whole bunch of logos that don't mean much to the general public.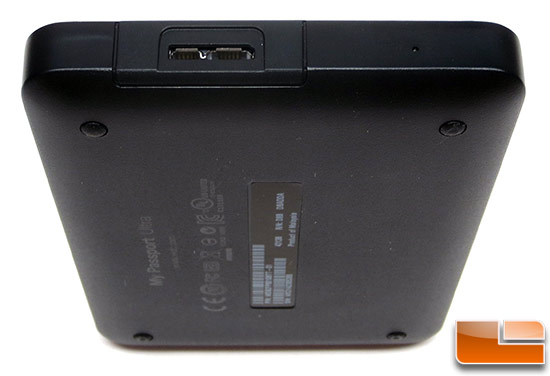 Looking down the end of the WD My Passport Ultra we can see the SuperSpeed USB 3.0 port and off to the right of that there is a very small white LED activity indicator light. Even if you don't have USB 3.0 today you can use this drive and then down the road when you invest in a PC that has USB 3.0 it will work and actually be faster. Pretty much every new Desktop PC or laptop feature at least two USB 3.0 ports. Since the WD My Passport Ultra uses a derivative of a notebook hard drive it gets it power from the USB 3.0 port, so no power adapter needs to be plugged into the wall. This means the only cable that you need to bring with you when traveling is the USB 3.0 data cable that comes with the drive.
Let's fire this drive up and take a look at the backup software as that is the main reason you are likely looking into buying this drive.